Two Longtime USF Bulls Football Fans Go Deep With their Support – In the Form of a Planned Gift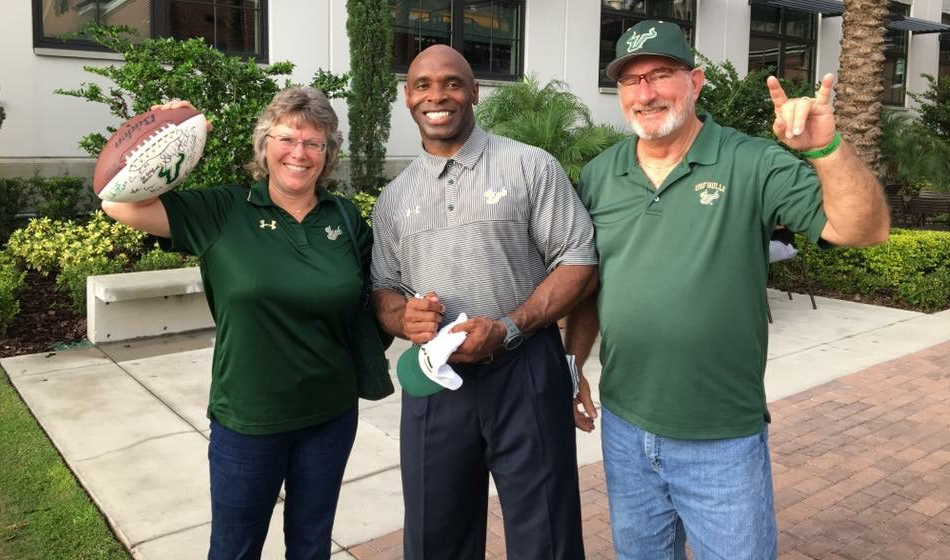 By Dave Scheiber
One look at the shelves inside Shari Gray's Administrative Services Business Center office at the University of South Florida provides a wide-open window to the passion she shares with husband David. You can't miss the collection of Rocky figurines and autographed footballs. They share the space with colorful commemorative tickets from all of the Bulls' nine post-season bowls, signed by USF head football coaches or late, great USF athletic director and NFL Hall of Famer Lee Roy Selmon – reminders that the Grays have been a presence at each one of them.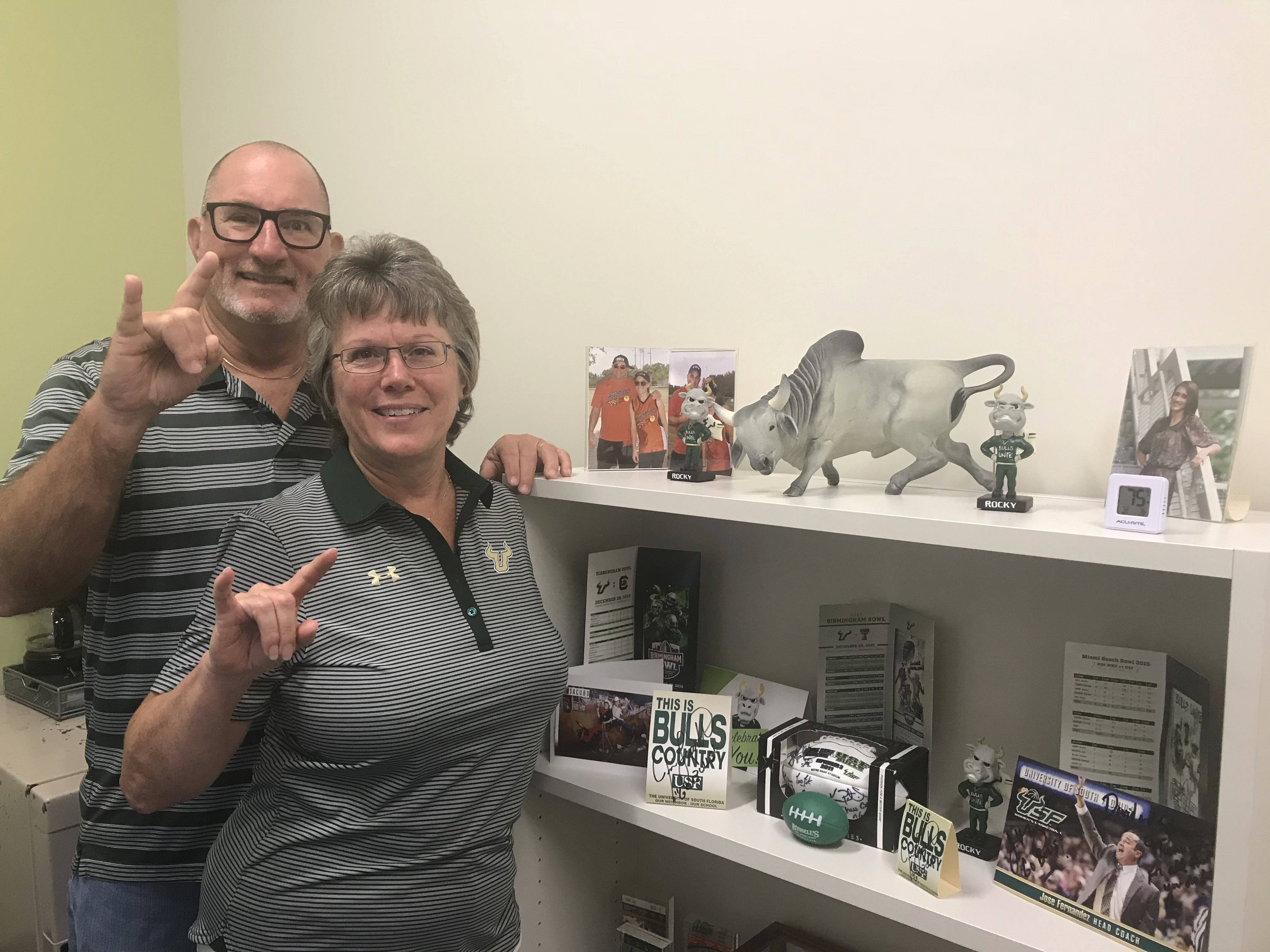 As if you had any doubt, Shari, a fiscal and business analyst, and David are diehard Bulls football fans. But they also happen to be proud donors to USF Athletics. Their recent estate gift, made through the Office of Gift Planning, will help student-athletes who transfer to USF from junior college complete their degrees if their scholarship money runs out before they graduate.
"We have a friend whose grandson was recruited to play at another university, but first went to junior college as a freshman and sophomore," Shari explains. "He eventually wound up at USF and was a great player on the football team. But when his scholarship ended, he didn't have his degree yet because many of his junior college credits hadn't carried over. So David and I thought. 'We should do something to take care of athletes in that situation.' They help us so much in competition, and there should be something we can do to help them."
Their gift hopefully won't take effect until long into the future, upon their passing. But the Grays are glad to have set up a plan that will one day benefit deserving junior college transfers. "It was so easy to do, and we feel really good about it," Shari explains. "We're at a stage in life where we wanted to do something to give back to USF Athletics, because it means so much to us."
The Grays are season-ticket holders to Bulls football games and have rarely missed a contest over the years. There's always one game on the schedule each year that holds extra meaning, and it's coming up on Friday, Nov. 23 at Raymond James Stadium when USF hosts its heated in-state rival, the University of Central Florida Knights. Their anticipation isn't only due to the dramatic showdown last year in Orlando, when UCF came from behind to win a shootout en route to its unbeaten season. It's also that they'll be joined by one of their daughters, Randi, a UCF graduate who will be flying in from her home in Nashville for the big game.
"She always tells us she's a Bulls fan – except when they're playing UCF," Shari says.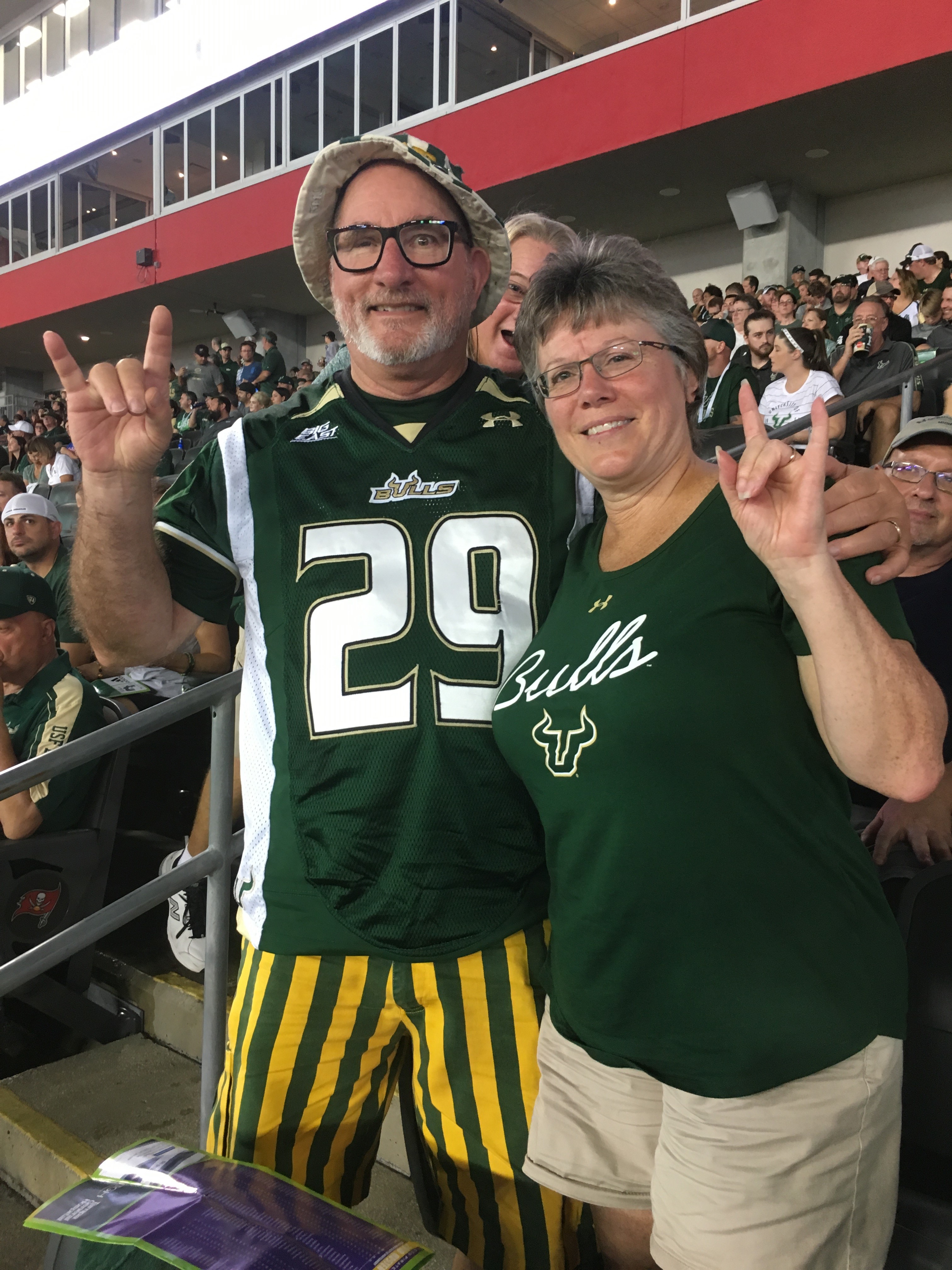 In spite of split loyalties, you can count on a big tailgate party at RayJay to start the day. The Grays always set up a tent and a pole flying their homemade flag high in the air. "You have to have a recognizable flag so people can find you," says David. Though he's not an alumnus, David was born and raised in Tampa and played football at King High School. He went to work after high school working construction, and eventually made a career selling lumber and now does marketing for a small engineering firm.
Shari's father was in the armed service and the family eventually settled in Tampa, where she attended Leto High School and then attended USF from 1981-84, graduating with a degree in finance and returning in 1991 to get another degree in accounting. They were married in 1992, meeting the year before in a co-ed softball league. Was it love at first sight?
"She didn't like me at all!" David says with a smile. My brother asked me to play softball after he got out of the Navy and then Shari started playing for the team, too. We had common friends and just started hanging out." David already had a daughter, Dani, from a prior marriage, and the Grays welcomed daughter Randi into the world in 1993. Shari and David were avid Tampa Bay Buccaneers fans and season-ticket holders, but were thrilled when USF ushered in football in 1997. They attended games from the start and bought season tickets starting in 1999, at one point owning nine seats to invite friends and family. Since then, David has been to all nine bowl games, and Shari to eight – missing only one due to illness. And they're season-ticket holders for USF Women's basketball games, too.
Randi grew up going to Bulls football games from the time she was a toddler, though her rooting interests shifted when she enrolled at UCF, where she studied event management and works in the field now. "She went to that other school in Orlando," says her father with mock disdain. He and Shari are looking forward to a fun tailgate celebration with their two daughters, four grandchildren, more family and lots of friends. And then comes the much-anticipated USF-UCF showdown, temporarily dividing family allegiances for a day. Whatever the outcome, Shari and David have made a lasting impact on the Bulls football and athletic family with a gift they couldn't have been happier to make.
"There are a lot of people our age who are in a position to do something like we did, and I hope they'll consider it," says Shari. "And for young graduates who don't have the money now, hopefully they will as they go further in their careers. It's a great feeling to know we're not just going to the games, but doing something that will one day help the athletes, too."
If you are interested in learning more about making a transformational gift, please call (813) 974-8761 or visit the Gift Planning web site.