Tapping Into a New Career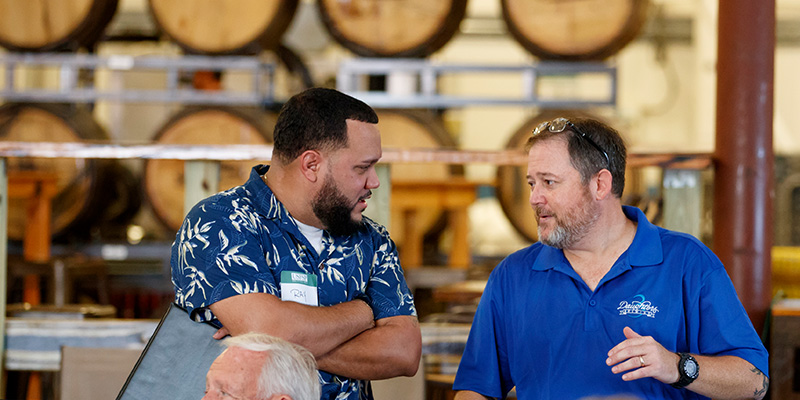 ABOVE: Veteran and award recipient Raymond Molinary with 3 Daughters co-owner Mike Harting
Oct. 10, 2017
The USF St. Petersburg campus is helping beer aficionados tap into a new kind of career with a six-month Brewing Arts program. The innovative initiative, which began last year, has taken its lead from the burgeoning craft-beer business across the nation, and the emergence of St. Petersburg as a craft hub.
The idea for the program began brewing one day over a friendly chess game at 3 Daughters between USF St. Petersburg campus Dean of the College of Arts and Sciences Frank Biafora and Adjunct Professor of Chemistry Jim Leonard, with 3 Daughters co-owner Mike Harting looking on. As Harting recalls, 'Somebody said in jest, 'Hey, wouldn't it be fun if we created a brewing program where the faculty would be local brew masters and owners and the breweries were our classrooms?' And that's essentially how it all started."
But this year saw the implementation of an important philanthropic twist: a student award funded by 3 Daughters and Great Bay and presented to a veteran wanting to enroll, covering program costs. What are those involved saying about it?
"As the veterans are returning and trying to reintegrate, a mainstream job may not be appealing. The idea of working in the craft beer industry could be very exciting for so many vets. I have met a number of veterans who are drawn to this because, much like the military, there is a strong feeling of camaraderie and community among those in the industry. Others like the creative aspects of brewing and the fact that you can be your own boss." – Frank Biafora
"This program is awesome. I learned so much more than I ever imagined." – first recipient Raymond Molinary, who recently retired from the U.S. Navy after serving 16 years as a flight engineer.