Supporting Supply Chain in a Big Way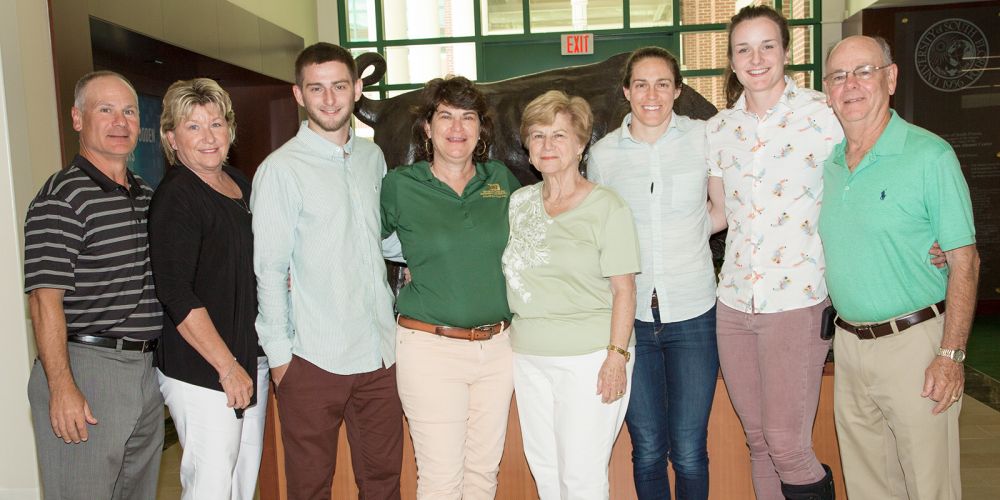 Dec. 11, 2019
Supply chain and logistics is a multibillion-dollar industry that created 30,000 jobs in Florida alone over a two-year period.
"90 percent of everything in the world is shipped," said Monica Wooden, co-founder of MercuryGate International, a global provider of cloud-based transportation management solutions. "So providing supply chain curriculum and degrees and being able to put more people into those professions will truly keep the U.S. in an incredible growth position."
Wooden has watched over the last two decades as the supply chain field has grown from "one step above the janitor to sitting at the executive table."
Similarly, her involvement with USF allowed her to witness the upward trajectory of the university over the last few years.
In 2012, Wooden was instrumental in the formation of the USF Center for Supply Chain Management and Sustainability, the first of its kind in Florida. Over the years, Wooden has provided software licensing and in-kind support, served as a guest lecturer and offered internship and job opportunities for USF students.
The center now has five leading researchers on logistics issues (up from one when it was founded), and will soon begin offering both an undergraduate major in supply chain management and logistics and a master's degree in the subject.
Learning the university would soon be offering degrees in supply chain management and logistics inspired Wooden to step up in a big way.
In April, she made a $5 million gift to the center for scholarships, research and other expenses, as well as a named professorship. The center was renamed the Monica Wooden Center for Supply Chain Management and Sustainability in her honor.
"My gift to USF was inspired from watching them build the program. It gives the students who attend that college the best chance to seek employment and also be able to have a good life and help others," she said.
Giving back is nothing new to Wooden. It's something she learned from a very young age.
Wooden grew up in New York as the youngest of five children. Her eldest sister — 17 years her senior — served as a kind of second mother, and Wooden describes watching her volunteer with the Jaycees. When Wooden wasn't allowed to join Little League, her sister started Cinderella Softball so she could play.
"I learned how to be a volunteer watching my sister," she said, explaining her first volunteer experiences were as a student with different nonprofits. As an adult, she volunteered for many years for New Tampa Little League and Wharton High School athletics.
"If it's not money, you give time. If you don't have time you give money. And now I have both," said Wooden, who said she and her family decided together to support causes in five major areas: advancing women in business, developing the supply chain field, assisting a dog rescue, combating domestic violence and ending human trafficking.
Wooden started MercuryGate International in 2000, right as the dot com bubble burst. She and her co-founder, Steven Blough, were able to get the company off the ground through the financial investment of family and friends, and Wooden worked for three years without pay to get the business up and running. When she sold MercuryGate 18 years later, those same investors along with many employees — 40 people in all — became millionaires.
The investors who bought MercuryGate asked Wooden why she gave away so much of her company. Her response: "Why not?"
"This again, that whole idea of sharing and creating a world of win-win-win. It's not all about me. It's about everyone else," said Wooden.
Having witnessed the rise of supply chain and logistics in the professional ranks, Wooden said she wanted to help raise awareness amongst college students of the field as a lucrative and satisfying career. Wooden has also seen an increase in the number of women joining the field.
"Supply chain is STEM — it's science, technology, engineering and math — but in the College of Business," she said. "So you don't have to be a full-out engineer, but you have to be analytical and you also have to have good communication skills. So you have to be an introvert and an extrovert."
Wooden hopes to see USF's program become one of the top 10 supply chain programs in the world and feels like the university, being a large research institution located in a metropolitan area, is in a unique position to do just that.
"I think they have a better chance of being able to make the program not just strong academically, but also practical with the connections to businesses in this area," she said.
Though she is not an alumna, Wooden said she feels like one from living in the community and watching both of her children earn degrees from USF.
"It's what this university has accomplished over the past couple of decades to truly transform itself into a preeminent college where many lives have been positively impacted," she said.
And thanks to the Monica Wooden Center for Supply Chain Management and Sustainability, there will soon be many more.