A Lifetime of Service, a Commitment to USF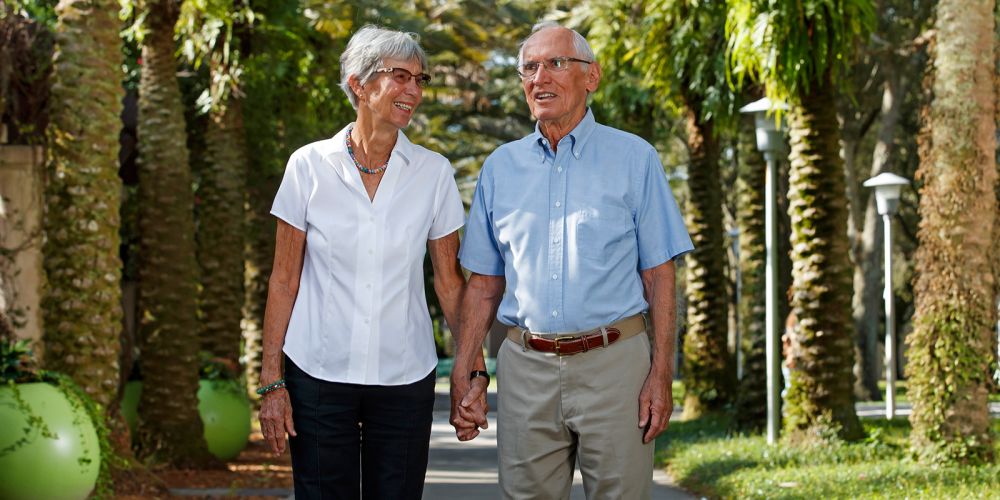 In the mid-1960s, Don and Penny Butz were in their mid-20s and settling into their careers, Don with the U.S. Department of Agriculture's Soil Conservation Service and Penny as a registered nurse.
Then, as Penny puts it, "He read a book."
The book was about the Peace Corps and inspired the Butzs to uproot their lives and join together. They spent 27 months in Colombia, Penny using her skills as a nurse at local hospitals and clinics, and Don helping the country's government and landowners deal with erosion issues.
It was one of the most exciting times of their lives, and what they observed there would plant the seed for their philanthropic support of the University of South Florida decades later.
"I guess that's why I feel strongly about education today. We recognize how important education is, particularly after our experience in Colombia," said Don.
Closer to home, the Butzs have looked for ways to help students get the education they need, including several generous gifts to the University of South Florida over the last few years.
Most recently, the Butzs made a major gift through their estate to establish the Penny and Don Butz Fund, which will support the College of Nursing and the Patel College of Global Sustainability. In a rather unique arrangement, the details of how the gift will be divided and used between the two colleges will be up to the university's president once the gift is realized.
"Recognizing what the university is doing here, they would know better than I would how to spend that money," said Don.
The two areas the gift will support — nursing and sustainability — are directly tied to the Butzs' lifelong passions. Penny enjoyed a 40-year career as a nurse, and Don spent 30 years with the U.S. Department of Agriculture Soil Conservation Service.
Now retired, USF has become a part of the Butzs' daily lives.
They live in University Village, a retirement community near campus, and love to ride bikes or walk around USF in the early morning or on weekends. Their doctors are all faculty at the Morsani College of Medicine. They enjoy coming to campus for musical performances and sports games — hockey, baseball and basketball in particular — and take advantage of Osher Lifelong Learning Institute sessions.
"We really appreciate the fact that here we're close to the university," said Don. "It's nice to see things happening with students and the university and everything being so close. It means a lot to us."