A Historic Gift from a History-making President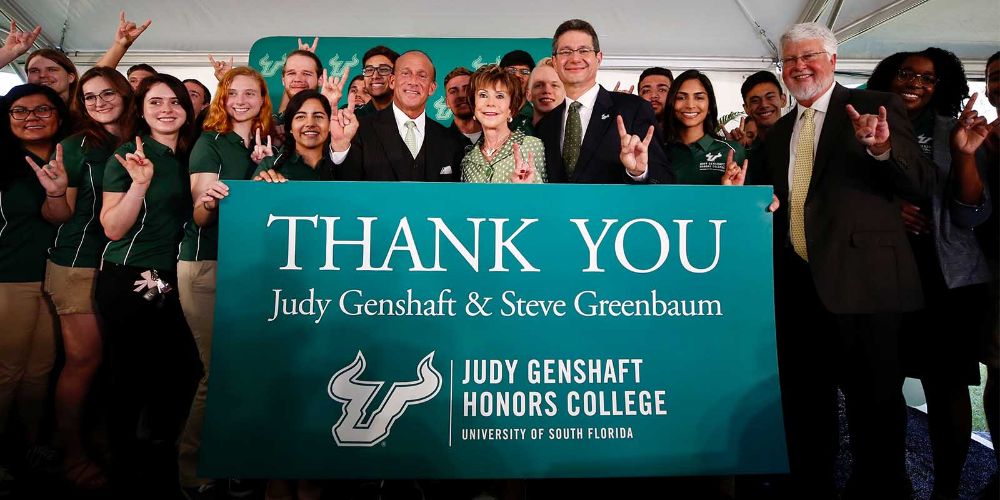 Dec. 11, 2019
The word of the day was "historic."
The university community had gathered on the USF Maple Drive Lawn for a special announcement. Joel Momberg, CEO of the USF Foundation, welcomed the crowd and was the first of many to use the word "historic" throughout the ceremony.
"Today is historic for many reasons, not least of which is the size of the gift and the donors who gave it," said Momberg.
The crowd soon learned of the incredible generosity of then-President Judy Genshaft, together with her husband, Steven Greenbaum, who made a gift of $20 million to build and name the Judy Genshaft Honors College.
The ceremony took place on the site of what will be the new Honors College building.
"It is an honor to be here today to announce this uniquely historic gift," said Jordan Zimmerman, chair of the USF Board of Trustees. "Up until now it has only been a dream: a new home to cultivate and teach our honors students, our best and brightest. That dream will soon become a reality."
Charles Adams, dean of the Honors College, spoke of the support the college has received from Genshaft and Greenbaum through the years, both in the funding of study abroad scholarships and also in devoting their time to meet with, mentor and support the students.
"Their support has enhanced the Honors College experience, sent students around the world and helped shape our scholars in a variety of disciplines," he said.
The Honors College is a very personal calling for Genshaft, whose professional background is in the psychology of gifted students.
"Gifted students, our honors students, have unique needs," she said. "They need to be challenged and have space to think creatively in order to thrive."
One of the first things Genshaft did as president of USF was to formally establish the Honors College. At the announcement she reflected on the decision to take the honors program and grow it into the impressive college that it is today.
"I knew that investing in the Honors College and its students would elevate the entire university," she said.
The new building, designed by New York–based Morphosis Architects and Tampa-based Fleishman/Garcia, will be five stories and approximately 80,000 square feet, including classrooms, study areas, faculty and adviser offices, event areas, music and art rooms, student collaboration venues, a coffee shop and more.
"This wonderful new facility would be impossible without the support of Judy and Steve, and it is just the most recent of their many positive impacts in the Honors College," said Adams.
In addition to a $1 million gift to establish the university-wide Genshaft/Greenbaum Passport Scholarship Endowed Fund, Genshaft and Greenbaum have contributed more than $4 million toward the Genshaft/Greenbaum International Honors Study Scholarship, which has sent hundreds of honors students around the globe since 2013.
"Travel has always been a big part of our lives, and we know that it can be transformational in terms of opening the mind to new cultures, new perspectives and new ideas," said Genshaft. "It's our role to provide these experiences to students through education and travel experiences."
Greenbaum said the program is their way of ensuring students have opportunities to gain those experiences and have heard from many Honors College students that traveling abroad has had a profound impact on their lives.
"We love hearing from our students each year about their travel-abroad experiences," said Genshaft. "They all come back changed for the better. It shapes who they are as open-minded and culturally competent individuals."
Over the years, students have brought back bulls from all over the world for Genshaft, who said the collection has come to represent the global reach of a USF education. The collection will be housed in the new facility.
Honors College alumna Indira Ranaweera, who is now a third-year medical student in the USF Morsani College of Medicine, spoke at the ceremony about how her first travel abroad experience, funded in part by the Genshaft/Greenbaum International Honors Study Scholarship, helped her to learn Spanish, which she now uses with her patients nearly every day. Ranaweera has since been to 16 countries to volunteer, conduct research or explore.
"I am excited for my future as an OB/GYN because, thanks to the Honors College, Genshaft/Greenbaum International Honors Study Scholarship and Morsani College of Medicine, I am well-equipped to take care of a diverse set of patients, domestically and internationally," she said.
"Based on our research, Dr. Judy Genshaft has given more to the university in her 19 years than any sitting university president in the United States," said Momberg. "This is indeed a historic moment for USF and American higher education. We are so grateful for all President Genshaft and Steven Greenbaum have done for our university."
Their giving has touched nearly every area of the University of South Florida and supported several diversity initiatives such as the Latino Scholarship Program, the Black Leadership Network and Women in Leadership and Philanthropy. Genshaft also recently announced that she and her family will donate an additional $3 million to endow the deanship of the Honors College.
"Anybody who has ever met President Genshaft knows that her passion for USF and its students knows no bounds," said Sydney Kitson, vice chair of the Florida Board of Governors. Kitson said the Board of Governors frequently discusses the importance of providing students with opportunities and experiences to prosper throughout their lives.
"The Judy Genshaft Honors College, with its art studio, music lab, computer lab and a multitude of collaborative spaces, embodies that concept," said Kitson.
Greenbaum said supporting the Honors College elevates the entire university in so many ways, and Genshaft agreed.
"We're already entering a new era of unprecedented achievement at USF," she said. "We see this gift as an extra boost to that momentum."
Momberg wrapped the ceremony with words of gratitude to Genshaft and Greenbaum.
"Thank you, Judy and Steve, for making history here today," said Momberg at the close of the ceremony. "The future of USF is bright and you both continue to light the way."