Cultivate. Inspire. Grow.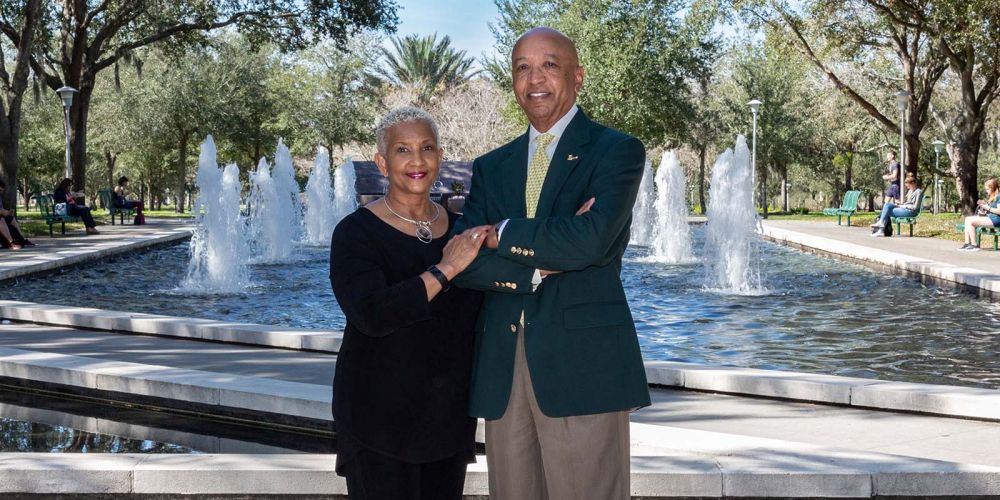 On a quiet morning, you can find Miriam Horton outside her home in the country — pulling weeds, pruning flowers and planting seeds.
Planting a seed, nurturing it, and watching as it takes root and thrives brings a special joy to her heart.
Miriam's a third-generation farmer, but unlike her father and grandfather, her goal isn't to cultivate a crop that sustains the body. Rather, Miriam and her husband, Oscar, sow seeds that nourish the mind and yield a harvest of empowered and educated young men and women.
Through their investment in education — both at the University of South Florida and Academy Prep — the Hortons are paving a pathway to success and helping grow both the academy and university to be as big as their students' dreams.
"Education is everything," says Oscar. "It changes lives, one kid at a time."
---
Although they grew up hundreds of miles apart, Miriam and Oscar come from strikingly similar backgrounds. Raised in Arkansas by entrepreneurial parents, they saw firsthand the risks and rewards of owning a business.
It was clear to them: strong values, hard work and a generous heart set the stage for achievement.
"My mom ran a community store," said Miriam. "People told me how they would come in with no money, but my mom still made sure they ate that day. Taking care of others was just part of who she was and something she ingrained in her children."
It's a lesson that Miriam and Oscar instilled in their children, too.
Sun State International Trucks (SSIT), a full-service truck dealership owned by the Hortons, is a family business and a vehicle for their philanthropy.
"Giving is baked into our business plan," said Oscar, CEO and president of SSIT. "As we develop our daughters to run the business, we want them to have the right spirit and give from the heart, too. A large part of our success is because we've given back to the community."
It's a community the Hortons are proud to take an active hand in cultivating. After years of supporting a wide variety of charities around the Tampa Bay region, the couple decided to focus their time and philanthropy on just two organizations — USF and Academy Prep — in order to increase their impact on education.
At Academy Prep, a rigorous private middle school that serves economically and socially disadvantaged students, the Hortons are known as "community angels" whose donations support tuitions for the 130-child school.
"When I walked onto the campus, I knew those kids," said Miriam. "I can put myself in their shoes. By putting them on the right track now, we are giving them a leg up to get into college and work toward their goals."
As a member of the Board of Trustees for both USF and for Academy Prep, Oscar has an eagle's eye view of how the education pipeline flows from fifth grade to college graduation.
"Being involved with both schools lets me fill the gap to make sure what they are learning in middle school is giving them the right foundation to get into a university like USF," said Oscar. "If we prepare this generation, they will pass it on to their children. It's the circle of life."
Within the University of South Florida, the Hortons are taking a more business-minded approach. Through their support of USF Athletics, the couple are expanding what Oscar sees as the front door of the university.
A former collegiate basketball player, Oscar recognizes the impact sports facilities and scholarships have on student-athlete recruitment and the ability to build a strong athletics program.
In 2008, the Hortons made their first significant gift to USF, contributing $100,000 to the construction of the USF Pam and Les Muma Basketball Center. In the years following, the pair have continued to give to USF Men's Golf and the Bulls Club Annual Fund, which supports Athletics' scholarships, operational needs and more.

Recently, the Hortons pledged $200,000 toward the construction of the 160,000-square-foot USF Football Center, which will provide a state-of-the-art home for the entire football program. The Football Center will be a real game changer for USF Athletics. In addition to greatly enhancing the university's ability to recruit student-athletes eager to play and practice in the best facilities possible, it will also have a positive impact on academics. By giving the football team an indoor practice field, USF is effectively shutting out the weather that routinely delays practices and enabling student-athletes to better manage their academic schedules and tutoring sessions.
"When we first came here, the football coaches were working out of double-wide trailers," said Oscar. "We've watched this university advance so much, and in such a short window of time, that it's almost unbelievable. You feel proud when you are part of something like that."
---
Much like the flowers in their garden, Miriam and Oscar find pleasure in watching as the educational institutions in their backyard flourish.
At USF and Academy Prep, the cycle of giving continues as scholarship students are empowered to pursue their higher education dreams and inspired to pay forward the gift of education.
"Being accepted into Academy Prep changed my entire life," shared first-generation USF student Sheriean Carroll. Carroll, who attends USF on the Women in Leadership and Philanthropy/Triad Foundation and Academy Prep Center of Tampa Scholarship, credits her success to the private scholarships she received. "I wouldn't be at USF if it wasn't for the donors who believed in me. It's a blessing that I hope to be able to pass on once I get started in my career."
Philanthropy continues to have a transformative impact on the Tampa Bay community and the University of South Florida. Thanks to the support of passionate and generous donors like Miriam and Oscar Horton, they've watched the university, once considered an underdog, blossom into a thriving preeminent institution on a path to becoming one of the top schools in the nation.