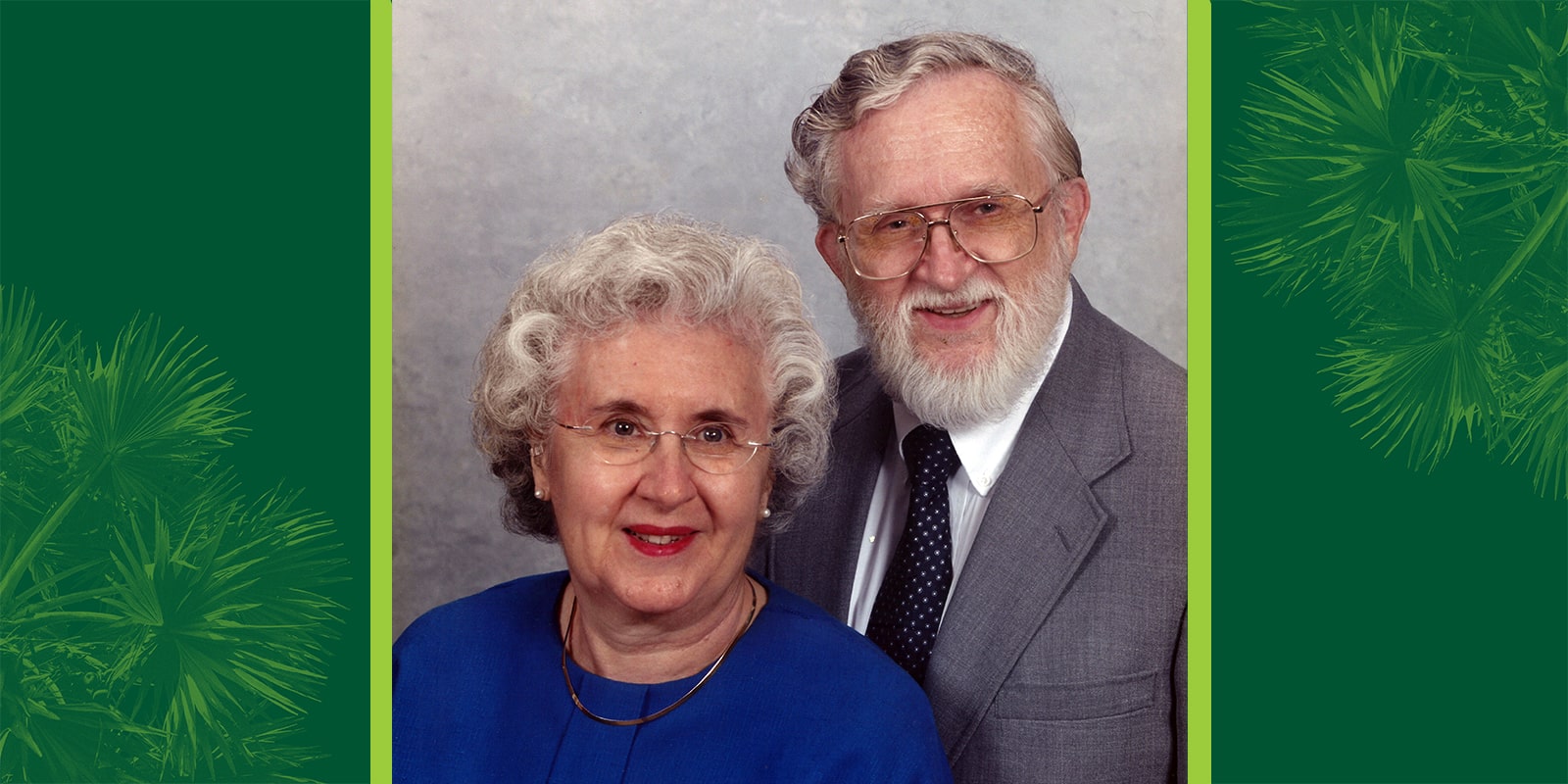 July 21, 2021
In the Martin household, gratitude and giving go hand-in-hand. Steadfast donors to the University of South Florida, Dean and Barbara Martin instilled these lessons in their children early and practiced them often.
"Each night at dinner, we had our kids stand and share the nicest thing that happened to them that day," said Dean Martin, PhD, an emeritus faculty member in the USF chemistry department. "Even if nothing special happened that day, Barbara would remind us there was always something to be thankful for whether it was your health, your family or your life."
Married for 64 years before her passing on Feb. 7, 2021, Dean and Barbara Martin were devoted life partners in every way.
"I'll never forget the first time I saw Barbara," said Dean, who at the time was a second-year trumpet player. "It was September of 1952. She walked into the Grinnell College orchestra holding her violin and wearing her freshman beanie. My life never was the same after that."
Enamored of the studious beauty, he began courting Barbara and found they had much in common, including a shared major in chemistry. Later, Dean offered her his Langan Hall pin — an older custom, similar to giving a promise ring, that labeled them as "engaged to be engaged."
After graduation, the couple continued their studies at Pennsylvania State University, where Dean had proposed again, this time with a ring.
"She said 'yes,' and we never looked back," recalled Dean fondly. "Barbara was truly a remarkable woman. My beloved gave me one daughter and five sons, in that order, and we built a wonderful life together."
In 1964, Dean joined the University of South Florida as a faculty member and researcher in the chemistry department. A few years later, Barbara was granted a courtesy appointment at USF, enabling the couple to work side-by-side on a "his and hers" laboratory bench as they conducted and published their research for the next 35 years.
Between the two, the Martins penned more than 450 publications mostly in refereed journals, authored or co-authored six books and served as co-editors of Florida Scientist for 26 years. In 1994, Dean and Barbara Martin received the Medalist Award, the Florida Academy of Sciences' highest honor.
Even as they cultivated gratitude around their dinner table, the Martins forged an impressive legacy through their philanthropy.
The couple's generosity created new opportunities for students at USF through 10 named endowments and nearly $650,000 in giving. Although heavily concentrated within the chemistry department, their giving runs the gamut from women's athletic programs to WUSF Public Media, creating a far-reaching legacy that elevates the entire university.
"We thought the best investment you can make is in students," said Dean. "They are the joy of our present, the hope of our future, and the heartbeat of the university."
"Dean and Barbara Martin's passionate, unwavering support has had a lasting impact on our students, faculty and community," said Eric Eisenberg, dean of the College of Arts and Sciences. "They have been generous supporters of the College of Arts and Sciences for more than four decades, with a consistent focus on cutting-edge research and student success. Mrs. Martin is forever in our hearts, and her legacy will continue to shape the future of our great university."
Looking back at his life with Barbara, Dean feels no regrets — only a deep appreciation for the time shared together and their beautiful family.
On her dresser in the bedroom, Dean's pin lies next to Barbara's wedding rings. His ring remains forever on the fourth finger of his left hand, a tangible reminder of their enduring love.
---
A Grateful Bull
"As one of the few women in chemistry, Barbara was as a role model we all looked up to," said Elena Bray, a doctoral chemistry student who received the Martin Travel Award in 2019. "Thanks to the Martins' generosity, I was able to attend and present my research at my first out-of-state conference. Between presenting my research on a national stage and making professional connections, it was an incredible experience I will never forget."