Five BOLD Donors Create Endowed Scholarship for Entrepreneurs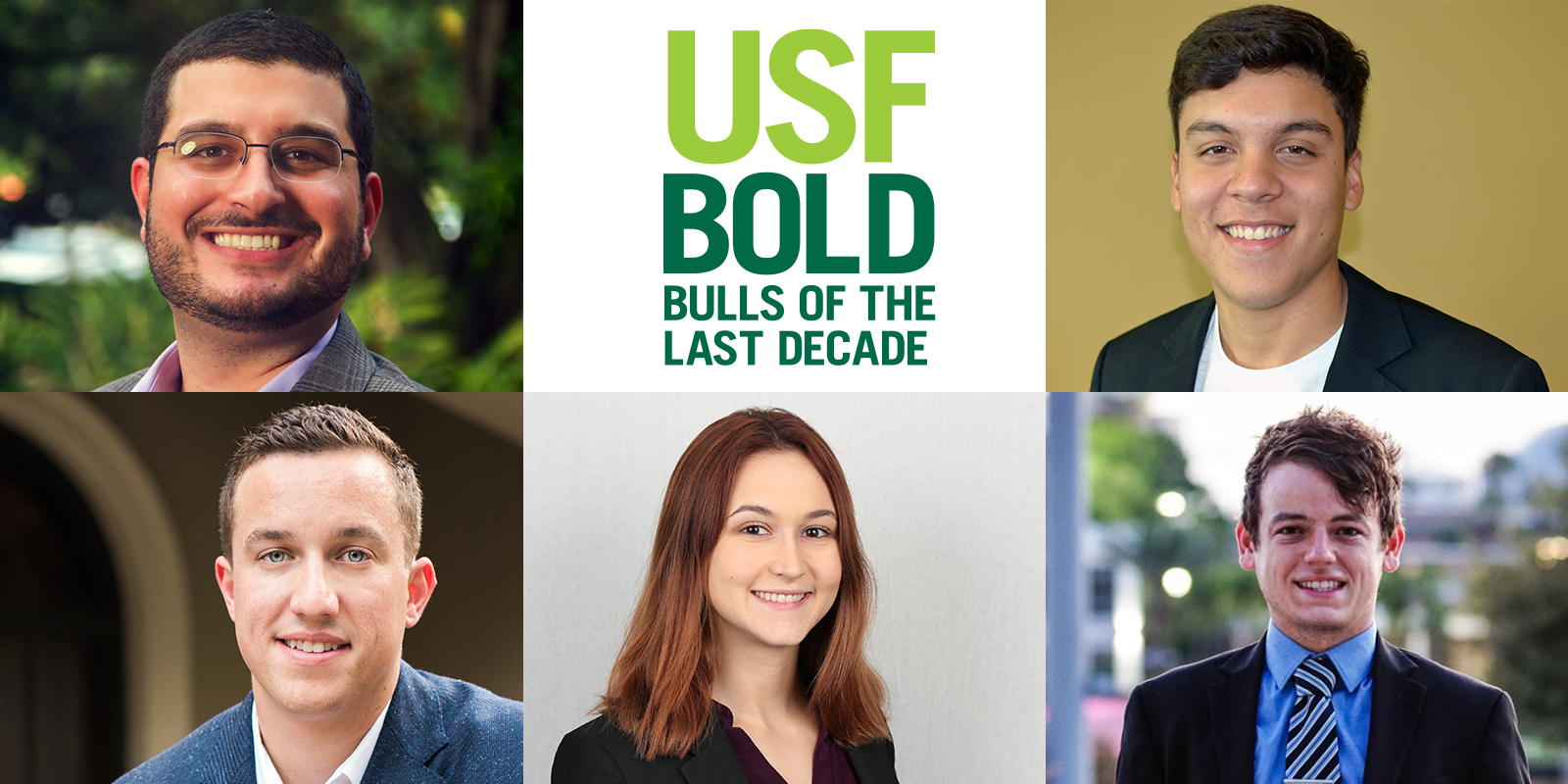 Clockwise from top left: George Papadeas '13, Raymond Fajardo '16, Kevin Kovac '15, Nikolina Kosanovic '17 and Ryan Frankel '15
April 15, 2021
Though they each followed a different path to and through the University of South Florida, five Bulls who have graduated in the last decade found common ground in their love for the university and a passion for entrepreneurship. The idea of starting a scholarship began with George Papadeas '13, who was soon joined by four other young alumni — Raymond Fajardo '16, Ryan Frankel '15 (together with his wife, Stephanie), Nikolina Kosanovic '17 and Kevin Kovac '15 — to create the Future Entrepreneur Endowed Scholarship. The scholarship, which is renewable for two semesters, is open to full-time students studying any major on any of USF's campuses who have an interest in entrepreneurship. We recently spoke with the donors to learn more about the scholarship and the journey to making it a reality.
Where did the idea for this scholarship come from, and how did you get involved?
Fajardo: The brains behind the scholarship from the very beginning was George Papadeas. He was the one that pitched the idea. I have a background as a student entrepreneur at the university, and I plan on starting my own business in the future. Currently at my job, I deal with a lot of different entrepreneurs, so I thought this would be a very worthwhile endeavor and effort to join.
Papadeas: I had a personal goal of creating a scholarship in 2020 with individuals who share the same values. With the help of Nevena Pehar, associate director of development for young alumni engagement and philanthropy at the USF Foundation, we were able to find really great individuals to partner with. What's even better is these networking relationships have now turned into friendships.
Frankel: Endowed scholarships resonated with me, because of the fact the scholarship has a lasting impact on the university. After joining the BOLD Council, I met George Papadeas, the current co-chair. He mentioned to me he was looking into creating a small group of young alumni to make an endowed scholarship, and I was instantly sold.
Kovac: I was told by Ryan Frankel, a close personal friend about this scholarship opportunity, and I am excited and grateful I can begin to give back to current and future USF Bulls in any way to help them succeed.
Kosanovic: I was approached by Nevena, who is a friend. She told me about the idea for this scholarship. I had always wanted to contribute to an endowed scholarship to help students fund their college experience at USF, and I loved that this one specifically would focus on entrepreneurial spirit and corporate social responsibility.
How did the COVID-19 pandemic affect the process?
Kosanovic: Like in many industries, it presented a lot of challenges, but it showed the resilience behind our mission, because we were able to make it happen. It felt like it was even more necessary to help students during a time when many of them were disproportionately affected and stressed about a loss of income. Especially since young entrepreneurs in college tend to own small businesses, which have been stunted or closed through the pandemic.
Why did you all choose to aim the scholarship toward students interested in entrepreneurship?
Papadeas: My personal theory is that by supporting the student entrepreneur financially, upon graduation they will have the ability to accelerate their professional growth and accomplish their entrepreneurial goals much faster.
Frankel: Along with the entrepreneurship focus, we also asked that one of the questions for applicants is how they plan to bring corporate responsibility into their entrepreneurial endeavors. This was important to us, because we want future leaders and entrepreneurs coming out of USF thinking about how to impact our community socially as well as economically.
Fajardo: All of us, in some form or another, are really interested in entrepreneurship and have done ventures before or worked with entrepreneurs before. We all realize the importance of entrepreneurship, creativity and innovation.
It is also pretty broad, open to students with any major, on any of USF's campuses. Why is it important to you all to make this available to a wide range of students?
Papadeas: It's important to make this available to a wide range of students, because entrepreneurs have very diverse backgrounds. There are medical entrepreneurs, art entrepreneurs, advertising entrepreneurs, etc. To make this scholarship exclusive to one college or school would not be in line with the spirit of entrepreneurship.
Frankel: Consolidation at USF is going to be a major impact on the university's growth, and we felt like having students from every campus have an opportunity to earn this scholarship would provide a broader impact.
Kosanovic: We wanted it to be inclusive and ensure that no matter what the recipient's individual circumstances are, we wouldn't allow anything but their merit and work to be judged. All USF Bulls are part of an inclusive community, and they should be afforded the same opportunities.
You all graduated within the last decade, and yet you are already giving back so generously to your alma mater. What was your motivation to give back financially?
Papadeas: My USF experience gave me the opportunity to become the person I am today. I will always see myself indebted to the university for these experiences. Giving back will continue to be a priority for me to make sure others have those same experiences.
Frankel: My parents supported me financially through college. I wanted to be able to use the opportunity my parents gave me to help other students at USF.
Kovac: USF set me up for life success, not just career success. Because of the opportunities and knowledge the university has given me, it is an honor and sincere pleasure to give back to the Bulls community.
Fajardo: Even though I'm only 27, some of the best years of my life were at USF. USF gave me a lot of confidence, skills and knowledge. I don't think I'd be where I am if it wasn't for them. I want to make sure other students have the same opportunity — and more.
Kosanovic: I have worked extremely hard for everything I've accomplished, but I know my life would be different if I didn't have support from those who believed in me and gave me opportunities along the way. Helping students financially is one important way to break down barriers and provide opportunities.
What would you say to other young alumni? Why do you think it's important for them to give?
Frankel: It is vitally important to the success of USF to have alumni support current students. Giving financial support to USF starting as a young alumnus creates a closer bond to the university, as well as a good habit of giving. My hope is our scholarship will motivate young alumni to give back financially in any amount, but I especially want to show how a group of alumni can band together in order to make an endowed gift possible.
The Donors:
George Papadeas '13
Major at USF: Marketing
Current role: Chief Operating Officer, The HOTH, a digital marketing company based in St. Petersburg, Florida
USF involvement: Life member, USF Alumni Association; BOLD Council
Ryan Frankel '15 and his wife, Stephanie Frankel
Major at USF: Finance
Current role: Certified Financial Planner with the Adcock Financial Group, a boutique wealth management company in Tampa, Florida
USF involvement: Alumni Engagement Chair, Muma College of Business Alumni Advisory Board; Mentor, Corporate Mentorship Program; BOLD Council
Kevin Kovac '15
Major at USF: Management Information Systems
Current role: Cloud/DevOps Engineer at Trellance Inc. in Tampa, Florida
USF involvement: Life member, USF Alumni Association; USF BOLD
Raymond Fajardo '16
Major at USF: Geology and Economics
Current role: Account Executive, Gulf Coast Bank and Trust Co. dba United Capital Funding Group, LLC in St. Petersburg, Florida
USF involvement: USF Latino Alumni Society; USF BOLD Council
Nikolina Kosanovic '17
Major at USF: Economics
Current role: Strategic Communications Consultant at USI Insurance Services in Tampa, Florida
USF involvement: Member, USF Alumni Association; Corporate Mentor, Muma College of Business; USF BOLD
Are You BOLD?
All USF alumni who graduated within the last 10 years are BOLD — Bulls of the Last Decade.
BOLD alumni are encouraged to connect, engage and give to USF.
Attend BOLD-sponsored activities, such as Career Connections, or other university events, whether athletics, art exhibitions and performances, or group travel opportunities.
Give back to the university with an annual or recurring gift. Every gift, no matter the size, makes a difference.
Follow @usfbold on Instagram, as well as the university's other social media channels, and by subscribing to university publications.