An Eye Doctor with a Big Heart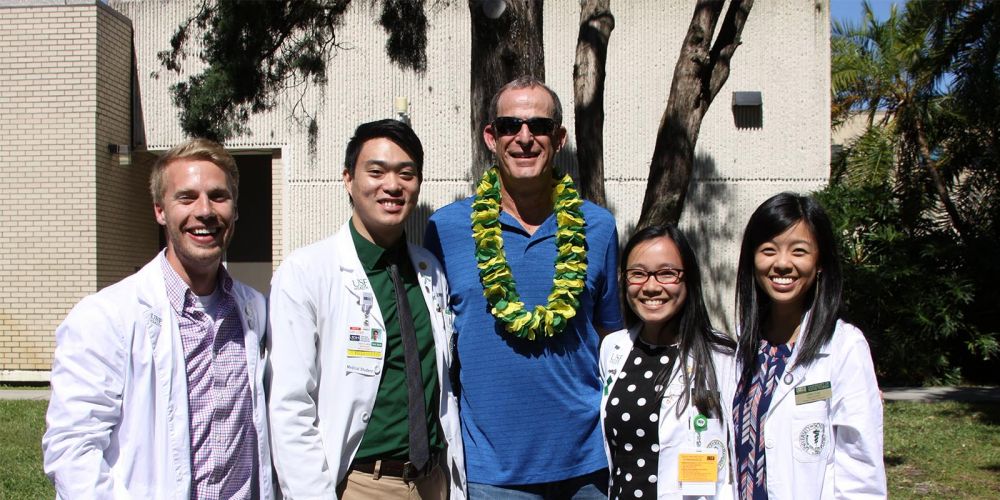 He has the technology — small sharp knives for creating micro incisions and specialized lasers blasting ultraviolet light — and with over 35 years of experience as a board certified ophthalmologist, he has the skillset, too. But according to Dr. Fier, the real key to eye surgery is in the heart.
"You have to be able to make the patients feel comfortable," explained Dr. Robert Fier, medical director of Fier Eye Care and Surgery Center and a valued USF alumnus. "Not everyone takes a sharp knife and cuts into someone's eyeball. You have to establish a relationship with people to do things like that and to have them believe you when you say the procedure is going to help and not hurt one bit."
A high-volume surgeon with tens of thousands of procedures under his belt, Fier is one of the best in his field and is known locally for his eagerness to embrace cutting-edge diagnostic technologies and therapeutic treatments. In fact, Fier was the first ophthalmologist in the area to practice Lasik surgery and even trained other doctors on the procedure.
"My patients come into the office scared. They can't see well, colors are dull and they are missing out on the beauty in life," said Fier. "After the surgery, they wake up to a new world that is crystal clear and full of vibrant color. It's what we call the 'Wow Effect'."
And with Fier, there is much to be impressed with. He is an enthusiastic all-or-nothing kind of guy who fully immerses himself in everything he does. Whether expanding his business ventures, running a marathon or hosting his own fundraising tournaments for charity, Fier arrives early, stays late and enjoys every minute of it.
After graduating with an M.D. from the University of South Florida in 1976, Fier completed an internship in pediatrics and a residency in ophthalmology before opening his practice in Stuart, Florida. At the time, there was a six-month waiting list for ophthalmology care in the area and Fier was looking forward to staying busy.
"My practice started off with just me," said Fier, "and I now work with a team of four other doctors and have main offices in Stuart and Port St. Lucie, a satellite office in North Palm Beach and more than 30 people on staff. I even built and ran an outpatient surgery center for 20 years. I've treated over 50,000 patients and stopped counting after 30,000 surgeries."
His business model? Start from the heart.
"I treated my patients as I would want to be treated and answered their questions in words they understood," said Fier. "It worked and my business snowballed. The success has surpassed any dreams I had."
Although Fier retired from treating patients two years ago, he remains active in the field by teaching and mentoring the next generation of eye doctors. He serves as an assistant clinical professor at Florida State University Medical School and as an assistant professor at the University of Montreal, where he allows fifth-year students to serve three month rotations at his practice. During the rotation, students are able to shadow experienced doctors during clinic hours and in surgery, asking questions and gaining invaluable hands-on experience.
"Young people in the medical field often need a little extra help when starting out," said Fier. "Sometimes they lack mentorship or experience, other times they need a financial boost. I received financial help through scholarships and loans to put myself through school. My first doctor bag and stethoscope was donated, and I remember bringing home free diapers and formula for my kids when I was a resident. All of it made a difference — I wouldn't have been able to achieve what I have now without the help of others."
Since the beginning of his career, Fier has generously given back his time and capital to help students and people in need. At the University of South Florida, he has designated a generous percentage of his estate to create named endowed scholarships in medicine and ophthalmology to benefit future students.
He also participates and sponsors fundraising events to benefit children with disabilities, afterschool programing for underprivileged communities and meals for the hungry.
"We are put here to help people and the more you help and the more love you put out there, the more love you get back," said Fier.