O'Shields Scholarship Honors a True Guiding Light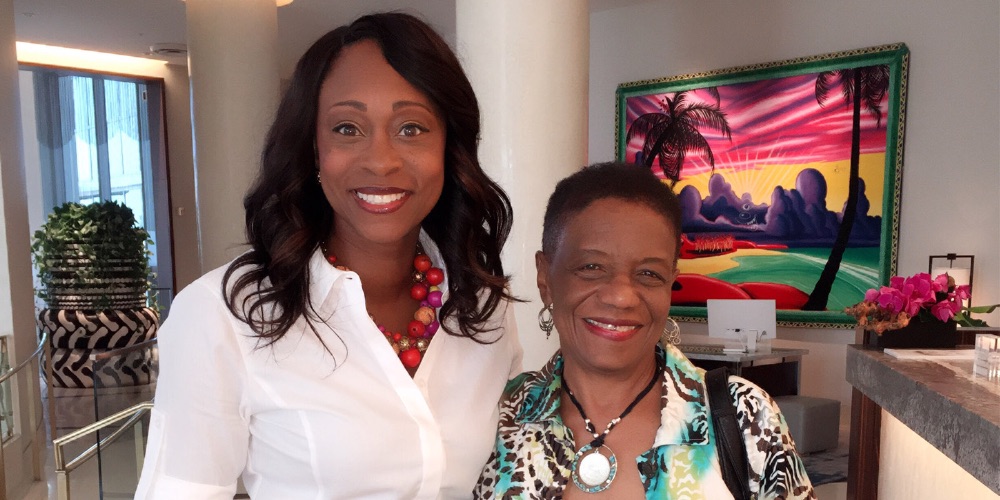 When Lakecia Gunter '95 got an opportunity to intern at Hewlett Packard in Oregon the summer between her sophomore and junior years at USF, she hesitated.
"I'm not going. Oregon is too far," she said to Dr. Joy O'Shields, or "Dr. O" as she was known to her students as director of the College of Engineering's Minority Engineering Program.
"Yes, you are," O'Shields replied.
"I'm not."
"Oh, yes, you are going."
"Doc, I'm not going to Oregon. I don't know anyone in Oregon. I'm not," said Gunter, who came to USF from her nearby hometown of Haines City, Florida.
"It's HP, and you're going. You're going to be fine. I'm going to check on you."
With O'Shields' encouragement, Gunter went. She spent the next three summers interning at HP and made connections that helped her not only get into Georgia Tech for graduate school but earn a GEM Fellowship as well.
"She was the person who helped me see beyond myself and what I thought I was capable of, to see myself — even as a freshman, sophomore — as a global engineering leader," said Gunter.
Gunter called O'Shields' network of connections in academia and industry "a superpower."
"She created relationships with the companies in the Tampa Bay area to ensure there was a pipeline created for us as engineering students to have opportunities," she said.
But O'Shields' support went well beyond help with internships, from finding funding for students to attend national conferences and linking them with research and teaching assistant roles to a simple daily word of encouragement.
"You had to stop by her office and just get the love you needed," said Gunter, calling O'Shields a guiding light for her and her fellow classmates in the Minority Engineering Program as they navigated a very large metropolitan university and the College of Engineering.
"She was the foundation on which we could stand and know that no matter what the circumstances or challenges were, we could navigate them and be successful," she said. "I love her, and I know that we made it because of her."
Gunter would go on to earn a Bachelor of Science in computer engineering from USF and a master's degree in electrical engineering at Georgia Tech and now serves as vice president, Internet of Things global and strategic engagement at Microsoft, a job she accepted last year after more than a decade with Intel. She also hosts a podcast, Roar with Lakecia Gunter, which she uses to open up her own network to the world.
In 2020, Gunter, who serves on the College of Engineering's Dean Advisory Board, established a memorial scholarship in honor of her mother, Barbara Griffin, which got her thinking about honoring O'Shields in a similar way.
She established the Joy O'Shields Honorary Scholarship in Engineering in 2021. The scholarship will provide support to full-time graduate students in the College of Engineering with preference for historically underrepresented minority students.
As a student at USF, Gunter was a participant in the Ronald E. McNair Postbaccalaureate Achievement Program, led by Dr. Joan Holmes, which focused on increasing the number of students from historically underrepresented groups and first-generation in college backgrounds who enroll in graduate programs. The McNair Scholars Program was critical in helping to build a pipeline of engineering scholars represented in master's and doctoral programs.
In a similar vein, USF is one of only eight universities to receive a University Center of Exemplary Mentoring grant from the Alfred P. Sloan Foundation to provide historically underrepresented graduate students with the holistic support that Gunter received while at USF.
A hallmark of the USF Sloan approach has been identifying and nurturing the "unrecognized potential" of minority graduate students and changing the trajectory of their lives. Toward this objective, Gunter's gift for doctoral students builds upon this momentum in recognizing the empowering legacy of O'Shields, who Gunter still keeps in touch with, for helping her and her fellow classmates in the Minority Engineering Program to see and reach their potential.
"We would not be where we are today were it not for Dr. O. We might not have persisted and earned our degrees. We might've been a statistic, because pursuing a degree in engineering is challenging," she said. "Dr. O'Shields was truly the launching pad for all of us, so it's only fitting I would do this."