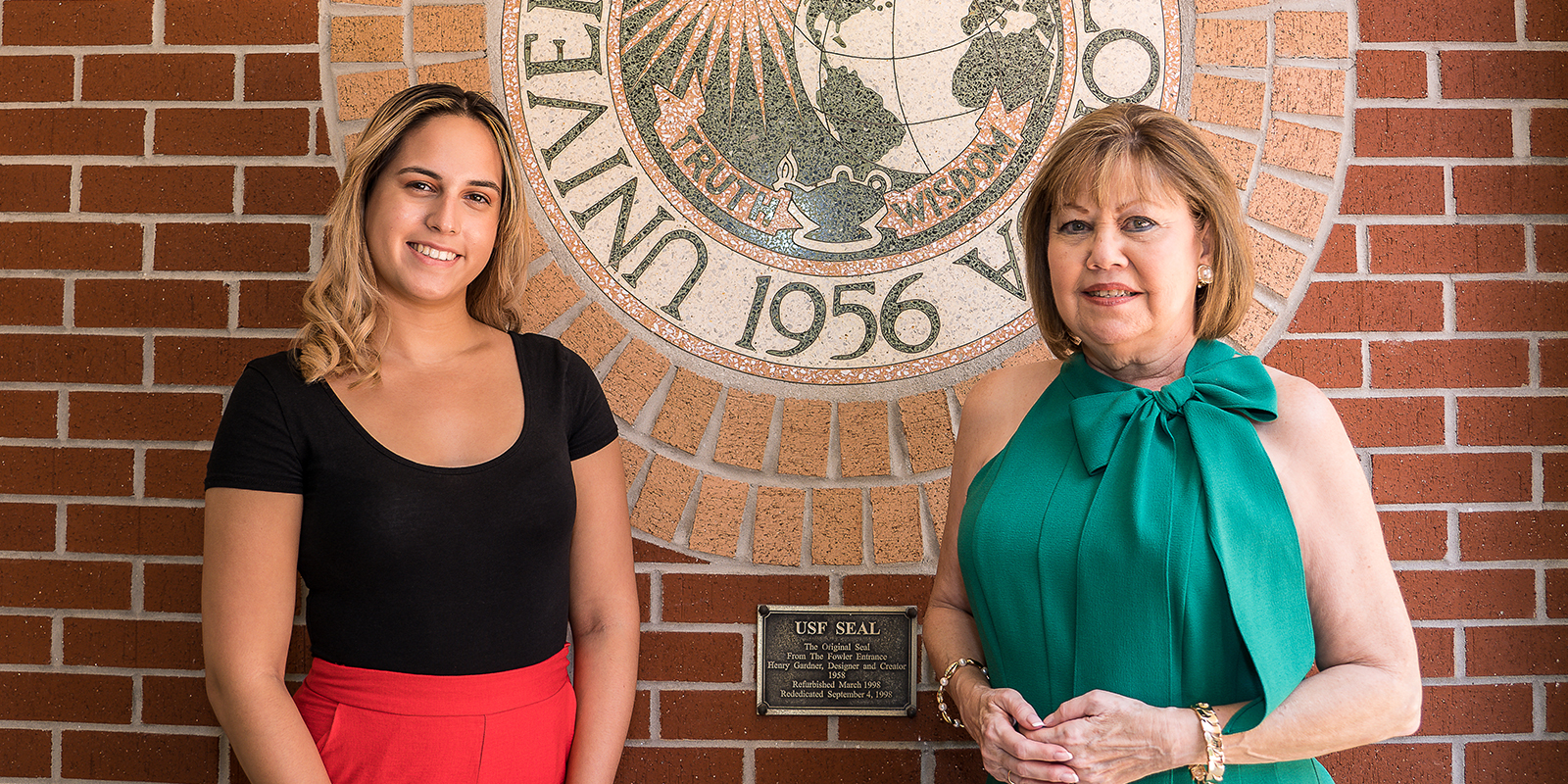 Nov. 18, 2021
It is a full circle moment for Margarita Gonzalez '85.
After a lifetime of championing scholarships for others, Gonzalez is attending the USF Latino Scholarship Ceremony as the founder of her own endowed scholarship.
As a Cuban refugee who arrived in the United States with one suitcase to hold her entire family's belongings, Gonzalez knows better than most the true value of education.
"After losing everything, I realized that a person's biggest asset is their education," said Gonzalez. "Knowledge and skills cannot be taken away from you."
A public servant for over 30 years, Gonzalez consistently went above and beyond to advance opportunities to all who made Tampa their home. She founded the City of Tampa Mayor's Hispanic Heritage Celebration Committee (MHHC), and co-founded the Hispanic Professional Women's Association (HPWA) and Foundation (HPWF), in addition to serving on many others.
As a lifetime Honorary Chair of HPWA and HPWF, Gonzalez has played a key role in raising over $150,000 dollars for the organizations' scholarships program. She also raised thousands of dollars to create scholarship endowments for the Mayor's Hispanic Advisory Council and the MHHC. Additionally, she has fundraised for scholarships on behalf of the Sheriff's Hispanic Advisory Council, the Community Education Foundation and other organizations.
In recognition of her indelible impact on Tampa Bay, Gonzalez was honored with a Lightning Community Hero Award on February 5. As part of the award from the Lightning Foundation, Gonzalez directed a $50,000 grant to establish the Margarita Gonzalez-Hispanic Professional Women's Foundation Endowed Scholarship within the USF Latino Scholarship Program.
The USF Latino Scholarship Program provides financial assistance, support and mentorship to local high-achieving Spanish-speaking students with demonstrated need. Most of the scholars are the first in their families to attend college, and many are the first to complete high school.
"Ever since the Latino Scholarship Program began, I've been fundraising for it," said Gonzalez. "To have an endowment, under my name, after contributing to so many others, is incredibly rewarding, and a dream come true."
On Sept 16, Gonzalez returned to her alma mater to present Marisleidy Batista with the first Margarita Gonzalez-HPWF Endowed Scholarship. Batista was one of 140 students recognized at the 30th annual Latino Scholarship Ceremony.
For a woman who was only able to attend college herself thanks to a scholarship, Gonzalez is overjoyed to complete this circle of giving. While she passes the blessing on to future generations, she hopes they will also lift others.