Charting a Groundbreaking Course, Together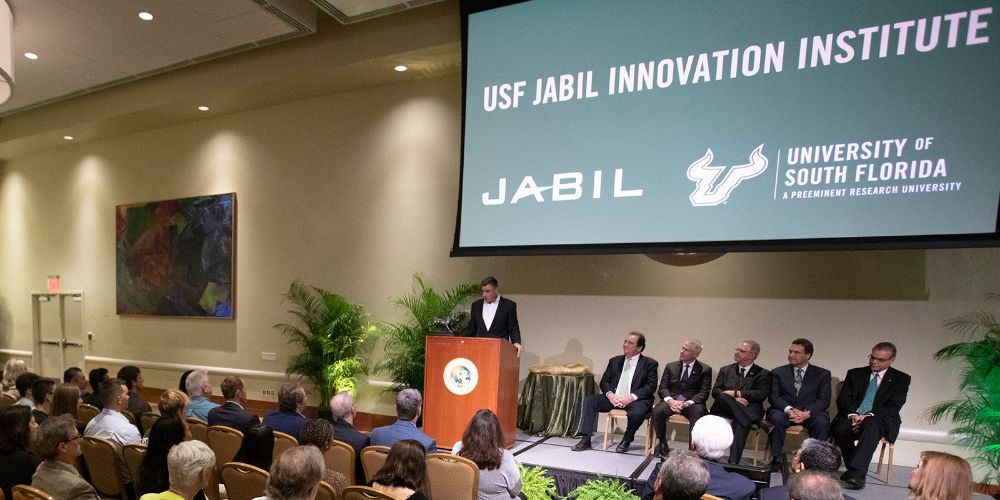 Dec. 21, 2020
Mark Mondello admits that when he was heading into the last semester of his senior year at USF, he had no idea what he was going to do. Mondello, who earned a bachelor's degree in mechanical engineering in 1987, would go on to become CEO of Jabil, a global manufacturing solutions provider based in St. Petersburg, Florida. Now, he wanted to find a way to help today's students get their feet under them sooner in their academic journey and work on real projects before graduation.
That became the topic of conversation with Joel Momberg, former CEO of the USF Foundation, over drinks at a Redington Beach bar a couple of years ago.
"We're sitting around and he talks about, 'How do we take a really large global company that's influential in the community and match it up with the local university?" said Mondello. The two jotted ideas onto a napkin, which Mondello then handed off to colleagues at Jabil.
Further discussions culminated in the announcement of the USF Jabil Innovation Institute in October 2019. The $1 million partnership includes an $800,000 gift as well as $200,000 in research support from Jabil and plans for future collaboration.
The USF Jabil Innovation Institute will provide new experiential learning opportunities and skills for students in the College of Engineering and Muma College of Business, which will ultimately make them more competitive in the job market.
Jabil is also leasing space at the Tampa Bay Technology Incubator in USF's Research Park, where students and faculty will collaborate with Jabil teams in developing solutions to critical business and technology issues.
Mondello said they are already starting to "put wheels in motion" in terms of what areas the teams will initially work on, like 5G wireless, digital health, cybersecurity and data analytics.
"We are looking forward to working even more closely with USF with this partnership," said Mondello. "We firmly believe that together we can bridge business and engineering theory to the changing challenges of our global community.
USF President Steven Currall said the institute may one day serve as a national model for high-impact university-industry partnerships.
"We are leveraging our strengths at the right time and right place — a Tampa Bay region that is continuing to build momentum as a creative, high-tech destination for the next generation of the technology-savvy workforce," Currall said. "And at the heart of it will be Jabil and USF, charting a groundbreaking course together."