Capping the Campaign with a Gift from the Heart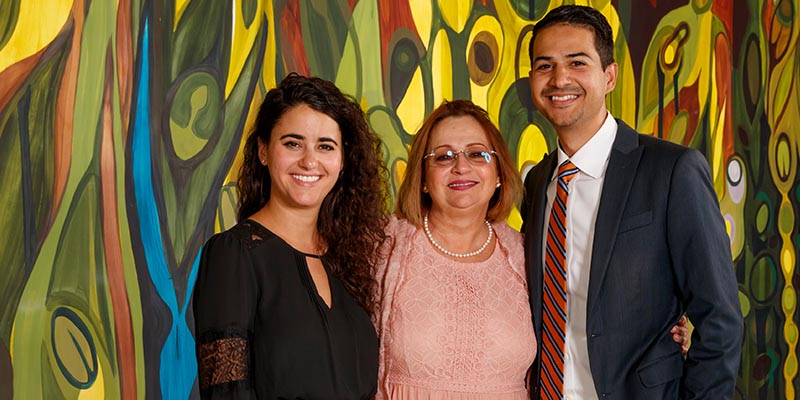 After nine years and raising more than a billion dollars, the end of the USF: Unstoppable campaign was fast approaching this past June. Of course, someone had to make the very last gift when the campaign and fiscal-year books officially closed. And that turned out to be USF alumni Jorge Soriano and his fiancé Hilary Wedner – entwining the story of a family's bold journey from Cuba to a new life of opportunity in America, and the mother who made it possible.
Soriano was only 9 when his mom, Raquel Fernandez, brought him to Florida in 1998. She had already sent her older son, who was only four years away from compulsory military draft age of 16, to live with his father in Puerto Rico. Young Jorge thrived in his new country. He was eventually reunited with his brother and attended the University of South Florida, helped enormously by support from the Latino Scholarship Program and other private scholarship support.
Soriano graduated in 2011 as a finance major in the Muma College of Business, aided by the Corporate Mentor program, which helped open doors to his career as a certified financial planner in Tampa. All along, he knew in his heart that one day he would find a way to honor his mother for all she had done. Earlier this year, Soriano and Wedner, who earned her MBA from USF St. Petersburg in 2017, thought of the perfect answer: establishing a scholarship in his mother's name through the Latino Scholarship Program. Unaware of the looming end of the billion-dollar campaign, he and Wedner mailed in a check for $2,000 shortly before the fiscal-year deadline – ultimately completing the USF: Unstoppable era with a simple, yet priceless, gift from the heart.
"My mom didn't have the same opportunities I had, and she sacrificed so much to get us into this country," Soriano says. "It was very important for my brother and I to get our education, because she never had that. When Hilary and I told her about naming the scholarship for her, she just broke down crying."
She couldn't have dreamed of a better gift.