A Bold Way to Connect with Young Alumni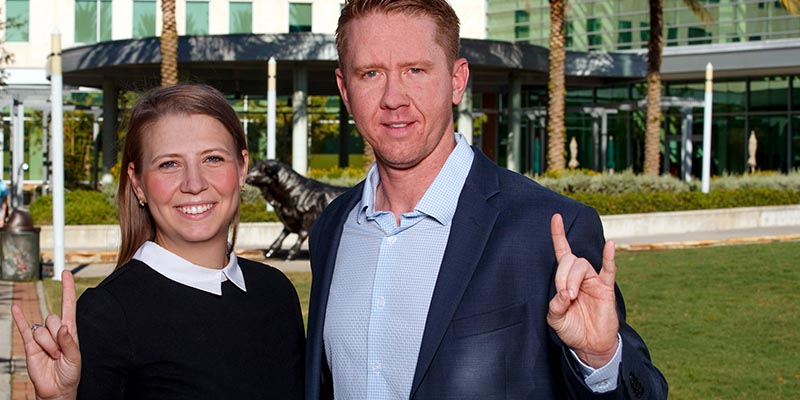 On most workdays, Zach Pietrzyk can be found in his blue hospital scrubs, driving throughout the Tampa Bay area to sell glaucoma surgical devices to ophthalmologists. It's a job the former USF baseball standout and 2011 graduate loves for a simple reason. "I really enjoy helping people," he says. "I may not be doing the surgery, but indirectly, I'm helping people see – and it feels great to be able to make a difference like that."
Pietrzyk experienced similar satisfaction after earning his marketing degree, working five years combined in event management and fundraising for USF Athletics. And it is precisely what motivates him today as a council member of BOLD – short for Bulls of the Last Decade, a perfect moniker for a new program geared to young USF alumni who have taken a bold step in giving back to the university.
The new initiative focuses on engaging USF alumni within a 10-year window of graduation, encouraging them to become annual donors to USF. In the process, BOLD underscores the power of philanthropy and how important private support is to the university in transforming lives. Pietrzyk has made a point of getting involved on multiple fronts, giving both money and time. He contributes to what he calls "three pillars" from USF that have impacted his life: USF Athletics, Muma College of Business and the Alumni Association as a lifetime member. "USF gave me so much, I think it's only right to give back," he says.
Pietrzyk has found the ideal new vehicle for doing that with BOLD. He became involved as one of 10 council members after meeting Nevena Pehar, USF's assistant director of Young Alumni Engagement and Philanthropy, and manager of BOLD – and now it's a major priority for him.
"There's this 10-year gap after graduation where people are trying to figure out their lives – trying different jobs, starting families or moving," he says."It's easy for them to lose connection to the university in that period, and easy for us to lose track of these alumni. Our goal is to keep them connected through different events or touch points. This program is the conduit, and a great way to develop the next generation of leaders at USF. If you're within 10 years of graduating and give to USF – whatever amount you can afford – you're BOLD." Connect with us today!