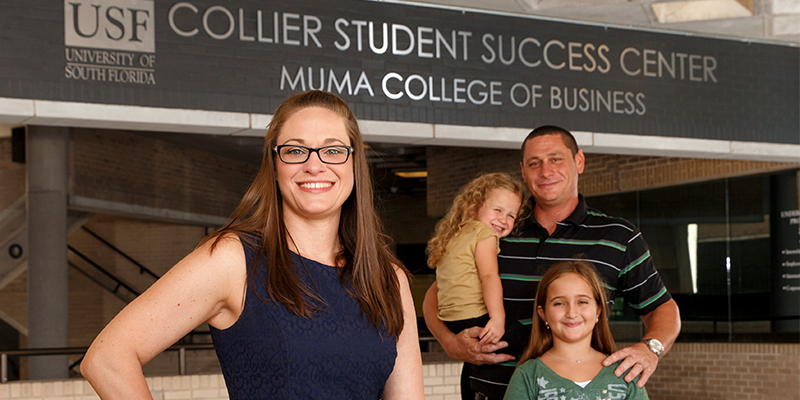 It's 5:30 a.m. and Chelsea Derosier is preparing for another 16-hour, non-stop day. She makes breakfast for her daughters, then wakes them to get ready for school and daycare.
As she fills backpacks, she quizzes her girls: Is everyone dressed? Does everyone have their shoes on?
Out the door, Derosier drops them off and heads to her favorite table outside the Muma College of Business to study for a few hours before her own school day begins. After working 12 years as a bookkeeper, she returned to school to earn an accounting degree, knowing that decision would come with financial challenges.
"My first couple semesters back to school I took out a ton of student loans," says Derosier. "I didn't have any financial assistance and my husband was working double shifts to keep us financially afloat. We were really struggling."
Receiving the Collier Scholarship in her senior year provided much-needed relief for Derosier and her family. Each year 12 to 15 first-generation students at the USF Muma College of Business receive the Collier Scholarship, which helps pay for books and tuition, and sets students on a path to success.
"The Collier Scholarship lifted a lot of financial pressure off of my shoulders," says Derosier. "I didn't take out a single student loan that whole year and my husband was able to cut back his hours at work. It felt awesome to get rewarded for all of my hard work."
In September 2015, Barron Collier III and his wife, Dana, gave a $10.85 million gift to the Muma College of Business, creating the Collier Student Success Center. The center brings a number of programs at the college together under one roof: assisting students with career planning; hosting corporate networking events; and offering professional development workshops. It also houses the Corporate Mentor Program, which all Collier Scholars must complete, and which the Colliers have supported and donated to for the past eight years.
"Participating in the Corporate Mentor Program was so helpful, especially as a first-generation student," says Derosier. "I learned things I didn't even know after being in the workforce for 12 years."
Over the last academic year, 130 first-generation juniors and seniors took part in the Corporate Mentor Program. All 72 graduating seniors, including Derosier, finished and started working in their chosen field or entered graduate school.
"Last year we had a 100 percent program placement rate," says program director J.R. Haworth. "The goal is to prepare the students to transition into the real world and getting internships is a big part of that."
This summer, Derosier completed a prestigious 10-week internship with Deloitte, an international financial services firm, and graduated with a bachelor's degree in accounting. Now a graduate student and teaching assistant at the USF Lynn Pippenger School of Accountancy, Derosier is nearing the end of her academic journey and looking forward to beginning her career in public accounting and working her way up to firm partner.
"The Colliers are truly amazing people and having met them, you can see the genuine love they have for what they do," says Derosier. "I am so grateful to them for believing in me and investing in my future. Thanks to their generosity, I am now one step closer to starting a successful career, providing for my family, and setting a positive example for my daughters."