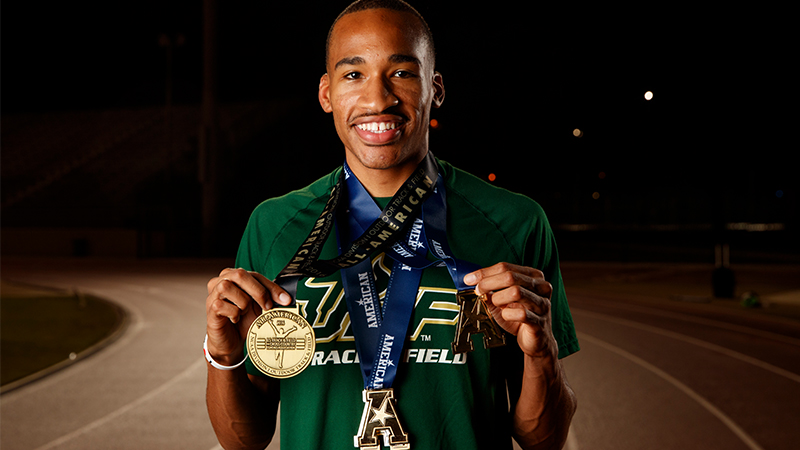 He is soft-spoken and polite, with an easy-going demeanor that no doubt serves him well in his tech-support job at a local software company. But when Matthew O'Neal dons his track uniform and spikes, an amazing transformation takes place – from a troubleshooting rep to a triple jumping star who has no trouble shooting down the runway and leaping to national acclaim.
"Honestly, I wouldn't believe the things that have happened in a million years," says O'Neal, who graduated this past May. "I'm just so thankful and honored to have been here at USF and been helped along the way by so many people. I also have to give thanks to God and my family – both have been integral to my athletics career."
O'Neal spent the past four years on USF's track and field team dashing toward the sand pit while smashing every triple jump school record in the books. A six-time NCAA All-American and six-time conference champion in the event, the native of Jackson, Mississippi did something even more remarkable this past spring and summer.
After logging the best jump of his career at the NCAA East Preliminary competition and finishing third in the NCAA Championships, O'Neal qualified to compete in the U.S. Olympic Track and Field Trials – with a chance of a dream spot on the U.S. team heading to Rio for the 2016 Summer Games. But more on that in a moment.
What made this athletic journey so impressive is that O'Neal came to USF in 2012 with soccer as his primary sport, hoping to play the game professionally after graduating. And what made his pivotal shift in emphasis to track possible – fueling his Olympic hopes – was an endowed scholarship made possible by the law firm of Shumaker, Loop & Kendrick, LLP.
In the process, O'Neal made a mark as an Academic All-American; participated in the Foundation-supported Selmon Mentoring Institute program named for the late, legendary Tampa Bay Buccaneers Hall of Famer and USF Bulls icon Lee Roy Selmon; and this past year was honored with the Lee Roy Selmon Award for exemplifying Selmon's character traits of leadership, humility and integrity.
"He's such a great kid," adds his USF triple jump coach Kiamesha Otey. "He has an unbelievable work ethic, great attitude and strong religious faith that follows in everything he does. He's just very grounded."
Except when sailing through the air to complete a triple jump.
Growing up as one of four active O'Neal children, he made A's in school and juggled multiple activities: elite club soccer, distance running in middle and high school. But at a city championship high school track meet, O'Neal's coach summoned him to watch the triple jump action saying, "I want you to try it." The stunned ninth grader studied the sequence of steps, then gave it a shot and finished in the Top 5. A star was born. As a senior, he competed in the state championships in the triple jump, 800 meter run, 4-by-400 relay and mile run; and he was a standout midfielder in soccer, even playing club competition in South America.
Division I college offers poured in from around the country, but on a visit to USF, O'Neal felt right at home and opted for life as a Bull. He came to school on a soccer scholarship, though quickly enticed the track and field coaches with his skill, becoming a two-sport USF sensation. As a senior, wanting to focus on triple jumping and carry a six-class load, he gave up soccer, which meant he no longer had a soccer scholarship. Fortunately, his financial obligations were now covered by the endowed scholarship.
O'Neal never looked back –improving his technique, speed and distances with Coach Otey's help – landing at the U.S. Olympic Trials in early July. With his family in the stands, O'Neal nailed a personal best jump of 55-feet, 8.25 inches to lead all competitors after the first day of qualifying. Rio beckoned.
In the finals, however, he fell behind the 2012 gold and silver medalists and two other established NCAA champions, finishing fifth, only two spots away from making the Olympic cut.
"It was disappointing not to make the team, but I definitely felt blessed to have made it that far," he says. O'Neal's jumping days aren't over. He has his sights set on next year's World Championships and possibly the 2020 Games in Tokyo – and he has plenty of support, technical and otherwise, to keep the dream flying high.