Inside the Black Leadership Network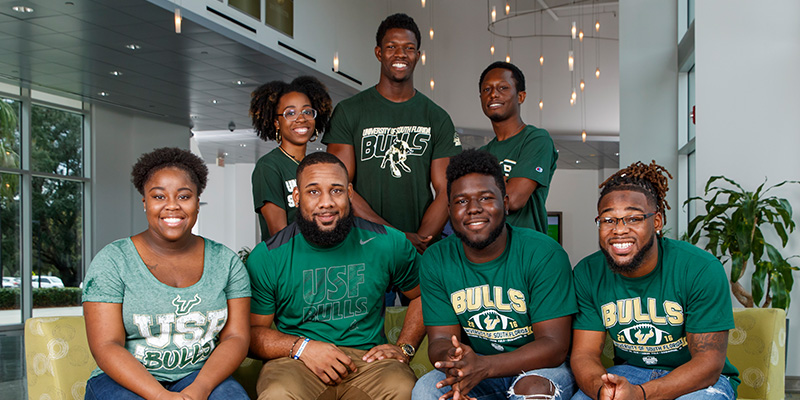 The idea began to percolate in a passing conversation.
It took place last April at USF's Kente Awards celebration, an annual event honoring distinguished African-American alumni and community leaders, and supporting scholarships for black faculty members and students. Naturally, the packed crowd included Jerry and Ruth Bell, whose endowed scholarship has been helping talented African-American students since 1991. Also on hand was Luz Randolph, '06 and '08, development officer for Diversity Initiatives at the USF Foundation.
She had heard all about the Bells – including Jerry's career in the 1980s as a tight end with the Tampa Bay Buccaneers. They soon found themselves chatting, specifically about the couple's feeling that more could be done to keep promising black students from dropping out due to lack of finances. Suddenly, Bell had a thought: "Let's figure out how to utilize our network – and create program that will help us not only with scholarships but in providing guidance through mentorships."
Ruth, who earned her master's degree in communications from USF, echoed the sentiment. And soon after, a plan began to take shape within the Foundation that would address their concerns. When it was presented to him, Bell, who runs his own information technology company, responded without missing a beat: "How can we help?"
With that, the Black Leadership Network (BLN) at USF was born – growing from the seed of an idea to a concrete plan that would rapidly fall into place. By November, the concept was officially approved, and within a month additional founding donors with USF ties were on board: Anddrikk and Rena Frazier and Edwin "Ed" and Monica Narain, joined soon by USF employees Tracy Muir, Annette Billingsley-Cheze and Kaley Peters of the USF Foundation.
Within months, the BLN already had funded four scholarships, and the organization continues to grow and seek partners – whether financial or to mentor students. One of the scholarships is funded by the Bells, in addition to their long-standing endowed named scholarship. "It all came together through a natural progression of events," says Ruth. "And we're so excited to be a part of it."
The same held true with the Fraziers, both USF Class of 2001 graduates. Anddrikk, who captained USF's basketball team in the late 1990s and became an executive in the energy field, and Rena, an attorney, each believe that giving is a must to provide opportunities and access that many students wouldn't otherwise enjoy. "We think it helps put us in a better place as a society," Frazier says.
The Narains did not graduate from USF, though Ed was elected USF's student body president in 1997-98. He went on to serve in Florida's House of Representatives and today is a regional director with AT&T, and Monica is a public school teacher. "Since USF is where I got my start, both academically and in leadership, Monica and I saw this as a great opportunity to give back to the university – specifically to African-American students who, like me when I was here had to struggle to make ends meet."
The BLN is determined to keep that from happening. "We want to get as many people involved and create as many scholarships as possible," Bell says. "There are people out there who can help us make an impact."