A Boost to Investigative Journalism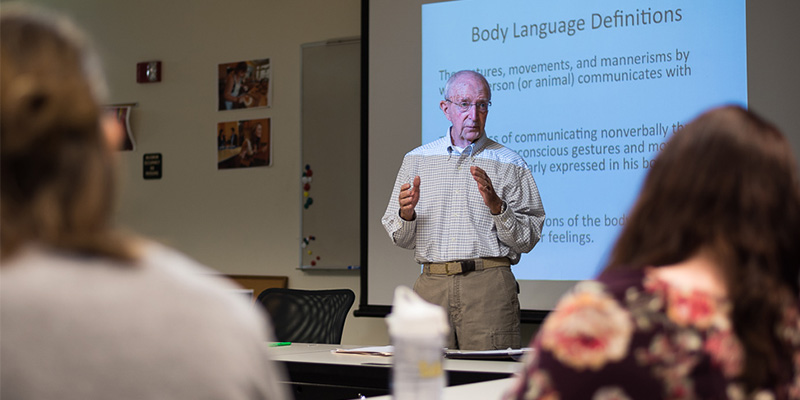 For more than 40 years, Len Deadman's career path took him to the heights of marketing and advertising in Florida and beyond – working with a roll call of heavyweight clients such as Publix, General Telephone, Maas Brothers, Florida Federal and the Southern Company. But inside the man with a natural gift for communicating corporate brands and implementing sales strategies beat the heart of a journalist, guided by a commitment to facts, honesty and integrity.

He never worked in the field, other than his stint as a part-time printer at the Miami Herald in the 1950s, when his Korean War-time service as U.S. Marine staff sergeant ended. And though he wound up earning a bachelor's degree in journalism at the University of Tennessee, Deadman instead followed a series of fortuitous breaks as a budding ad world wiz. In time, that led to executive positions with several top Tampa-based agencies, most notably Young & Rubicam/Zemp from 1964-83, and eventually to teaching marketing classes at the University of South Florida for more than two decades.

Yet he was always drawn to the societal importance of newspapers, and guided by the core values instilled by his parents, Canadian immigrants who struggled to keep a small printing business in Detroit afloat. "My parents taught me to be fair with people at all times," he recalls. "Even though we experienced very hard times financially, they were extremely compassionate and caring with others. And I just grew up with the idea that honesty better be part of your character. In serving clients, I would never bend the truth. People knew they were getting the real deal with me."

So when Deadman began thinking of a fitting scholarship he could create at USF, it wasn't tied to the profession he thrived in; it was the one he very well might have: journalism.

Deadman discussed the idea with his wife, Nancy, and the longtime Clearwater residents decided to pursue it. Sadly, she would never see it happen, passing away in 2013 after dealing with the effects of a brainstem stroke for 25 years. But even in grief, he pressed on, and the scholarship began to take shape after he met with USF's Assistant Vice President of Gift Planning Marion Yongue. Deadman expressed his strong desire to support the teaching of journalism, with a special focus on the investigative side – spurred by his passionate belief in journalism's role as a watchdog in society, and inspired by the work of his hometown newspaper, the Tampa Bay Times.

"The Times has done a remarkable job with investigative journalism," he says. "But from a broader perspective, given the political environment in this country dating back to the 1970s – with two parties that control everything – I just believe the Fourth Estate is extremely important to this country. The press is needed to look into the mental health system, the prison system, the school system, the political system. Anyone or any entity that is dishonest and in a leadership role needs to be called out front and center. And I wanted to help any way I could."

The question was how. The Deadmans loved reflecting on life during their countless hours aboard their 30-foot sailboat, taking trips from Clearwater Harbor to places like Captiva and Longboat Key. It was treasured time away from the pressures of work and the migraines Nancy suffered and later the challenges from the stroke. They named the boat the Wind Riff. "The wind was our music," he says. Soon enough, they had a conceived of a plan that would be music to the ears of aspiring journalists at USFSP.

The couple owned an income-producing duplex in the area, and they decided to use it as a source of funding for a possible scholarship. The cash-flow it yields is currently earmarked for family, but one day in the distant future when it is no longer needed, the duplex can be sold to fully fund the scholarship. In the meantime, a friend has stepped forward to fund the scholarship on a temporary basis. In December, the Len and Nancy Deadman Journalism Scholarship was awarded to USFSP journalism student Devin Rodriguez, the editor-in-chief of the campus newspaper, the Crow's Nest. Rodriguez heard about the investigative scholarship from a professor and jumped at the opportunity to apply.

"I was fortunate that it was awarded to me and it's already been a huge benefit," says Rodriguez, 25. "I'm working my way through school and have a part-time job at the library, and then I'm trying to run a newspaper. All these responsibilities add up, and the financial support from the scholarship allows me to look toward the future – especially when an internship opportunity comes up. Now I can have a little bit of a nest egg so that when I graduate, I can go join a newspaper as an intern – positions that rarely pay – and still be safe. Or I can also afford to roll back my hours at the library a little to better suit the newspaper, which is a big plan for the next semester."

Deadman is thrilled to hear of how the scholarship is already making a difference to a worthy recipient. He thinks back to all the intense research and in-depth interviewing he did as a master marketer for various firms, including Leonard Deadman, Inc. that he ran from 1993 until his retirement in 1999. Those skills served him well in his marketing career and he has already been invited to speak to USFSP journalism students, helping them develop the same tools. "I'm very excited to be able to come in and speak about reporting, research and in-depth interviewing techniques from time to time," he says.

Deadman feels particularly invested in USF, having earned his master's in economics from USF, "in between constantly flying around the country doing advertising agency business." He later taught classes in marketing concepts as an adjunct and visiting fulltime USF professor – both in Tampa and St. Petersburg – from 1980 to 2003.

These days, Deadman admits, that his two daughters, grandson and son-in-law keep him going. Nancy's memory is never far from his thoughts, especially as he quietly navigates the Wind Riff in Clearwater Harbor, the Gulf and even to the USFSP waterfront. He knows how pleased his late wife would be that their scholarship has become a reality – and will live on in their name, nurturing promising young journalists and supporting a craft that still beats strong in his heart.