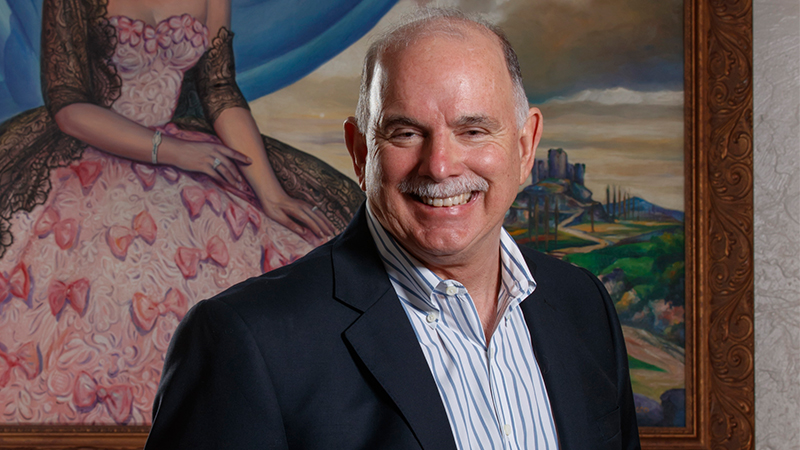 On a quiet morning inside the Columbia Restaurant, as the wait staff sets up for another busy lunch hour, the one-man whirlwind is on a roll. Richard Gonzmart, who often rises by 3 a.m. to tackle the next project racing through his mind, is talking passionately at a small table.
The topic is close to his heart – the obligation he feels to assist Latino students in need. As he elaborates, it's hard not to notice the portrait hanging directly behind him on an ornate wall of mahogany and Spanish tile. The image is one of hundreds that link the generations inside the renowned Ybor City establishment, founded in 1905 by Gonzmart's great-grandfather.
But this one has special significance – a framed, faded photo of the Columbia co-owner's late parents, Adela and Cesar Gonzmart. In a place so connected by history, Adela's presence seems only fitting as her son speaks about helping students make their own history – and continue the cycle of giving that his mother created.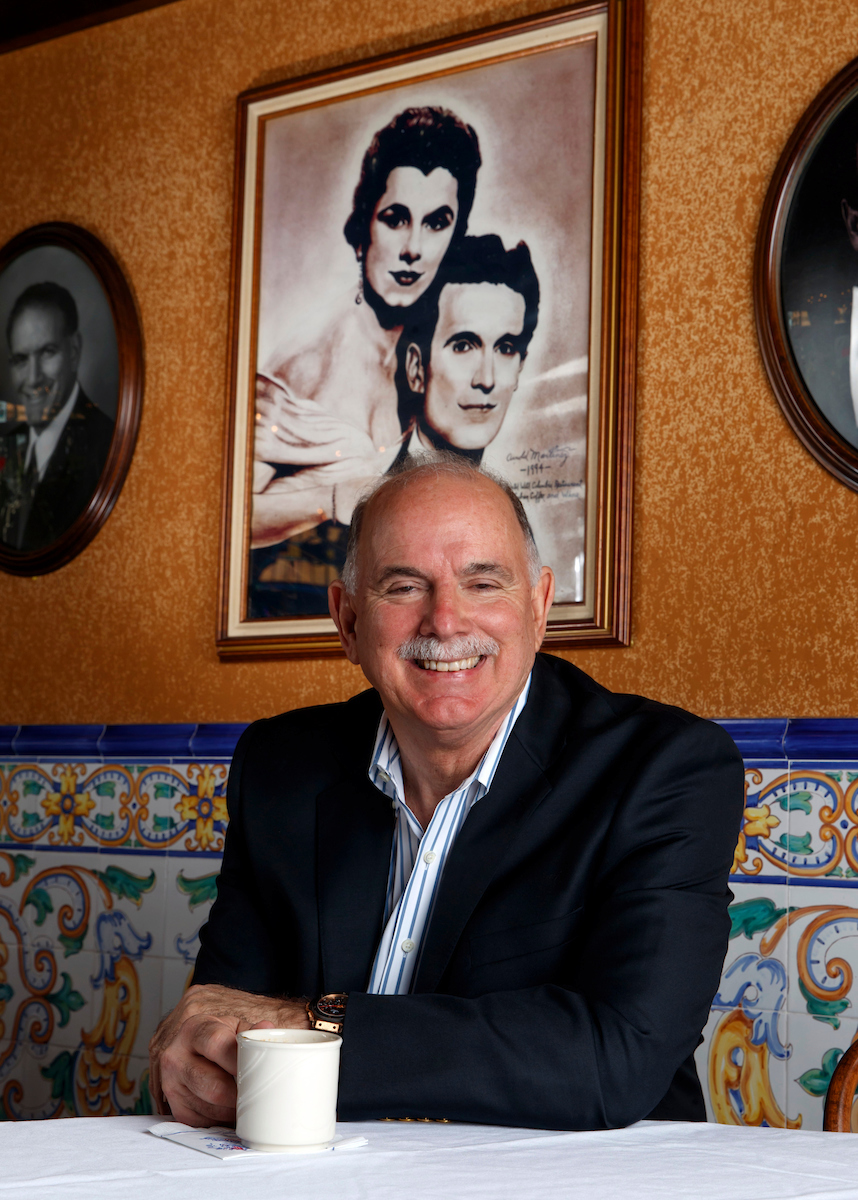 Adela, a Juilliard-trained pianist who married a concert violinist – both with Hollywood looks and boundless charm, served as a founding member of USF's Latino Scholarship Program. In fact, the first ceremony took place 26 years ago in the same dining room where Gonzmart is talking. "My mother stressed to me the need to help students who weren't so fortunate – students who were academically talented but financially challenged," he recalls. "She felt strongly that it was our responsibility to help."
It was an exciting moment during a difficult time. The patriarch, Cesar, was dying of pancreatic cancer and the restaurant's future was threatened by serious financial difficulties. "But with faith in the Almighty and hard work, we came through it in the mid-1990s, and that's when my mother told me it was my responsibility – mine not the company's – to support a student," Gonzmart says. "And I made a pledge to always do that."
Adela passed away in 2001, but her legacy of making education available to deserving, first-generation Latino students lives on through the unwavering, generous commitment of her son. Gonzmart established the Adela and Cesar Gonzmart Endowed Memorial Scholarship in 2002. Then, in 2005, to celebrate the Columbia's 100th anniversary, he established the Columbia Restaurant Centenario Award. Combined, the two scholarships have totaled some $200,000 and funded 21 USF students – including three siblings whose story continues the giving chain in a new way.
Julio, Elsi and Maria Rodriguez have been the fortunate beneficiaries of Gonzmart's scholarship support. Their father was a migrant worker who died picking crops in the field, and the notion of a college education was impossible without Gonzmart's help. Today, Julio, a Class of 2000 graduate, is vice president of sales for United Technology, Elsi,'00, is a Citi Financial vice president, and Maria,'09, is a Nielsen sales manager.
"Before the scholarship, I thought my only decision was going to be which crops I would be picking," says Julio. "At that time, Elsi and I were both working in the fields, and trying to figure out if one of us one might be able to go to college and the other continue in the fields. His generosity allowed us both to go to USF – and that made all the difference in opening doors for me and both my sisters."
The Rodriguez siblings have decided to follow the example that Gonzmart set for them years earlier. Last year, they established the Rodriguez Nambo Endowed Scholarship, honoring their mother, Esther Rodriguez Nambo. "She put us in a position to succeed," Julio says. "I believe in the Latino Scholarship Program's motto – we must lift as we climb. And we're so grateful to Richard Gonzmart for lifting us when we needed it."
"Adela Gonzmart must be smiling from up above," adds USF's Director of Diversity and Inclusion Patsy Sanchez, who runs the scholarship program. "It is truly the gift that keeps on giving."
Gonzmart is far from finished. His latest gift is the Richard and Melanie Gonzmart Latino Scholarship, a $200,000 commitment – half of which will help pay for 10 students to attend USF and the other half to establish four endowed scholarships that will last in perpetuity. Yet one evening this past August, Gonzmart was a recipient for a change.
At the 26th anniversary celebration of the Latino Scholarship Program, Sanchez had secretly arranged a special surprise. On cue, she called many of his scholarship students and their families to join him on stage as he handed an oversized check to USF President Judy Genshaft, who moments earlier hailed the program as unlike any other in the country. Students from past and present – some of whom will no doubt endow their own scholarships one day – hugged and thanked Gonzmart. And the gift that keeps on giving flowed on into a night of endless possibilities.