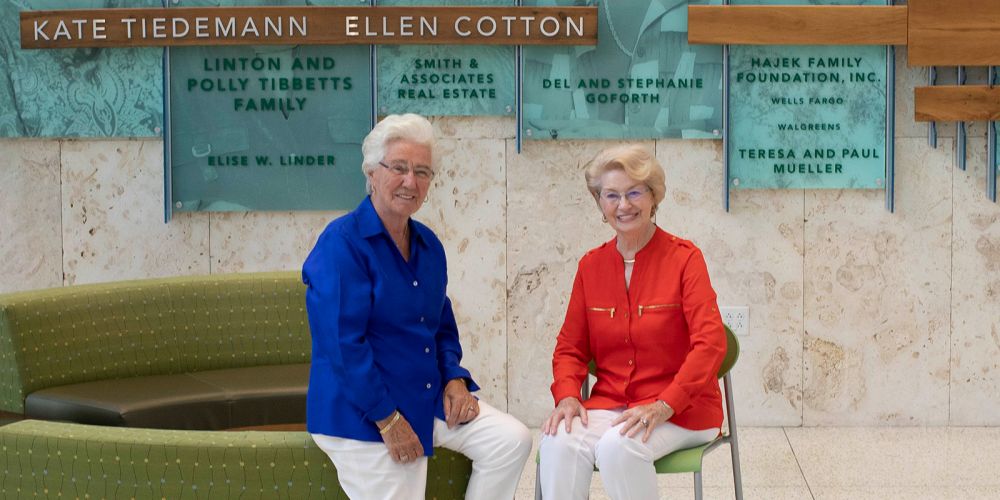 Dec. 11, 2019
Entrepreneur and retired businesswoman Kate Tiedemann — who founded and led the premier international company Katena that designed and manufactured ophthalmic surgical instruments sold in 110 countries — forever changed the future of the University of South Florida St. Petersburg's College of Business.
Beginning in 2014, Tiedemann made a transformational $10 million gift that was recognized by naming the College of Business the Kate Tiedemann College of Business (KTCOB), which still stands as the largest gift in USF St. Petersburg's history.
Additionally, Ellen Cotton, a retired banker, Hallmark store entrepreneur and Tiedemann's spouse, made a $1.1 million gift supporting scholarships and student clubs at KTCOB, for which the Ellen Cotton Atrium was named in Lynn Pippenger Hall at USF St. Petersburg. These women launched a new era of philanthropy at USF St. Petersburg.
Now, in 2019, Tiedemann and Cotton have continued to enhance the philanthropic landscape at KTCOB by committing an additional $3 million to endow the deanship for the Kate Tiedemann College of Business. With this contribution, their giving now totals nearly $15 million.
The Tiedemann-Cotton Endowed Deanship will provide additional financial resources for the KTCOB dean to support strategic initiatives within the college.
"The extraordinary success here at the Kate Tiedemann College of Business is due in large part to the leadership of Dean Sri Sundaram. His commitment to innovative programming and community engagement is key to our future. He is methodically and creatively laying the groundwork. We wanted to make sure there will be a stellar dean at KTCOB for decades to come," noted Tiedemann recently.
Ellen Cotton added, "By endowing the deanship, we are giving Sri and his successors the flexibility to do whatever has to be done to continue to enhance the student experience at KTCOB. It all starts with leadership and ends with student success."
KTCOB Dean Sri Sundaram said this generous gift is a testimony to their continued commitment to the college, university and community.
"Personally, they have been the steady hand of support to me during my tenure at KTCOB, for which I am very grateful," said Sundaram. "Their foresight, by creating this endowment, will continue to provide the critical funding for strategic initiatives to support our college and to serve our students now and into the future."