Bulls United for Students in Need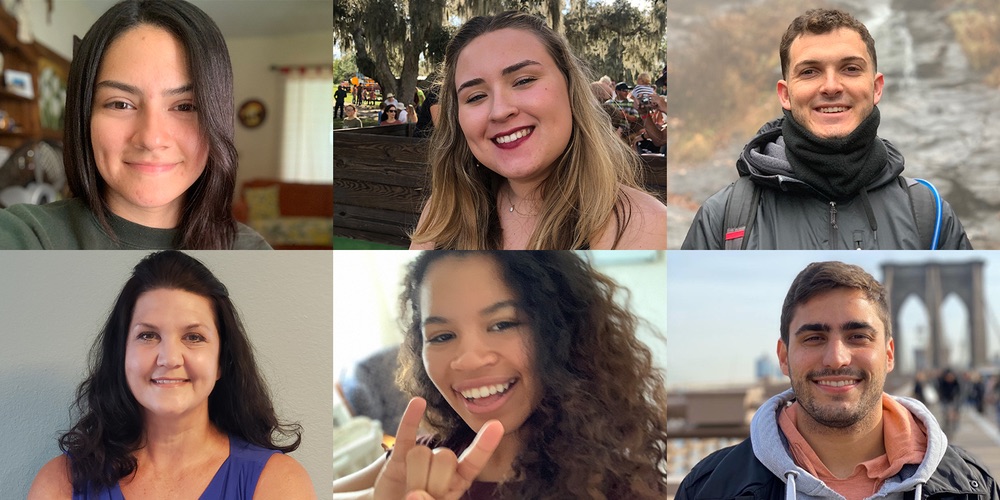 September 22, 2020
To say the coronavirus pandemic disrupted our lives would be the understatement of the year. Instead of coming back from spring break to finish out their semester on campus, students had to quickly adjust to online-only courses. Some had to move back home as residence halls closed. And many lost jobs — and with them, income.
Recognizing the urgency of the moment, President Steven Currall launched the USF United Support Fund — an unprecedented fundraising effort for USF — to help students meet essential needs, such as paying rent, buying groceries or covering unexpected educational expenses.
"There's nothing more important than the health and wellness of our community and the impact of each gift provides much-needed relief to our students," said Currall. "The outpouring of support for USF students through gifts to the United Support Fund has been extraordinary."
Alumni, faculty, staff and friends of the university dug deep and without delay.
Within 48 hours, the fund surpassed $75,000, and as of Sept. 22, more than 1,700 donors had given more than $386,000. The total includes signature $20,000 gifts from John and Naida Ramil and Les and Pam Muma, along with a $10,000 gift from USF Health faculty member Arthur Herold. In addition, Jeff and Penny Vinik made a $50,000 gift through the Vinik Family Foundation. An incredible 87 percent of gifts came from USF alumni, faculty and staff.
"It is remarkable how quickly this effort was launched, and even more so how quickly — and generously — the community responded," said Noreen Segrest, interim senior vice president of advancement and alumni affairs and USF Foundation CEO. "We are so appreciative of the rapid response from our USF family and friends."
More than 2,000 students applied for the financial aid, with more than 348 students receiving funds as of Sept. 22.
Senior Amber Hernandez was amongst the initial recipients.
"It honestly kind of feels like a nightmare that you can't wake up out of," said Hernandez. "It's crazy not to be able to go out or even hug or kiss your family members or even see your friends."
Hernandez, who returned to her parents' home in Miami when classes moved online, said even with being at home, she was stressed about money, which was affecting her schoolwork. A public health major, Hernandez needed a special computer program for one of her classes, which she typically would access at the computer lab on campus.
Her adviser pointed her toward the United Support Fund. The funds she was awarded allowed her to get the computer she needed to finish her coursework.
"I'm really grateful, and it just makes me so happy that help is out there. As a USF Bull, I'm getting the help I need. One day, I want to do the same for somebody who's in my shoes," she said.
Before the pandemic started, senior Brianna Rodriguez worked in downtown St. Petersburg at Karma Juice Bar. When the city issued a stay-at-home order for all nonessential businesses, her shifts were cut.
"Thankfully, I'm pretty good at saving money, so I have been able to pay rent up till now," said Rodriguez, a mass communication major at USF's St. Petersburg campus. "The money really helps me to be able to feed myself and with any other extra costs. We don't know how long this is going to go on," she said.
Rodriguez is thankful she was selected to receive support from the fund, and hopes more students can benefit from it.
"The fact that this was an option and this was out there for students, I think it's awesome," she said.
One of the most stressful parts of this pandemic for Jordan Logan has been the transition to online-only coursework.
A junior public health major, Logan is taking six classes, including Chemistry II, Biology I, labs for both of those as well as Professional Ethics.
"It's a lot harder, because I have to learn how to focus myself, rather than being in a library where I can just focus on that," said Logan.
Logan also lost the income he would normally receive as an employee of his father's lawn care business, further compounding his stress.
He applied for help from the United Support Fund after learning about it from both his girlfriend's mother, a USF alumna, and one of his professors. The funds, which he used to pay some of his bills and buy groceries, helped relieve some of the stress he's been feeling and allowed him to focus on his classes.
"I am beyond thankful. When you want to perform and get high grades, but you are worried about money, life can get messy. It's super helpful and takes a lot of stress off of a student's back with all this going on," he said.
Even though she is a seasoned teacher, with 17 years in special education, Lora Reese has been working as a long-term substitute teacher while she finishes her doctorate at USF. When schools closed due to the COVID-19 outbreak, her income vanished.
"I didn't want to commit to full-time employment knowing I would be leaving once I finished the doctorate," she said. "But unfortunately, when the virus kicked in it put me in a position where those of us that are contract employees don't get paid."
Already a two-time USF alumna — Reese received her undergraduate degree from USF's Sarasota-Manatee capus and her master's from USF's St. Petersburg campus — she praised the University's communication during the pandemic, which is how she learned of the United Support Fund.
Reese used her award to pay for her last semester of tuition, keeping her on track to finish her doctorate in education specializing in curriculum and instruction.
"So I can stop stressing about that," she said.
To the donors she said thank you for believing in educators and future educators. "By contributing to the success of those in the field of education, you're not only supporting short-term goals, but creating opportunities for our young people coming up in very challenging times."
Before COVID-19, Nisuka Williams worked two jobs, one at the St. Petersburg Campus Recreation Center. She has since been furloughed from both jobs.
Despite this setback, Williams has stayed positive and said not working has made the transition to online classes easier since she has more time to study.
"The only drawback is not being able to constantly bother my professors with every little question," said Williams, a senior biology major originally from West Palm Beach. "Now I have to write it out nicely in an email and all that."
Williams learned of the United Support Fund through the regional chancellor's weekly email messages.
"I was like, 'This is amazing!' I looked at the donors and was like 'Wow, these are regular community members who donated to this,'" she said.
Williams said pretty much all of the funds will go towards rent.
"My two jobs almost covered rent, so because I don't have those, this really helps out," she said. "I was shocked and touched that people got together so quickly and thought of the USF community. That was just really nice."
Thiago Bonafe De Oliveira came to USF from Sao Paulo, Brazil, to study electrical engineering. Thankfully, his parents are able to send him financial support to help cover his living expenses, but the COVID-19 outbreak has affected the conversion rate between the Brazilian real and the U.S. dollar.
"I used to get around $600 or $700. Now I get like $500, because of the whole conversion rate. I lost $150-200 of the total income from what my parents send me each month," he said.
On top of that, Bonafe De Oliveira also lost his on-campus job as a housing services clerk, which provided $500 a month.
He said the award he received from the fund helped him afford his rent.
Bonafe De Oliveira said there are a lot of international students who are in the same situation, and many have had to go home.
"Thank God, there's this funding at USF," he said. "I know all of the international students that have heard of it have applied for this."
For now, Bonafe De Oliveira is hoping to change his visa to allow him to work off-campus, and brainstorming ways to reduce his expenses.
"If I'm not thinking about school, I'm thinking about my financial situation," he said.
Bonafe De Oliveira and the other students highlighted here are just a handful of the students already impacted by the United Support Fund.
The COVID-19 pandemic may have been the impetus behind this initial effort, but the impact of the United Support Fund will be long term. USF's incredibly diverse student population includes students of limited financial means. And while USF students have a penchant for being hard-working, driven and boundlessly ambitious, if basic needs aren't met, they risk their dreams staying dreams. The United Support Fund served as an important resource to help bridge the gap.
In times like these, the community is the saving grace for students in crisis. By coming together, even while apart, Bulls united to show how we are here for each other. No matter the challenge, we face it together. We endure. We thrive. We are One USF.
Help a student in need by making a gift of any size to the USF United Support Fund HerdFunder.