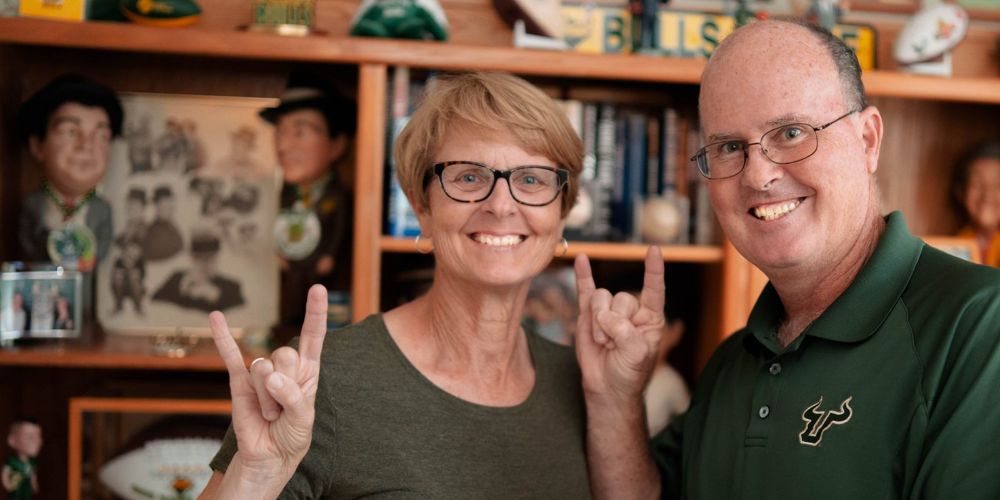 Dec. 21, 2020
Joseph Ferguson '86 is, arguably, one of the Bulls biggest and most loyal fans. For the past three decades, Joe and his wife, Sandy, self-proclaimed "sports junkies," have cheered on the Bulls at just about every USF football and men's and women's basketball home game.
Proof of their passion decks every surface in their home office. Programs from the hundreds of games they've attended cover the walls. Signed basketballs and footballs from each head coach line the shelves. Rows of collectible bobble heads from each opposing team they traveled to see crowd the bookcase.
The crown jewel of the collection, an anniversary gift from Sandy to Joe, hangs in a place of pride in the center of the room. A 3-by-5 foot frame commemorates a 2002 trip, when they traveled with Lee Roy Selmon and the football team to Oklahoma, with signed shirts from Selmon, game tickets and the vintage USF mechanical bull logo.
"I can count on one hand the number of men's basketball games we've missed since we got our season tickets in 1989," said Ferguson.
Even on the eve of brain surgery, Joe insisted on being courtside for the game — head wrapped in bandages to keep the EEG recording device monitoring his brain waves in place.
"With only 14 players on the team, you get to know them pretty well," Joe said of the men's basketball team. "You see them come in as teenagers. The tutoring, mentoring and education they receive at USF transforms them into incredible young men with bright, bright futures ahead of them. By senior night, it feels like a big family and everyone is celebrating together."
But their steadfast support of the Bulls goes far beyond a simple hug or handshake. For the past 28 years, the Fergusons have made an impact through gifts to the Bulls Club Annual Fund. The Bulls Club Annual Fund is an unrestricted fund that touches every sport and program in USF Athletics, from tutoring to travel expenses. Last year, the Fergusons and 1,069 others donated to the fund, raising nearly $900,000 for USF Athletics.
"The Bulls Club Annual Fund is absolutely vital to our success," said Michael Kelly, vice president of USF Athletics. "It provides unrestricted support for every sport and program in USF Athletics. If a need arises, the Bulls Club Annual Fund can serve as a supplement, ensuring our student-athletes have access to the best opportunities for success."
In a year filled with unexpected challenges, the Bulls Club Annual Fund has been a saving grace. Whether on the court or in the classroom, USF student-athletes are supported by a plethora of diehard fans, like the Fergusons, who are rooting for their success.