Black Leadership Network Encourages Cycle of Education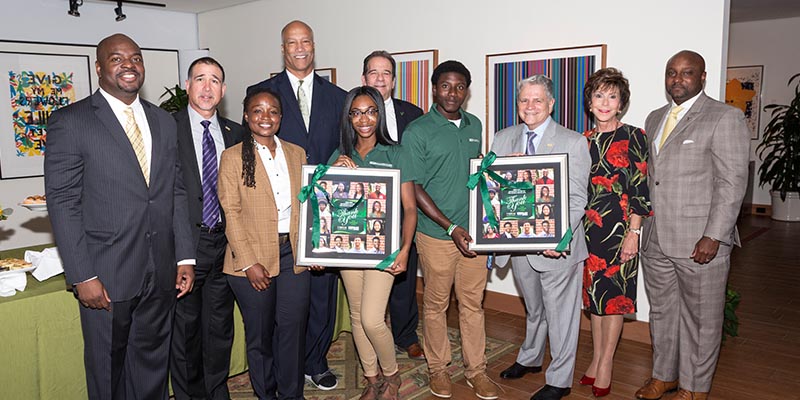 A $2.1 million grant from Helios Education Foundation is changing lives at the University of South Florida. Directed to the USF Black Leadership Network (BLN), the goal of the grant is to support BLN scholars toward success and degree completion from the university.
In Fall 2018, BLN used the grant to award scholarships, renewable up to five years, to an incoming cohort of 12 Helios/BLN first-time-in-college students. It also established a $2 million scholarship endowment which will support up to 40 students a year, in perpetuity.
Founded in December 2016 with a mission to enhance education and leadership opportunities for African-American students in the USF System, BLN has gained exceptional momentum in a relatively short amount of time. The Helios Education Foundation grant represents a transformative step for the group, doubling the number of scholarships it can award this year from 12 to 24 and providing $20,000 for mentoring and professional development programming to further benefit the scholars.
For a first-generation student like Frankkeishia Butler, receiving the scholarship and mentoring provided by the Helios/BLN Scholarship is a pivotal turning point in her college career.
"I wasn't expecting any scholarships," shared Frankkeishia, a freshman studying biology at USF St. Petersburg. "My mom is a single parent financially supporting three kids on her own so receiving the Helios/BLN Scholarship is an incredible help. It's my only scholarship and it's going to help me pay for school."
Backed by an entire community that believes in her, Frankkeishia is confident she can achieve her dream of graduating college and becoming a plastic surgeon who specializes in burn and accident survivors. Her drive to carve out a career path in the medical field is even inspiring her mother to return to school to pursue a degree in nursing. Thanks in part to Helios Education Foundation, a new cycle of education has begun in the Butler family, one that spans generations and will have a profound and lasting impact on the family's legacy.