A Tribute to Terrell Sessums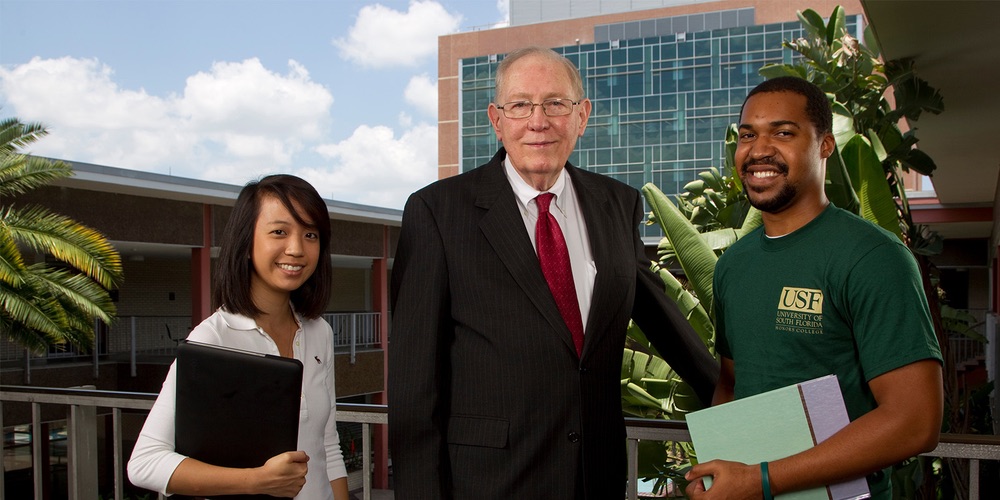 July 6, 2020
With heavy hearts, the University of South Florida community mourns the passing of Terrell Sessums on June 6, 2020.
Public servant. Bridge builder. Civic leader. Philanthropist.
Famous throughout Florida, former state legislator Terrell Sessums is being remembered for all that and more. At USF, the words "champion of education" are emblazoned on a plaque at the USF Sessums Mall, recognizing his contributions.
"Terrell Sessums was a true public servant, advocate and dedicated member of our community," said USF President Steve Currall. "An incredible leader for Florida education, he was instrumental in establishing the University of South Florida and remained invested in our university's success."
Sessums leadership as a member and speaker of the Florida House of Representatives (1963–74), then as a member and chair of the Florida Board of Regents (1979–88), provided crucial support in expanding the university in its early days. He also played a key role in establishing the colleges of medicine and nursing at USF, as well as graduate programs in architecture and business.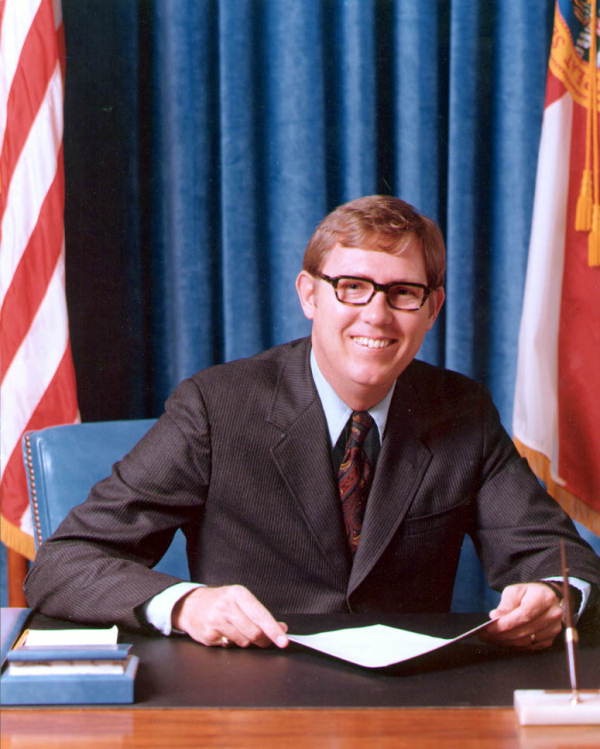 He served a decade on the USF Foundation Board of Directors and was a foundation member of USF's Phi Beta Kappa chapter in 2019. For years, Sessums taught and maintained an office at the Judy Genshaft Honors College (JGHC).
The university honored these efforts with the President's Distinguished Citizen Award in 1975, the Class of 56 Award in 1988 and an honorary degree in 1995. The Terrell Sessums Mall was dedicated in 1999 as one more expression of gratitude for his constant support.
Motivated by their personal experiences receiving life-changing scholarships, Terrell and his wife, Neva Sessums, established the Sessums Regents Scholarship at USF in 1987. Since then, more than $215,000 in funding has been awarded to 308 JGHC students to cover books, tuition and even international learning-based travel.
Charles Adams, dean of the JGHC, remembers Sessums as one of the people he most admired in his life.
"Terrell Sessums was smart, funny, kind, generous and a great storyteller, but most of all I admired his tireless efforts to make the world a better place through education. From his time as a legislator through all his years of public service afterward, his steady goal was to create opportunities for all Floridians to have access to a world-class education," said Adams. "I am especially grateful for his contributions to the Judy Genshaft Honors College at USF, but his work to establish the Morsani College of Medicine along with his support of other institutions across the state has been invaluable. His life's work has improved the lives of countless people, whether or not they know his name, and will continue to do so for a long time. He will be greatly missed by us all."
The couple also set up a $200,000 academic enrichment fund as an estate gift to support research, education and scholarships at the JGHC, the Morsani College of Medicine and the USF Libraries.
"Although I never had the opportunity to meet Mr. Sessums, I am touched by his unmistakable passion and enthusiasm for the university," said the Senior Vice President of Advancement and Alumni Affairs and CEO Jay Stroman. "Mr. Sessums and his wife, Neva, were lifelong champions of the University of South Florida. Their legacies will live on through their generous endowed scholarships and significant contributions to the university."
A veteran of the U.S. Air Force and a fierce proponent of equitable education, Sessums was a true public servant who will forever be remembered and honored by the USF community for his extraordinary leadership and service. He was preceded in death by his wife, Neva, in 2013. Sessums would have turned 90 years old on June 11. Rest in peace, dear friend.
The Terrell and Neva Sessums Regents Scholarship honors their memory. To make a gift in support of Judy Genshaft Honors College students, please click the button below.