Tackling Food Insecurity During COVID-19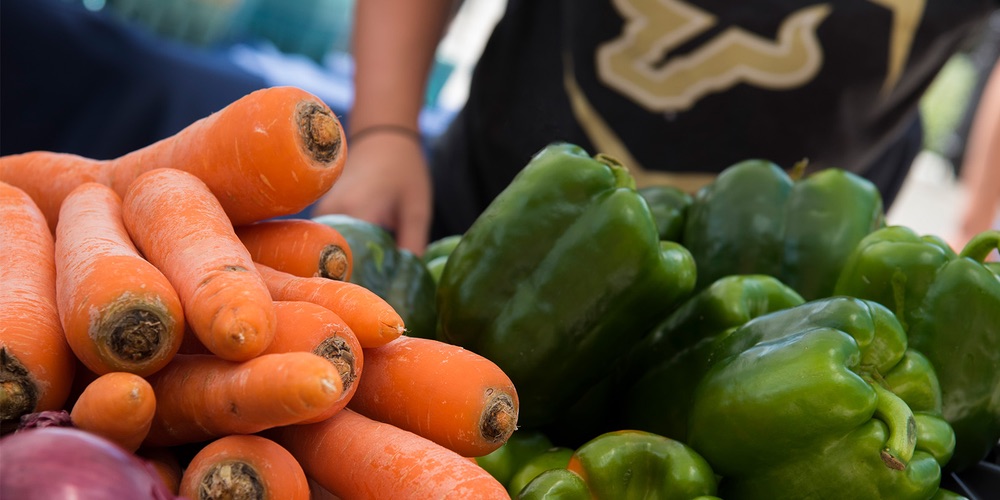 June 26, 2020
At the first drive-through food pantry organized by Feeding Tampa Bay at the start of the COVID-19 pandemic, in about two hours 2,500 cars came through whose passengers needed urgent food assistance. At the second, there were 3,600.
"The demand has gone through the roof," said David Himmelgreen, chair and professor in USF's Department of Anthropology and director of the new Center for the Advancement of Food Security and Healthy Communities.
Colleagues at Feeding Tampa Bay reported the demand for food assistance has increased 400 percent due to the pandemic and the subsequent economic shutdown. And a recent Tampa Bay Times article reported the number of food insecure in Tampa Bay has nearly doubled from 700,000 to 1.3 million people.
"And that number is only going to go up," said Himmelgreen. "It's people from all walks of life. The demand is really there."
Himmelgreen said the role of the Center for the Advancement of Food Security and Healthy Communities is to conduct research, educate and raise awareness of this need — pandemic or not.
"The bigger issue is reducing and eventually eliminating food insecurity. How do you address the larger structural issues that contribute to food insecurity?" said Himmelgreen.
Since 2015, USF has partnered with Feeding Tampa Bay on a dozen research projects to raise awareness of the consequences of food insecurity on health and well-being, work productivity and academic success. But also, on the diverse face of food insecurity.
When you think of who might be experiencing food insecurity, people who are low income earners or homeless may come to mind. But food insecurity cuts across multiple demographic groups, so that even those considered middle income earners can experience it when budgets get tight.
"We're not just talking about absolute hunger, which does exist," said Himmelgreen. "But the bigger picture is a nutritionally inadequate diet that is skewed towards highly processed foods that are not particularly healthy for you."
Officially launched in January 2020, the Center for the Advancement of Food Security and Healthy Communities focuses efforts around the three pillars of conducting research, raising awareness and engaging with community partners to make effective changes to policies and programs. With faculty across the university studying these issues, the center provides a way to bring them together for dialogue and collaboration. Approximately 30 faculty are affiliated with the center, as well as undergraduate and graduate students from a variety of majors.
Though much of their research has been put on hold due to the pandemic, there are plans for several studies, including testing the effectiveness of a food "prescription" program based in a health clinic in Pinellas County, and looking into how COVID-19 is affecting the food security of the local elderly population as well as USF students, who are both especially vulnerable to food insecurity even under normal circumstances.
To help get these projects off the ground, the center is joining #BullsUnited in Action with their HerdFunder project, "Tackling Food Insecurity During COVID-19," with all the money raised supporting the hiring of students who will help conduct research.
"People are living on the edge and are very anxious. Our responsibility as a university is to address these problems in the community that we're in, that we live in, that we're engaged with," said Himmelgreen.
In addition to addressing an important problem, Himmelgreen said this is also a way of furthering the mission of the university.
"We are training students, our next leaders, who will be more cognizant about the issue of food insecurity in the United States," he said. "I've met so many students who are really dedicated to this issue, who feel very strongly about it. They're looking for ways to be a part of addressing the problem. Providing them with the skills to do research, will make whatever positions they have that much more effective."
To learn more about how you can support the center's research, please contact Sharon Hamisak, director of development, College of Arts and Sciences.