A Stampede of Support for Women Athletes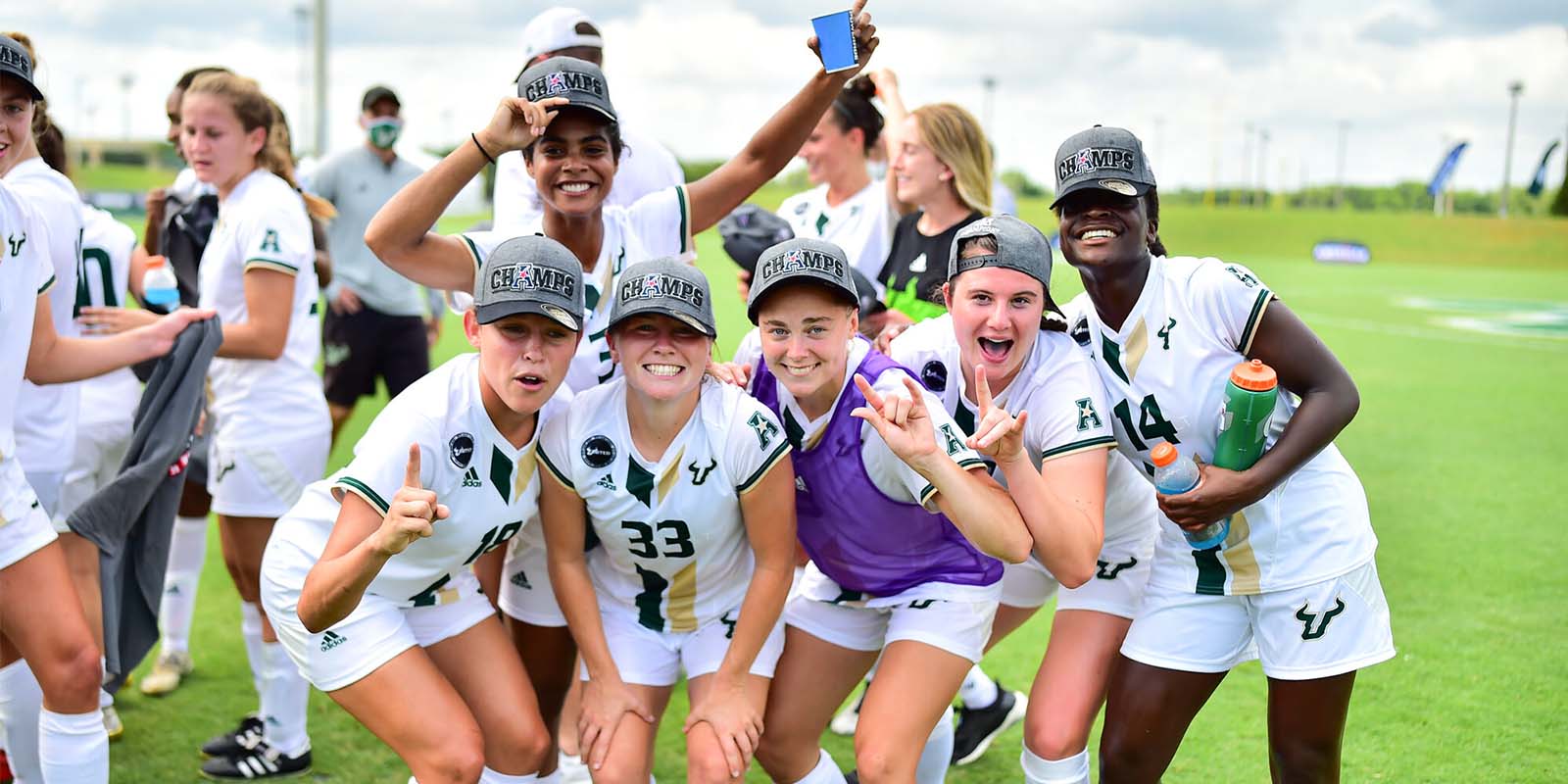 Sept. 7, 2021
In 2021, the University of South Florida women's soccer team played their first unbeaten regular season since 1998, making it to the second round of the NCAA championship and finishing in the top 25 nationally.
The softball team played in their seventh NCAA tournament in the last 10 seasons, reaching the regional finals for the first time since 2014.
Women's basketball saw their first regular-season conference championship and first conference tournament championship, finishing the season ranked No. 12 nationally — an all-time high.
And those are just a few of the accomplishments made by USF's women athletes in the 2020-2021 season.
A new initiative at USF hopes to push these outstanding women student-athletes to even greater heights.
The idea for Stampede for Women started germinating in the fall of 2019, and the initiative officially launched in February 2021.
The goal of Stampede for Women is to raise awareness and empower female student-athletes to overcome challenges through gathering community support of USF women's athletics programs.
Gifts support USF's 10 women's sports programs and more than 200 student-athletes and fund scholarships, career development opportunities and capital projects.
In turn, donors have inside access to teams, providing opportunities for student-athletes to build relationships with members of the community.
Helping to launch the effort is Michael Kelly, vice president for USF Athletics.
"I'm so excited about Stampede for Women, because it's high time we find ways to find more community support for our women student-athletes," he said. "Not only in terms of developing resources to continue our great tradition and success with women's sports and propel that even further, but also to build support in terms of attendance at our games, mentoring opportunities and other ways for women in the community to build relationships with the strong women we have here at USF."
Denise Schilte-Brown, who has served as women's soccer coach at USF since 2006, is a vocal advocate for pay equality in soccer. She became involved with Stampede for Women to raise awareness of the issue and support women athletes at USF.
"I think the important thing to understand is men's athletics have generations on women. They've had the support of the media," said Schilte-Brown. "The more we can get the word out that women's sports need support, then we can catch up to where the men are."
Schilte-Brown said donors to Stampede for Women help the women athletes feel valued.
"These are tremendous women. They are killing it in the classroom. They are getting their volunteer hours in. These are doctors and engineers. They're doing a great job of winning and creating national exposure for USF," said Schilte-Brown.
Helping to get Stampede for Women off the ground is a group of four donors, including Sally Dee '94, MBA '11, Betty Castor, Joanne Nelson and Cindy Kane '76.
Once a student-athlete herself, playing on USF's women's golf team from 1989-1993 and then on the LPGA tour from 1998-2002, Dee said the experience changed her whole life and ultimately gave her the confidence to start her own public relations firm, Playbook Public Relations.
"Women's athletics provides the foundation for great leadership, because as a student-athlete you learn things like time management, self-discipline, self-motivation and teamwork," said Dee.
Dee would like to see USF become a model for what can be in women's athletics. She also looks forward to seeing USF's women athletes thrive.
"I am part of the Stampede for Women, because I want to make a difference," said Dee.
Dee pointed to Title IX as providing opportunities for women who are now dominating on the world stage at the Olympics.
"Title IX was passed to ensure women had equal opportunities in college admissions. The positive unintended consequence was the meteoric rise of female athletes on a world stage," said Dee. "When, as a society, we create more equitable opportunities for women, greatness will follow."
Castor, who served as the university's first female president (1994–1999) and later executive director of the USF Patel Center for Global Solutions (2007–2009), is a dedicated women's basketball fan … and softball … and soccer … and golf. The softball coach, who coached the Olympic team for the 2020 games in Tokyo, was hired during Castor's presidency.
"It's still really important to try to build support for the women's teams," she said.
Abby Ritter, assistant athletic director for development for USF Athletics, and Kelly brought the idea for Stampede for Women to Castor. She chose to support the effort because she thinks it's important for young women.
"The discipline these women receive in their training is outstanding," she said. "They're good students. They're terrific role models for other students. And they've put us on the map, globally."
Castor said it's good to talk about the accomplishments of women athletes, especially when the conversation in the community is usually dominated by men's teams.
"We need to build the diversity in athletics, too," she said, noting she's seen coverage increase for women's sports and hopes that will continue.
Castor said Stampede for Women is just getting started, and she's hopeful building this initiative will help USF compete for the best women athletes.
Nelson's interest in USF's athletic programs was ignited five years ago when she and her husband, David Goldstein, traveled with the men's and women's basketball teams to Spain. Her interest mushroomed from there, from going to a token game or two each year, to attending every game she can, home or away.
"I'm telling you, I have turned into someone I never thought I could be, and that's someone who is really interested in sports," she said.
When Ritter approached her with the idea for Stampede for Women, she was happy to throw her support behind the effort and plans to start meeting with women business leaders in the Tampa Bay community who can make a meaningful contribution to Stampede.
She is hopeful Stampede for Women can help improve the quality of the experiences USF's women athletes have and give them a boost, knowing people care.
"It's the idea the athletes know there are people who care about them," she said.
Kane, who was the first donor to step up in support of Stampede for Women, didn't hesitate when Ritter asked her to join the effort.
"I am so passionate about USF and students in general, but specifically female athletes," said Kane, who played intramural sports as a student at USF in the early 1970s.
Kane is excited about Stampede for Women funding more scholarships and providing career development opportunities, such as bringing in motivational speakers.
"Anything out of the typical budget items that will enhance their ability to compete and grow," she said.
Kane is glad to be part of the core group of women who believe in the mission of this initiative. The committee has researched similar programs at other institutions that have had great success.
"There are great stories of how these initiatives have enhanced their student athletes' experience and helped them grow on and off the golf course, on and off the court, on and off the field," she said.
With the help of Stampede for Women, USF's women athletes will be competing for championships, developing as leaders, breaking barriers and building a community around women's athletics for generations to come.
To learn more about Stampede for Women and how you can be involved, contact Abby Ritter, assistant athletic director for development, at abritter(at)usf.edu or 813-974-4223.