Shaping Tomorrow's Leaders Through USF Sarasota-Manatee campus's Brunch on the Bay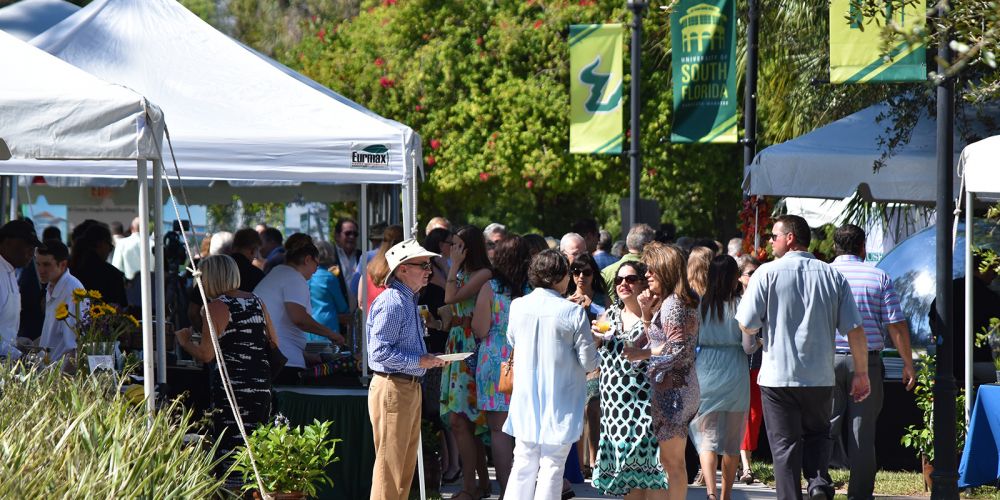 Dec. 11, 2019
Last year's Brunch on the Bay celebrated its 25th year of awarding nearly 1,800 student scholarships, totaling more than $5.5 million in funding, with a one-year record of $325,075. And as impressive as these numbers are alone, the larger number is the countless volume of students, businesses and neighborhood leaders that have been brought together by this event, mutually inspiring growth in each other and adding to the local community.
From its small-scale beginning in 1994 as an effort to raise awareness of USF within the Sarasota-Manatee community, Brunch on the Bay has evolved into a uniquely compelling annual experience. Centered around samplings of exquisite local cuisine, each year more local business leaders have joined as sponsors and participants in this event that raises funds for student scholarships.
"This scholarship literally helped me continue my education," said senior Christella Jasmin, who is studying to become a family doctor and work to serve the health care needs of the underprivileged. Jasmin said the scholarship also helped her to continue her student employment as well as her many volunteer efforts at a food pantry, her church and the Blake Medical Center. Her volunteer efforts are providing the experience she needs to help reach her goal of one day establishing her own nonprofit foundation to provide health care for those who cannot afford it.
Kayla Collins, a senior who has also benefited from the Brunch scholarship for the past three years, is studying for a career in law enforcement or for service in the FBI.
"This scholarship has been especially helpful to me as I am currently in the Accelerated Criminal Justice Master's program. One graduate course in this program costs three times the amount of an undergraduate course. The Brunch scholarship helps with this tuition," Collins said.
The education students receive as a result of Brunch scholarships benefits the Sarasota-Manatee business community. One direct result of Brunch on the Bay is that employers are able to connect with students — prospective employees. One local CPA firm alone has benefited from this mutual relationship by employing at least 44 USF Sarasota-Manatee campus graduates.
The Brunch on the Bay event continues to move forward by building on its first 25 years of success in 2019 with a new look, new feel, new co-chairs and a new sponsor. Bank of America signed on as the premier sponsor for the 2019 event, as one more example of the realized value and benefit to the growth of the local community.
"At Bank of America, we believe higher education ultimately empowers individuals to make a difference in the world around them by creating access to higher paying jobs and the opportunity to achieve long-term goals," said Mike McCoy, Sarasota-Manatee market president for Bank of America. "Through initiatives such as the Bank of America Brunch on the Bay, we're helping drive economic mobility by providing people opportunities to pursue their careers."
And so Brunch continues shaping tomorrow's leaders, bonding students and local businesses together for another 25 years, and beyond.