Empowering the Latino Community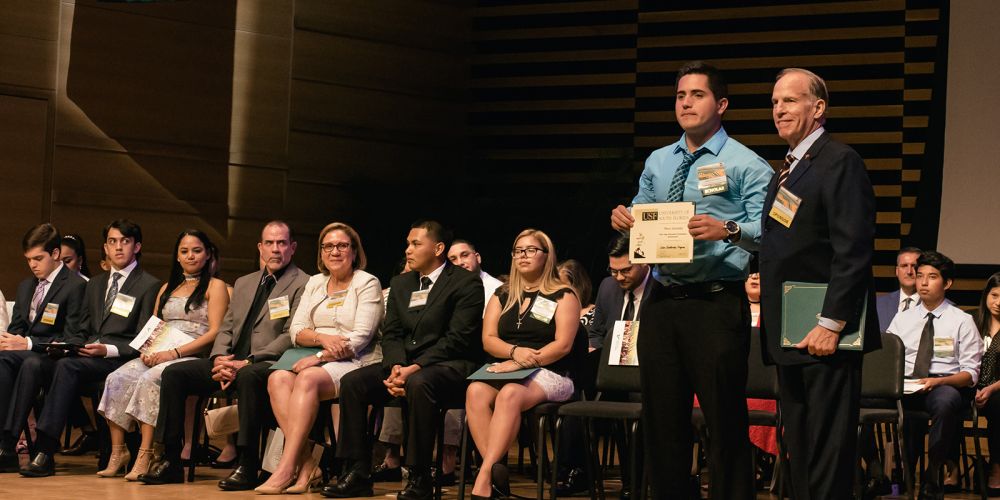 Dec. 11, 2019
Resplendent with jewels in their 12th century regalia, the Krewe of the Knights of Sant' Yago (KSY) parade through the streets — smiling, tossing beads and, unbeknownst to most, raising money for college scholarships as members of the KSY Education Foundation.
The Krewe of Sant' Yago Illuminated Knight Parade is an annual celebration that pays living tribute to the Hispanic heritage of Tampa. Nearly 100,000 spectators line the route, cheering as a procession of more than 100 floats and 6,500 participants revel in the streets of Ybor City, making it one of the largest parades in the region.
The Proclamation Dinner, hosted by the KSY's Education Foundation kicks off the parade and serves as a key fundraiser for scholarships at the University of South Florida, University of Tampa and Hillsborough Community College. Attended by the Mayor of Tampa and the leadership of each educational institution, the event highlights the Foundation's mission to help students in dire financial need pursue their dreams of higher education. One recipient from each institution is invited to give testimony on the powerful impact of their Sant' Yago scholarship. At the end of the evening, the Mayor signs an official proclamation, declaring "Krewe of the Knights of Sant' Yago Parade Week" in the City of Tampa and urging all citizens to join in celebrating and honoring their unique Latin cultures.
At USF, the KSY Education Foundation partners with the Latino Scholarship Program to mentor and sponsor incoming students through graduation and has given more than $465,000 to date.
"We gave our first scholarship to USF," said Dr. Ray Ortiz, President of the Sant' Yago Education Foundation. "Now we are celebrating our 25th anniversary and we couldn't be prouder of the impact we are making in Tampa Bay. Our scholars at USF, UT and HCC are graduating, most with honors, and many go on to attend graduate school and become physicians, lawyers, engineers, dentists — role models in the Latino community."
The Sant' Yago Education Foundation is one of the largest donors to the USF Latino Scholarship Program, providing scholarships for 90 students since 1998. Last year, the Foundation donated $103,000 to the program, enabling them to sponsor 27 of the 140 scholarships for the 2019-2020 academic year.
"Receiving a Sant' Yago Scholarship is life-changing," said Patsy Sanchez, director of the USF Latino Scholarship Program. "The majority of students in this program are not only the first to attend college in their families, but the first to even graduate from high school. It goes beyond helping individual students, they are changing the trajectory of entire families."
Now that's a reason to party in the streets.