Planned Gifts Make an Impact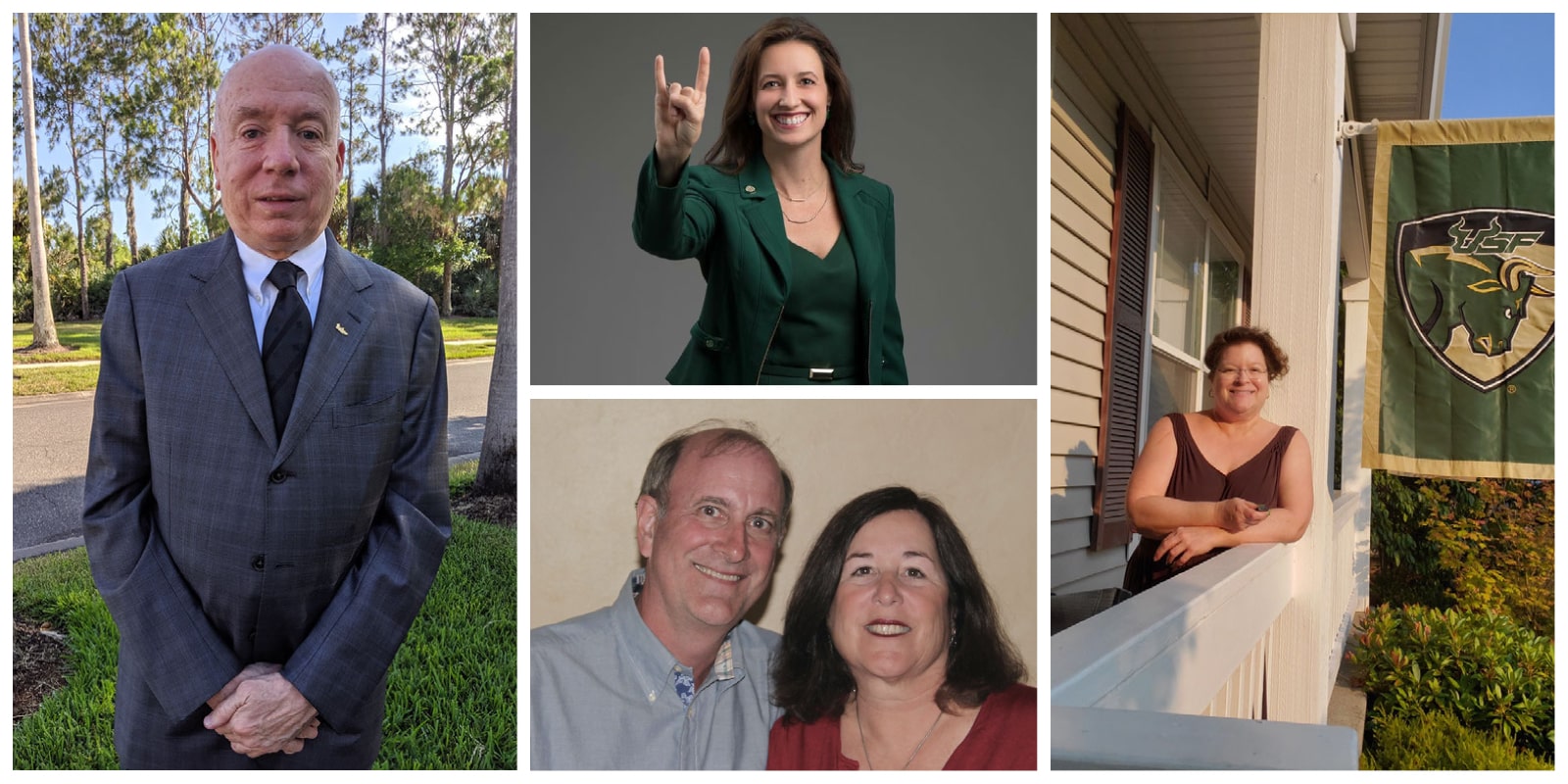 Clockwise from left: Roy Jewell '77, April (Monteith) Grajales '01, MBA '03, Suzanne Ward '86 and Brad '76 and Terry '76 Holcombe
July 29, 2021
They are young and old. Some are alumni and others are not. They have different backgrounds and have traveled a variety of career paths. But each, for their own reasons, has chosen to make a gift to the University of South Florida through their estate.
For nonprofits, nearly 10 percent of all philanthropic gifts come from bequests. For donors, creating an estate plan allows you to express how you would like your assets to be distributed to family and friends as well as the charitable organizations you care about, including USF.
The most common type of bequest is making a gift, either a flat amount or a percentage of your estate, in your will or revocable trust. Blended gifts, where the donor makes part of the gift during their lifetime, allow you to witness firsthand the impact of your philanthropy while ensuring continuity for the future.
Over the years, Brad '76 and Terry Holcombe '76 have given generously to the Judy Genshaft Honors College, establishing the Holcombe Scholars Fund to provide need-based financial and other support to undergraduate students who qualify as first-generation students. The fund has already supported 56 students, and the Holcombes have enjoyed meeting their scholars and watching them succeed.
Wanting the program to continue, the Holcombes have designated USF as beneficiary of an Individual Retirement Account (IRA), that will provide funding for the Holcombe Scholars well into the future. What's more, IRA gifts made to a qualified charity are not subject to federal income tax, therefore more funds are available for the charity to use.
Creating an estate plan takes more than one conversation. Foundation team members spend time with potential donors to learn about their passion and the impact they'd like to have on the university. Donors also work with professional advisors, such as a financial planner or attorney when planning their gift.
For Suzanne Ward '86 USF football is "her pride and joy." Ward travels from her home in Portland, Oregon, to cheer on the Bulls at every football game, home and away. Over the years, she has given generously of her financial resources to the College of Arts and Sciences as well as USF Athletics.
Ward has included a generous bequest in her will to USF Athletics in support of the Football Center, Football Scholarship Fund and Touchdown Club, helping to ensure the team will have the best resources long into the future. Her gift will also support the College of Arts and Sciences.
If you've chosen to include the university in your estate plan, be sure you document it with the Foundation. Those who have a documented estate gift with the university become part of the USF President's Council Legacy Society and have the opportunity to attend special events, become more involved with the university and witness, firsthand, how they are changing student lives at USF.
Not only can the university provide sample bequest language, which documents the gift amount, but Foundation team members can work with you to document the intention for the gift. Should your intentions change, the gift agreement can be updated easily.
The university might also be able to suggest giving vehicles you had not considered. For instance, making the university a beneficiary of your retirement account.
David O. Connelly worked with the USF Foundation to create an estate gift, including an IRA and other saving accounts, to establish the David Connelly and Joe P. Pérez First Generation Scholarship that will offer scholarships to first-generation students at the USF St. Petersburg campus.
The scholarships will be named for Connelly and his late partner of 32 years, Joe P. Pérez, who served as the office manager of the Academic Advising Center for many years and won the Outstanding Staff Award several times during his tenure.
Connelly has been so inspired by the students of USF that he chose to teach as an adjunct professor in humanities at the St. Petersburg campus for the last three years.
Naming the university as primary or secondary beneficiary of a life insurance policy is another way to include the university in your estate plan.
In fact, April (Monteith) Grajales '01, MBA '03 bought a life insurance policy for this very purpose, designating USF as her beneficiary. A former USF student ambassador, Monteith served on the USF Alumni Association board from 2014-2019 and is now a member of the USF Foundation board.
"You're an alumni for a lot longer period than you're a student," she said. "And the Alumni Association plays such a critical role in helping alumni connect with the university."
The gift will establish the April Rose Monteith Endowment and provide support for the USF Alumni Association.
Certain types of gifts can even provide you income during your lifetime, such as the charitable gift annuity (CGA).
Roy Jewell '77 started a CGA for the Emery H. and Barbara B. Jewell Faculty Excellence Award Fund and the Roy Emery Jewell Endowment. A CGA is a great way to create an additional stream of income, while also fulfilling your philanthropic goals. The principal is invested and you receive regular annuity payments. After your lifetime, the remainder of the gift is used for the purpose you outline in your agreement.
For Jewell, it was important to provide further support for two endowed funds he'd previously set up. The Jewell Faculty Excellence Award recognizes annually those physics faculty members who are truly outstanding in the areas of research and teaching with a summer fellowship award, while the Jewell Endowment supports the USF Alumni Association.
Estate planning is not just for end of life. Perhaps you are selling a business, real estate or stock and want to use some of the proceeds to make a philanthropic gift.
Scott Uhler has focused his education and career on improving the children's residential mental health system. While he is relatively young, Uhler is in the early stages of estate planning.
Though he had no previous connection to USF, he wanted to support research and operations in the College of Behavioral and Community Sciences, Department of Child and Family Studies to address and protect children from abuse, neglect and undue iatrogenic harm by residential programs and help ensure families have safe and effective community-based care.
Working with the USF Gift Planning team, Uhler made a gift of appreciated stock to establish the Appropriate Care and Treatment Initiative Fund.
If you have provided for USF in your estate plans, please let us know. Every gift makes an impact. With creativity, anyone can make a planned gift to meet their financial and philanthropic goals.
For more information, visit usfgiving.org.