In Cybersecurity the Weakest Link is ... You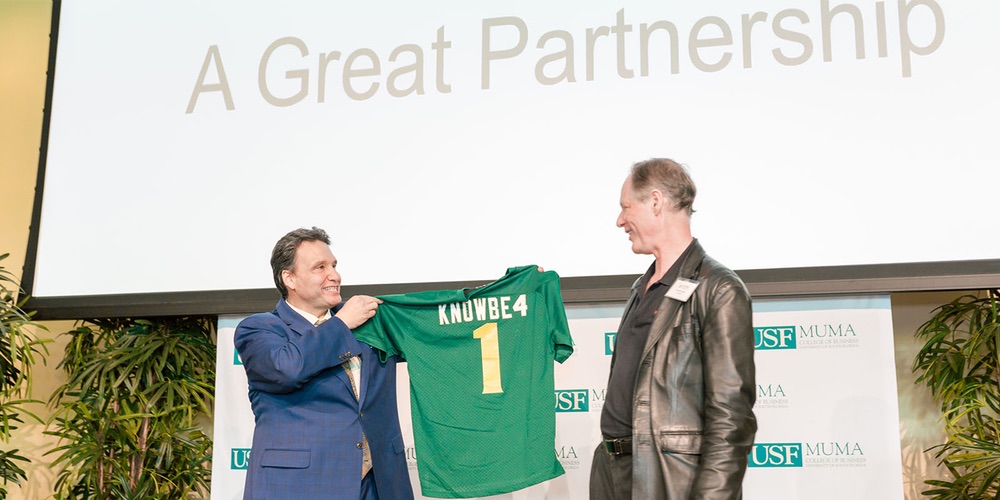 Oct. 16, 2019
It's a normal workday at the Muma College of Business when you receive an email from the dean asking if you are available to do him a quick favor as he walks into a meeting.
Not wanting to let the dean down, you respond, and he asks you to buy a number of gift cards for various amounts as gifts for donors.
It's an odd request, but you click the link to learn more … not realizing until it's too late that the email wasn't from the dean at all. You have just been "hooked" by a cyber "phishing" attack.
According to Kaushik Dutta, chair of USF's Department of Information Systems and Decision Sciences, it is difficult to teach the people in our organizations to be resistant to these types of attacks.
"We think we're resilient, but in fact we are still susceptible to the same tricks and traps the scammers use," said Dutta.
What makes these attacks so effective is that scammers use our own natural instincts and behaviors against us.
"Who is not going to respond to their dean if they think their dean is emailing them?" said Dutta. "Unless you're trained to think, 'Well, let me look closer at the email address that came from,' or 'Let me look at the actual link before I click on it.'"
The good news? With training, our anti-phishing cyber resilience can dramatically improve.
Thanks to a recent $1.75 million gift from KnowBe4 to the Muma College of Business, USF students, faculty and staff will soon receive the training they need to protect themselves and their organizations from these types of social engineering attacks.
"This donation to USF is a part of KnowBe4's commitment to helping the local community in the Tampa Bay area," said Stu Sjouwerman, CEO of KnowBe4, provider of the world's largest security awareness training and simulated phishing platform.
In addition to a $500,000 gift to support faculty research activity, student sales training and student software development skills, KnowBe4 is providing an in-kind donation of its online security awareness training to educate students — as well as faculty and staff — on how to recognize social engineering cyber phishing scams.
"Our goal is to educate them before they enter the job market to help keep their future employers safe from attacks like phishing and ransomware," said Sjouwerman.
In this particular case, Dutta said he doesn't think of the software as an in-kind gift.
"The most valuable asset this particular company has — other than its people — is the software that does the training," said Dutta. "When we say the KnowBe4 team has 'given' $1.25 million worth of software, it's real. That's what it would have cost the college over five years to have this wonderful training and certification in place for all of our staff, students and faculty."
Dutta said the goal is for every student to earn certification in cyber-resiliency upon graduation, training that is highly valued by employers.
About half the cash contribution each year will go to the new sales training center at the Muma College of Business for students to learn the tools and techniques needed to be an effective technical salesperson.
The other half will go to the ISDS department and support research efforts into online cyber behaviors, as well as software platform development training for students.
"We're looking to develop talent for software developer positions that have been difficult to fill in the local Tampa Bay area," said Sjouwerman, explaining the funding will allow students to gain the knowledge and skills they need to land a successful role in that field. "It's truly a mutually beneficial partnership for USF and KnowBe4."