Investing in Faculty Strengthens the USF Kate Tiedemann School of Business and Finance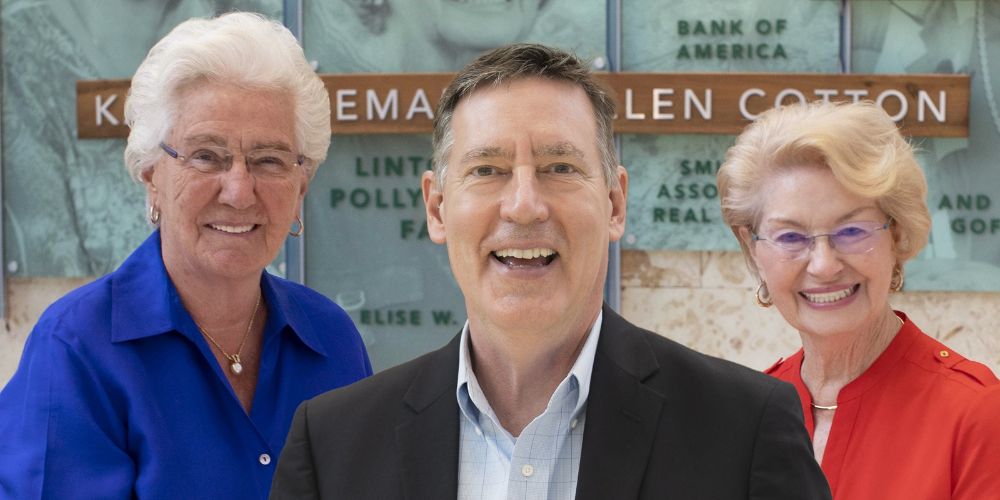 Dec. 21, 2020
After years of penny pinching his meager allowance and pushing a lawn mower through sweltering summers, Gary Patterson managed to save up $500. The 12-year-old then did what any sensible young boy would do — he asked his father for help making his first stock purchase.
At 17, Patterson began to build his own portfolio in earnest and quickly proved himself to be an astute investor. By the time he was 25 years old, he was able to use the proceeds from his flourishing portfolio to purchase his first home, in cash.
"Stock markets allow people to save, invest and change the trajectory of their lives through long-term investments," explained Patterson, now a veteran professor and administrator at the newly consolidated USF Kate Tiedemann School of Business and Finance (KTSBF).
For the past 20 years, Patterson shared his interest in real estate and financial markets with students and colleagues on the USF St. Petersburg campus. He also served in various leadership roles including two separate stints as interim dean and, most recently, as associate dean of the KTSBF. At the end of the summer 2020 semester, Patterson transitioned back to faculty after serving six years as an administrator.
Patterson's exemplary contributions were recently recognized by community benefactors and retired businesswomen Kate Tiedemann and Ellen Cotton.
Established through a $1 million gift to the university, the Tiedemann-Cotton Endowed Professorship in Finance honors a distinguished faculty member dedicated to education, teaching and research in finance. The renewable three-year term position provides funding for salary, research, equipment, travel and other expenses.
"Ellen and I are honored to make this gift and very pleased that Dr. Gary Patterson has been appointed to be the first Tiedemann-Cotton Endowed Professor of Finance. He is an exemplary scholar who is dedicated to helping students make a difference in the world," said Tiedemann. "His impact will continue to be reflected in his students and their contributions in the field of finance throughout their lifetimes."
As the first recipient of the prestigious professorship, Patterson plans to renew his focus on research, attend conferences, build new curricula for the school and hire several finance students to assist in his studies.
"Our students are hungry," said Patterson. "They work hard to advance themselves and establish their careers. Engaging students in research gives them paid experience in their field, expands their skill sets and opens doors for them in their careers. Our students and faculty are grateful for the interest Kate and Ellen have taken in our success."
With more than $15 million in gifts, Tiedemann and Cotton are the largest donors to USF's St. Petersburg campus. This latest gift comes on the heels of a $3 million donation the couple made last year to endow the dean's position within the school.
"It is a rare honor to have both an endowed deanship and endowed professorship within a school," said KTSBF Dean Sridhar Sundaram. "It was definitely a strategic investment on their part to ensure the school retains and attracts strong leadership and faculty members. Through their transformative generosity, Kate and Ellen have provided such momentum and hope for this campus as we embrace consolidation and return to being one university, geographically distributed."
To learn more about how you can create an endowed professorship at the Kate Tiedemann School of Business and Finance, please contact Deborah Read, regional vice chancellor for advancement, USF St. Petersburg campus, at 727-873-4937.