Introducing the Taneja College of Pharmacy: Transformative Gift Elevates Pharmacy Education at USF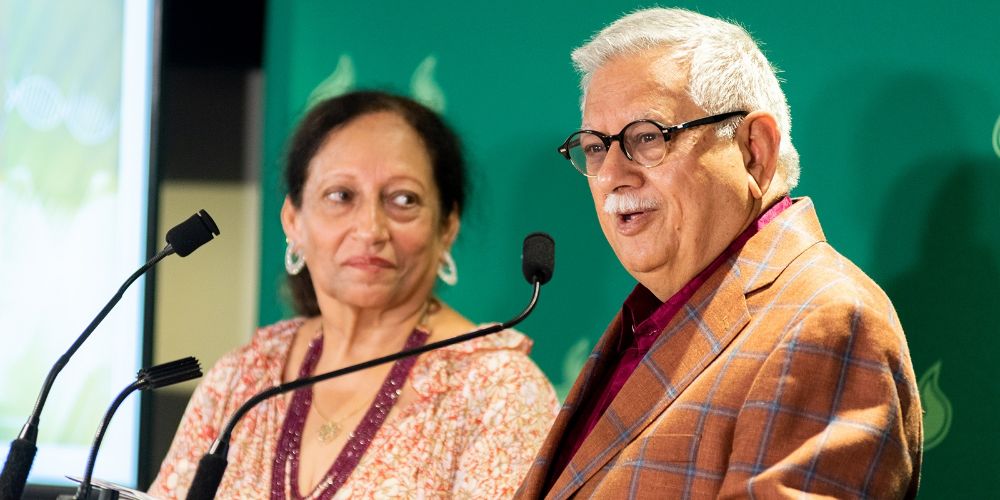 Dec. 21, 2020
On Aug. 16, 2019, the University of South Florida announced a $10 million gift from the Taneja Family Foundation to name the USF Taneja College of Pharmacy. The transformative gift set a record as the largest philanthropic donation to a pharmacy school in the state of Florida.
Jugal and Manju Taneja founded Belcher Pharmaceuticals, a company that focuses on innovating the development of generic medications and antibiotics that are difficult to manufacture, at their state-of-the-art facility in Largo, Florida. A prolific and astute businessman, Jugal Taneja has founded numerous successful companies in Florida, Ohio, New York and Great Britain. He is a founding member of the Indo-U.S. Chamber of Commerce, and he holds bachelor's and master's degrees in engineering from New York University and an MBA from Rutgers University. Manju Taneja also serves as a managing partner for several real estate companies.
Recognized as "Game Changers" for their transformational gift to Florida Hospital (now AdventHealth) in 2018, the Tanejas have supported many health and community causes, including Johns Hopkins University, Moffitt Cancer Center and other nonprofit organizations.
"Jugal and Manju Taneja share a passion for education, for giving back to their community, and for transforming the health care system for future generations," said USF President Steven Currall. "This gift will do so much for the trajectory of USF's success — advancing innovation at our College of Pharmacy and elevating the academic stature of the entire university."
The gift marks a huge milestone for the young college and validates the unique education experience offered to USF pharmacy students.
From the start, the college set out to build a program that would be a pacesetter in both pharmacy curriculum and clinical experience. In August 2011, the college welcomed a charter class of 53 students. Today, the Taneja College of Pharmacy accepts 100 new students each year for its PharmD program and has expanded its offerings to include graduate programs in biomedical engineering and pharmaceutical nanotechnology.
"We've become a much sought-after program, a destination for those seeking an amazing, forward-thinking pharmacy program," said Kevin Sneed, PharmD, founding dean of the Taneja College of Pharmacy and senior associate vice president for USF Health. "The generosity of the Taneja family and their incredible support for what we already provide our students will elevate our program further and help us continue to revolutionize health through empowerment and innovation."
Upholding family as their highest value, the couple raised two sons and take great pride in their five grandchildren. They hope their gift to the Taneja College of Pharmacy at USF Health will create a lasting legacy that will impact the Tampa Bay community for future generations.
"When you give money to a cause where money is needed, you gain a special kind of satisfaction," said Jugal Taneja. "When we signed the gift agreement, Manju and I were much happier, and we were $10 million less! But we didn't feel that — we felt $10 million richer."
This latest milestone turns the page on an exciting new chapter in USF history, and the Taneja family's commitment will enhance the education of talented Taneja College of Pharmacy students for generations.