Inaugural Flanzer First Generation Scholars Grateful for Support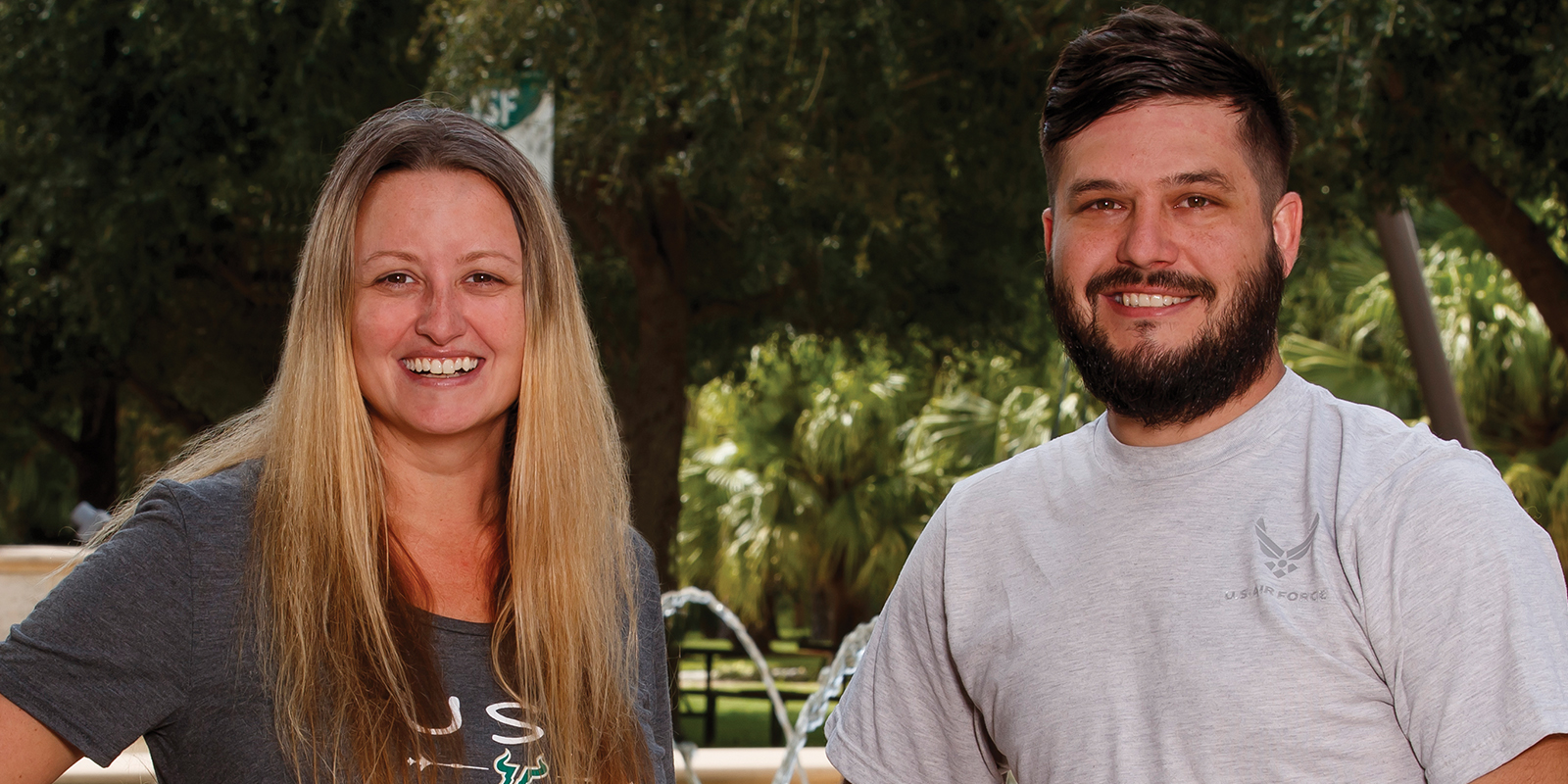 Nov. 18, 2021
Louis and Gloria Flanzer, 35-year residents of Longboat Key, were dedicated philanthropists who gave generously to the Sarasota community through their philanthropic trust.
In 2020, the Trust made a $150,000 gift to the USF Foundation to establish the Flanzer Philanthropic Trust First-Generation Scholarship, which was matched 2:1 through Florida's First-Generation Matching Grant Program. With the match, the Flanzer Philanthropic Trust's gift is equivalent to $450,000!
The state's needs-based First-Generation Matching Grant Program supports first-generation students pursuing undergraduate degrees (students whose parents did not earn baccalaureate or higher degrees).
The first 26 scholarships were awarded in spring 2021 and are already making an impact on the lives of students on the Sarasota-Manatee campus.
Leah Pollard-Lane, a wife and mother of two, has been working on her degree since 2008.
"Thanks to the Flanzer Philanthropic Trust First-Generation Scholarship, my dream of being the first college graduate in my family will come true this year," said Pollard-Lane, whose father never received a high school diploma and mother never attended college.
Matthew Orzech, a veteran, full-time student and part-time worker, used the funds to purchase a more efficient laptop, increasing his ability to complete his coursework.
"Needs like this don't fit into my budget, so receiving this scholarship helped me maintain my ability to provide and care for my family, while also taking care of my needs for school," he said.
As the first and only person in her family to go to college, Jessica Grimaldo has had to work twice as hard for everything.
"This scholarship means the world to me," said Grimaldo. "It made it easier to pay my tuition and buy my books. Thank you so very much!"
According to Dean Hautamaki, MD, and Eric Kaplan, Esq., co-trustees of the Flanzer Philanthropic Trust, the Flanzers were committed to providing important support to agencies and organizations across the Suncoast and in assisting others through health care and social services.
Married for 66 years, the Flanzers owned a home in Scarsdale, New York, but post-retirement spent more time on Longboat Key. Gloria's family was well known in New York City development circles and played a significant role in the revamping of Times Square, Battery Park and Lower Harlem. Louis passed away in 2013 and Gloria in 2015.
In Gloria's obituary, Kaplan wrote, "The philanthropic trust will continue to endow important causes on Longboat, in Sarasota and in the surrounding area for years to come."
The inaugural Flanzer First-Generation Scholars, for one, are grateful for the Flanzers' foresight and support of the Sarasota-Manatee community.