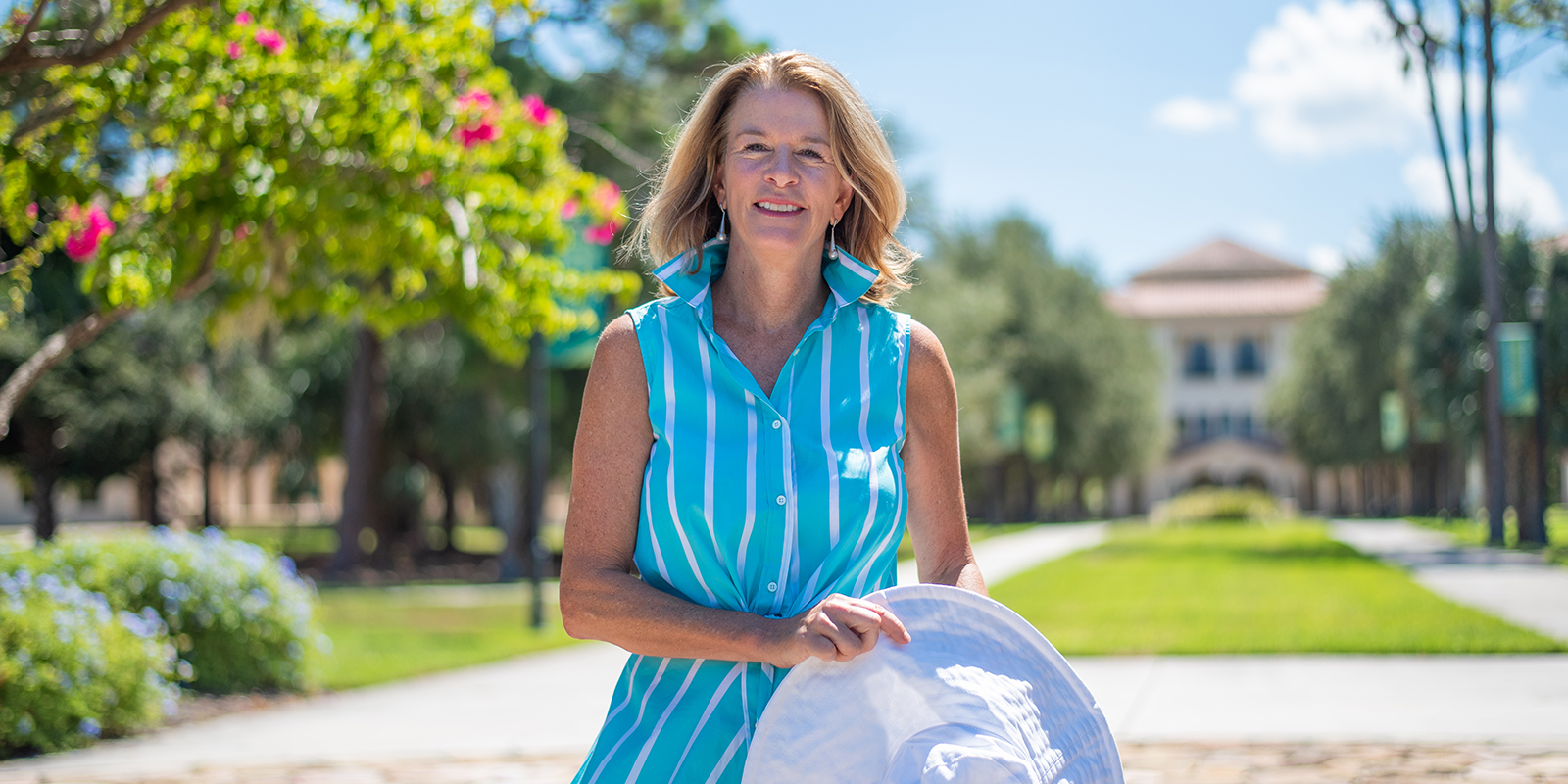 April 15, 2021
Elizabeth Moore is not your typical philanthropist.
Whether scaling the rainforest canopy to study lemurs, scuba diving alongside scientists to harvest coral or slogging through the mud on her 1,200-acre wildlife refuge, Moore is a spirited, all-in woman who isn't afraid to get her hands dirty.
A locally renowned citizen scientist, Moore's giving follows her heart, and then hands, as she digs to find the root cause of various problems.
"One of my favorite things is making contributions to science," explains Moore, whose interests focus primarily on the environment and education. "I especially enjoy when I can get personally involved in the initiative."
Since her arrival in Bradenton in 2007, Moore has established herself as a prominent community leader and philanthropist. Some of her more visible contributions include the Elizabeth Moore Sarasota Open tennis tournament, the Moore Athletic Complex and Marine Science Center at Saint Stephen's Episcopal School, the Mote Marine Laboratory's Elizabeth Moore International Center for Coral Reef Research and Restoration in the Keys, and the Elizabeth Moore Lemur Forest Habitat in Myakka City.
Moore also serves on several local boards, including the Mote Marine Laboratory and Aquarium, the Conservation Foundation of the Gulf Coast, the Lemur Conservation Foundation and the WUSF Advisory Board.
For the past six years, the self-proclaimed "jazz fanatic" has impacted her local community as a benefactor of listener-supported WUSF 89.7. Between sponsoring giving challenges, investing in science programming like Ira Flatow's Science Friday and waking up early to listen to All Night Jazz, Moore has proven herself to be a round-the-clock friend of the radio station.
Recently, Moore has taken the next step in furthering her relationship with the university. After attending as a guest for a handful of years, Moore is stepping up to serve as the 2021 chairperson for Brunch on the Bay — the premier fundraiser for USF's Sarasota-Manatee campus.
Brunch on the Bay is a uniquely compelling experience centered around samplings of exquisite local cuisine. Each year more business leaders join as sponsors and participants in this event that raises funds for student scholarships. Since its humble beginnings in 1994, Brunch on the Bay has raised more than $5.5 million in funding and awarded nearly 1,800 student scholarships.
With an enthusiastic leader like Moore at the helm, this year's Brunch on the Bay — scheduled for Nov. 7 — will undoubtedly be the fundraiser of the year for the Suncoast region.
Moore is diving feet-first into preparations for the 2021 Brunch on the Bay. She attends all the planning meetings, replete with fresh ideas, natural leadership and genuine enthusiasm. Marrying her love of jazz with her passion for philanthropy, Moore is putting a personal spin on this year's event. For the first time, two live jazz bands — both featuring USF alumni — will serenade the Brunch on the Bay audience.
For one whose giving philosophy centers on building long-term solutions, supporting scholarships at USF is a natural fit for Moore.
"USF is a pillar of the Sarasota-Manatee community," said Moore. "Providing scholarships gives these great kids the ability to stay local while getting a top-notch education. It starts a pipeline that keeps graduates here, in our community, boosts our economy and develops our work force."
Seeing the impact of her giving is something that has become increasingly important to Moore.
On her birthday last year, Moore publicly proclaimed that the next chapter of her life would focus on philanthropy.
"I don't want to wait to the end to give it away," she said. "I want to know where my dollars went, and the impact they make, firsthand. I'm lucky to be in a position where I'm still young, active and ready to put on work boots."
For a tactile philanthropist like Moore, the ability to keep her hands on the wheel and her boots on the ground as she forges her legacy is priceless.