A Game Plan of Giving Back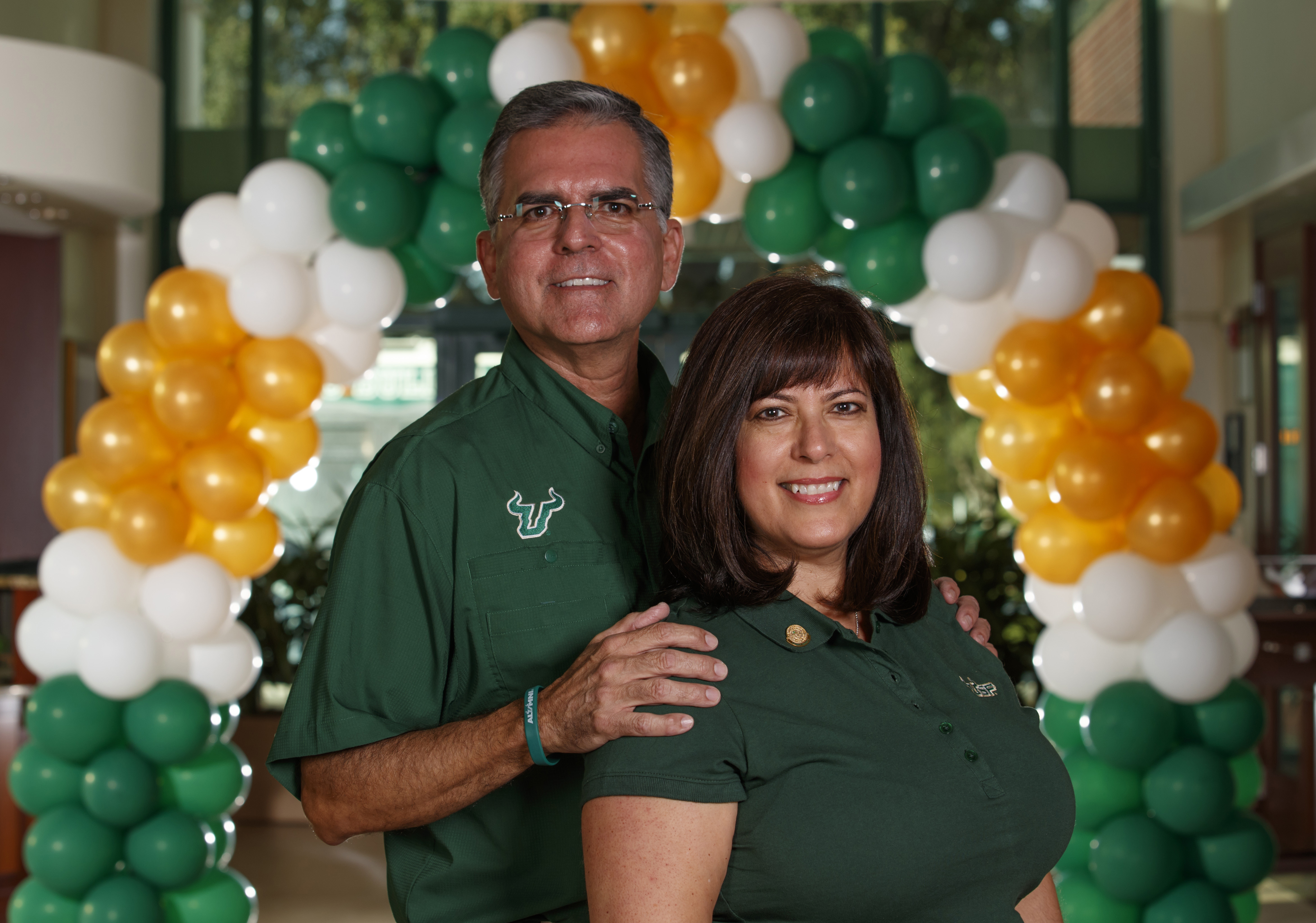 Nov. 16, 2017
When Dr. Jose Arias bought season tickets to Bulls football games a decade ago, he never imagined the winning game plan it would be for his family and future University of South Florida students.
The USF alumnus, who earned his B.S. in interdisciplinary natural sciences in 1985, simply wanted to enjoy attending games at Raymond James Stadium with his two children – first Stephen and then Natalie, each of whom attended USF as well. And when the kids graduated, Arias, who also did all of his medical training at USF, began taking wife Jeannie to the games.
"I have to be honest, football isn't really my game," she says with a laugh. "But you can't help but feel the excitement, so I've gotten on the bandwagon now."
Though football started as merely a fun family affair, the game eventually led to a completely new kind of formation for the Arias clan – the start of the Dr. Jose and Jeannie Arias Endowed Scholarship to help a deserving student each year at USF.
"There's someone in USF Athletics who reaches out to season-ticket holders in the Orlando area, and I was contacted to see if I'd like to get more involved in supporting the university," recalls the longtime allergist-immunologist. "That's what got the ball rolling." In time, he became Chair of the Orlando Chapter of USF's Alumni Association, all the while remaining a passionate fan of the university's football team.
His relationship with USF gradually deepened – leading not only to the couple creating the scholarship but to an estate gift, which one day will further enhance their scholarship. "Now I'm also a Legacy Member," he says, "because I'm donating to the university through my will."
Jeannie Arias didn't attend USF, but her husband has made her feel right at home as a Bull by making them joint lifetime members of the Alumni Association. She knows how committed he is about giving back to USF. "Jose has wanted to do this for a long time," she says. "When he first brought up the idea of establishing a scholarship, I said, 'When the kids graduate, we'll see.' Now they have, so we figured it was a good time to make it happen."
The proud father hopes that Stephen, who earned his B.S. in Public Health at USF in 2014, and Natalie, a 2016 USF psychology graduate, will one day replicate the parents' strategy.
"Reconnecting with USF is one of the best things I've ever done," he says. "I've already told both of my kids that once they're settled, I expect the same thing from them – to give back to the university and establish a scholarship in their names."
In the Arias family playbook, that's proven to be a real win-win.