Football Center Shuts Out the Weather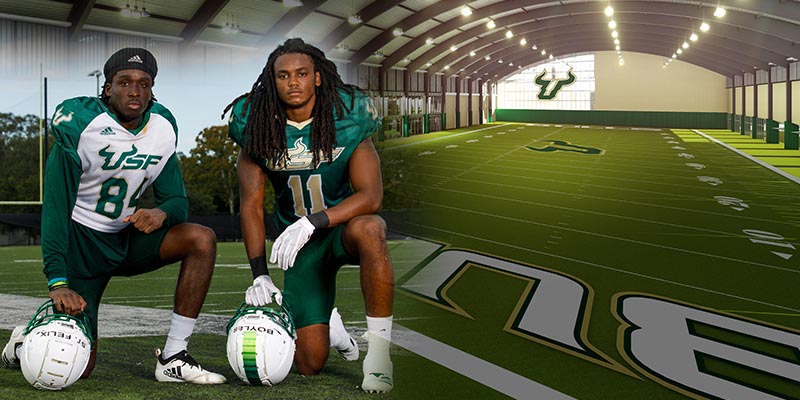 Dec. 1, 2018
Rain or shine, our dedicated student-athletes take the practice field to prepare for the next big game - except when lightning comes into play. Anytime a bolt strikes within eight miles of the university, the Bulls are benched to wait out the storm. In Tampa, frequently ranked as the lightning capital of the world, that quickly translates to lost or delayed practice time and severely impacts the team's effectiveness and ability to keep student-athletes on schedule.
But a new Athletics facility, the yet-to-be-named USF Football Center, will be a real game-changer, shutting out the storms and helping to attract top-level student-athletes to the university.
A donor-driven project which is estimated to cost $40 million, the Football Center will expand upon the current Morsani Football Practice Complex with a 160,000-square foot facility that will include an indoor practice facility with a 100-yard turf training field. The Football Center will also feature a two-level football operations and team center that will provide a state-of-the-art home for the entire football program. It will include a strength and conditioning center, sports medicine and rehabilitation facility, nutrition center, team meeting spaces, coaches and staff offices, locker rooms and more.
Besides the obvious benefits of recruiting student-athletes eager to play and practice in the best facilities possible, the USF Football Center will also have a positive impact on academics. Providing student-athletes a secure, indoor space to train allows coaches to guarantee practice start and end times, regardless of the weather. This added structure will enable student-athletes to more consistently schedule classes and tutoring sessions and better manage the academic demands required of them. Additionally, relocating the football team and support staff to their own center will free up existing space in the Lee Roy Selmon Athletics Center for other teams to expand and improve their operations while also allowing services, such as Sports Medicine, to give more focused care to the student-athletes that will continue to utilize the Lee Roy Selmon Athletics Center.
Since unveiling plans for the facility, USF has received five gifts of over $1 million from Athletics supporters, including USF President Judy Genshaft and Steve Greenbaum, Pam and Les Muma, David Goldstein and Joanne Nelson, Joseph and Jennifer Redner and an anonymous donor. There have also been a cascade of smaller but very significant gifts. Each and every gift is meaningful and supports USF in its continued momentum toward becoming one of the top universities in the nation.