$1 Million Investment in Health-Science Library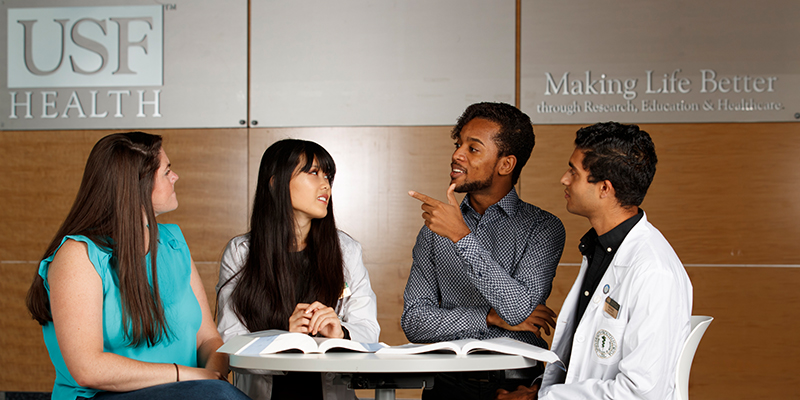 Oct. 4, 2017
Say goodbye to dusty books and shushing librarians! Unlike conventional medical libraries, the Florida Blue Health Knowledge Exchange is shelving books and silence in favor of technology and team work.
"This is an opportunity to build a health-science library the way it should be," said Rose Bland, director of the Shimberg Health Sciences Library at USF Health. "The Florida Blue Health Knowledge Exchange is designed to be technology and collaboration centric in order to meet the needs of our students and community."
Supported by a generous $1 million donation from Florida Blue, the 5,000-square-foot facility will be located front and center on the mezzanine of the new USF Health Morsani College of Medicine and Heart Institute in Water Street Tampa. Research librarians will play a central role in helping students navigate the rapidly evolving world of health data and technology accessed through more than 1,300 medical journals and hundreds of online databases. But it's not just med students in the know; the Florida Blue Health Knowledge Exchange aims to serve as a hub for connecting people and ideas in the downtown development.
Opening in 2019, the Florida Blue Health Knowledge Exchange will be accessible to the public and feature a large-scale video visualization wall for multimedia presentations, an executive-style reading room, public access terminals, an IT help desk and a space for technology demonstrations and recording lectures for online learning.
"USF is the ideal partner in our mission to improve the health of people and communities," said David Pizzo, market president of west Florida for Florida Blue. "We are thrilled to support the downtown medical school and the Knowledge Exchange, which will be a catalyst for learning and developing collaborative solutions that are critical for transforming the future of healthcare."
Florida Blue invested a million dollars into USF at Water Street Tampa, which is the latest gift in a long-standing relationship with USF that dates back to 1986. With support exceeding $3.5 million, the health solutions company remains one of USF's most important corporate partners.
Water Street Tampa
Tampa Bay businessman philanthropist Jeff Vinik and Bill Gates' Cascade Investment LLC are investing more than $3 billion to create Water Street Tampa, the world's first WELL-certified city district, along the downtown waterfront. Described as "building half a city," the project will double the footprint of downtown Tampa with nearly 9,000,000 square feet of new commercial, residential, entertainment and retail space.