Farewell to a Visionary Leader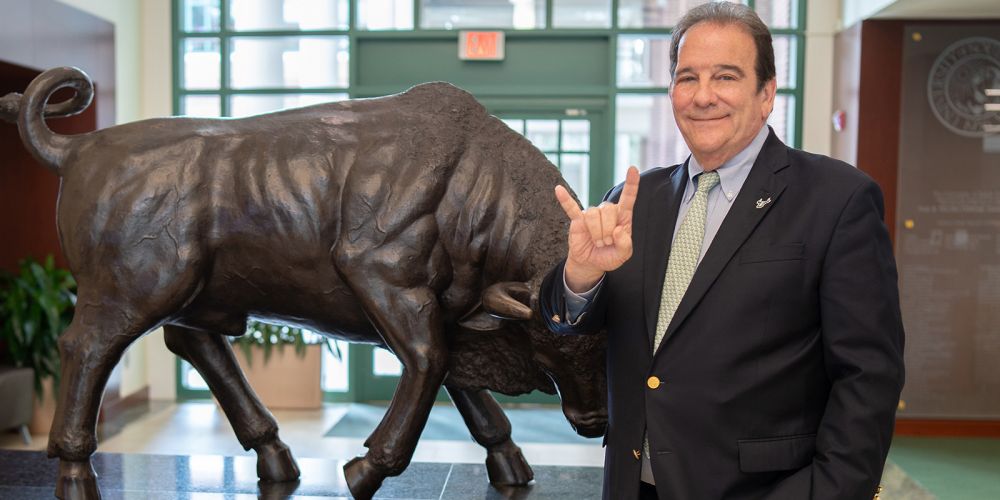 Dec. 11, 2019
Confidant. Friend. Wise counselor. Visionary. Leader. Creative. Loyal. Trustworthy. Fun. Big hearted. Genuine. Kind.
Many have used these words to describe Joel Momberg, who retired as CEO of the USF Foundation and senior vice president of university advancement and alumni affairs on October 31, 2019.
In 2009, Momberg took the helm of the USF Foundation and transformed it into an inclusive, collaborative, relationship-driven organization.
One of the first challenges he accepted at USF was the Unstoppable campaign, helping the university reach its ambitious $1 billion goal a year early — and go on to exceed it. USF is one of only three public universities founded since 1956 to raise $1 billion in a campaign.
Throughout the campaign, and indeed his whole career at the USF Foundation, Momberg exhibited a skill for listening to potential donors, hearing what they were passionate about and helping them achieve their philanthropic vision at the university.
This is clearly evidenced by the many transformational gifts received during his tenure. Momberg helped donors like Jordan Zimmerman, Les and Pam Muma, Carol and Frank Morsani, Judy Genshaft and Steven Greenbaum and many others realize their philanthropic desire and create the university's first philanthropically named colleges and schools.
A master collaborator, Momberg helped achieve strategic goals by bringing together deans, vice presidents, regional campuses, athletics and USF Health. He also changed the role and value the USF Alumni Association plays in the success of the university.
Momberg joined the Foundation at the bottom of the market downturn after the financial crisis. The endowment has grown significantly since then, more than doubling to $513.5 million by June 2019, and more than $167 million has been distributed from the endowment to the university during his tenure to support students, faculty and programs.
Under Momberg's leadership, there has been an increased emphasis on diversity initiatives, including the creation of the Black Leadership Network and substantial growth of the Latino Scholarship Program and Women in Leadership and Philanthropy.
Other important philanthropic efforts established under Momberg are BOLD: Bulls of the Last Decade, USF Giving Day and Grateful Bulls Day, as well as the growth of the Faculty & Staff Campaign.
Momberg has led by example. He and his wife, Debbie, are major gift donors whose philanthropy has touched each USF campus, athletics and student scholarships. And he is active in the Tampa Bay community, having served on the boards of the Tampa Bay Lightning Community Heroes Foundation, Shorecrest Preparatory School, Suncoasters of St. Petersburg and St. Petersburg Area Chamber of Commerce.
The USF Foundation is grateful for Momberg's friendship and leadership these past 10 years and proud of what we have achieved together. He leaves behind a truly remarkable legacy.
Even though he is now retired …
Joel, we have to keep meeting like this!