Empowering the Next Generation of Engineers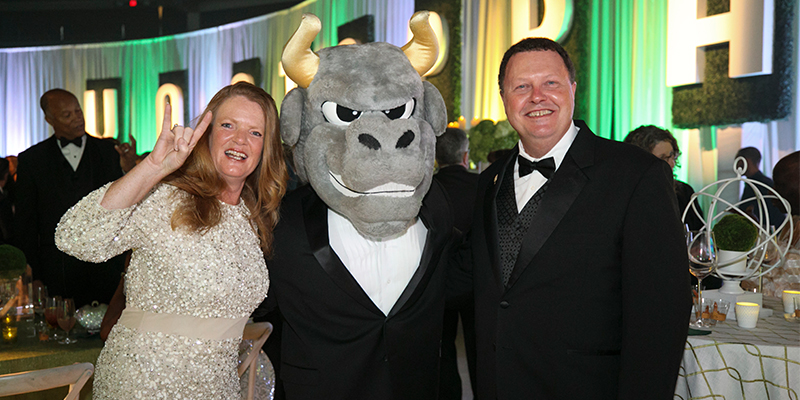 Dec. 1, 2018
Chemistry has changed Chris Dennis' life, in more ways than one. From the instant attraction that drew him to his wife, to his successful career that started more than two decades ago at USF, chemistry is at the root of it all.
Since graduating in 1996, Chris has maintained a strong bond with the USF College of Engineering. He's served on the chemical engineering industrial advisory board, helped place more than 55 students in paid co-op and entry level positions and was recognized as Corporate Ambassador of the Year in 2016 and 2017 by the USF Engineering Alumni Society for his work connecting alumni to opportunities at Mosaic.
But recently, Chris and his wife, Janese, decided to take their support a step further with an estate gift to the USF College of Engineering. Their gift will establish an endowed scholarship for chemical engineering students, update laboratory facilities and give overall support to the college.
"I never really thought about my legacy before, I was living in the now," confides Chris. "But with our decision to not have kids, what would we leave behind and to who? I've always been a very strong proponent of USF. What better way to show our support than through a legacy gift?"
The couple can still recall their challenges in the beginning and the hard work and dedication that brought them to this point.
Chris and Janese met in the U.S. Navy while stationed in Orlando, Florida. He was attending nuclear power school for the Navy, and she joined the reserves and had just finished boot camp. Sparks flew the first night they met, and within six months they were married. "I knew pretty quickly that she was the one," says Chris.
"We spent as much time together as possible; which wasn't easy at first with Chris being in the Navy. However, not having family nearby made us stronger, where we had to rely on each other, which brought us closer together as a couple, and we became best friends," says Janese.
Thirty years later, this still rings true. And while they are two very different people - Janese is outgoing and an avid tennis player, while Chris is more reserved with a passion for history and the outdoors - their love and commitment to one another is clear.
One of the first hurdles they overcame was the long separations which come with being a sailor. Although Chris originally planned on making a career out of the Navy, his frequent deployments placed a great strain on their relationship. After observing the high divorce rate among his peers, he knew he did not want to risk going down that road. So after much discussion it was agreed that he would leave the Navy at the end of his six-year stint, take advantage of the GI Bill, and go to college.
The couple moved to Tampa where their relationship flourished but money was tight. For four-and-a-half years, Janese was the primary provider, working full-time as a respiratory therapist while Chris focused on academics. He earned an associate degree at Hillsborough Community College before enrolling in USF's chemical engineering program. In his junior year, he landed a paid co-op with Cargill (now Mosaic) that turned into a job offer upon graduation. Over the next 22 years Chris held several positions - including process engineer, project engineer, senior engineer and area manager.
"Growing up I always felt a sense of duty, honor, integrity," says Chris. "Even after I left the military, I knew there were many other ways to serve. Giving back to USF - a school that gave me so many opportunities and helped me achieve my dreams - is one of them."
"We are thrilled to create this legacy for the next generation of engineers," adds Janese. "I'm glad we did this now, but I wish we would have done it 10 years ago. It's an amazing feeling to know we will help provide an excellent education for engineers of the future."