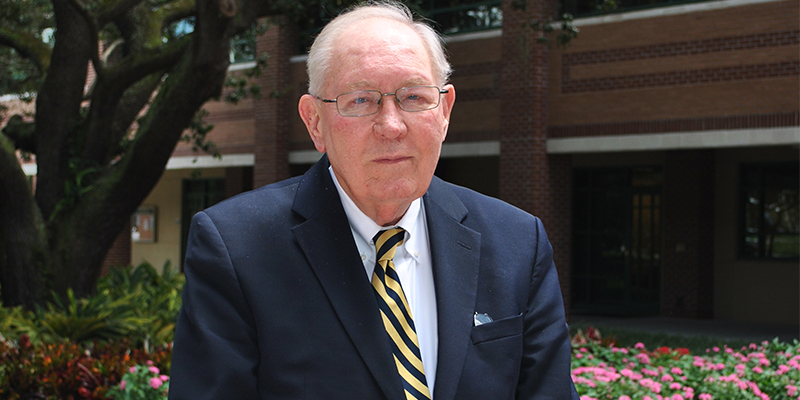 Engraved on a plaque at the USF Sessums Mall are dedication words honoring Terrell Sessums as "a champion of education."
Though he is slightly embarrassed to talk about the mall that honors him, he is effusive in describing his unwavering belief in the importance of education; especially his belief in the educational mission and vision of the University of South Florida. His actions match his words, as he and wife Neva have been staunch supporters of USF from the very beginning.
As a Tampa lawyer, Sessums advocated higher education and public service and as a state senator he focused on public education financing and reform. His leadership as a member, and Speaker, of the Florida House of Representatives (1963-74), then as a member and Chairman of the Florida Board of Regents (1979-88), helped support the significant growth of USF in its beginning days. As a civic leader he also helped secure the establishment of the Colleges of Medicine and Nursing at USF, as well as graduate programs in Architechture and Business. The university honored these efforts in 1975 with the President's Distinguished Citizen Award and an honorary degree in 1995. The Terrell Sessums Mall was dedicated in 1999 as one more expression of gratitude for his constant support.
Together with his late wife, Terrell established a scholarship award that has already benefitted multiple academically committed students within the USF Honors College, after having learned firsthand that a variety of academic doors can be opened through timely scholarships. They also set up an academic enrichment fund as a planned gift that will continue their support long into the future.
"I am honored by the description of 'champion of education' because underneath it all that is who I am," said Sessums. "My hope is that students will take full advantage of all the opportunities offered by USF, including scholarships. Then later in life they can have the same privilege we have had of paying it forward for others."