#BullsUnited In Action Galvanized the USF community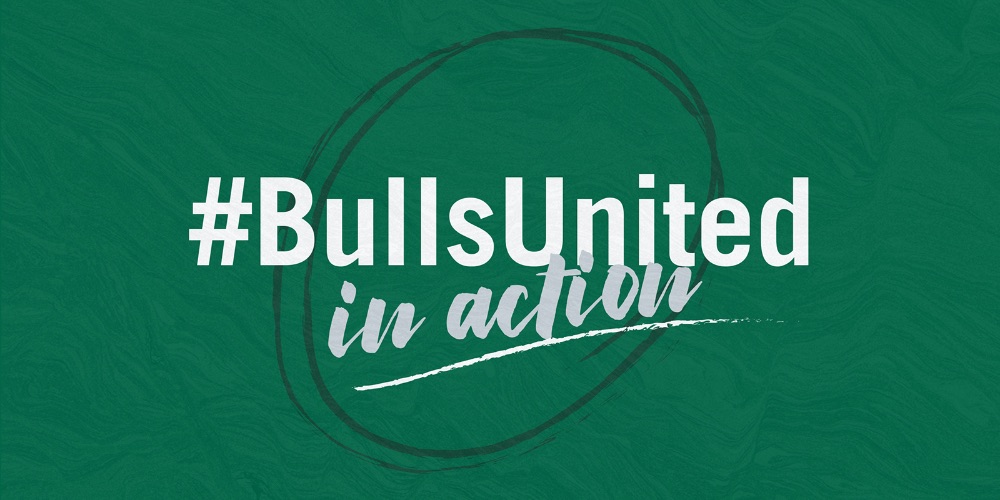 Sept. 10, 2020
From March 24 to July 8, 2020, University of South Florida students, faculty, staff, alumni and friends joined together, while apart, to support students and the USF community through a single giving initiative: #BullsUnited In Action.
At the start of the COVID-19 pandemic, the USF community had to adjust quickly to remote classes and work. In addition, some students suffered from food insecurity and saw a reduction in their financial stability. In response, President Currall launched the USF United Support Fund on March 24 to provide direct funding to students impacted by the pandemic.
To date, more than $320,000 has been awarded to hundreds of students to help pay for food, rent and other critical needs.
The USF United Support Fund soon became a part of #BullsUnited In Action. The month-long effort, organized by the USF Foundation in partnership with units across all three campuses, included 31 HerdFunder projects supporting student relief, student success, scholarships, food security and research.
The campaign's name — #BullsUnited In Action — speaks for itself. The USF community was galvanized into action, resulting in 3,498 gifts totaling $1,130,995 raised between March 24 and July 8.
"It is heartwarming to witness such overwhelming generosity during what has been a difficult time for so many," said USF Foundation CEO Jay Stroman. "We are grateful to each and every person who donated to support the well-being of our students, fund vital research and power innovation that continues to impact our nation."
With gifts of all sizes, ranging from $1 to $50,000, everyone from recent graduates to lifelong donors helped make the effort a success. Nearly 300 young alumni made gifts, with the most recent graduate having completed their degree in December 2019.
More than 500 donors gave more than once. These donors saw the need for financial assistance, responded with generous gifts to #BullsUnited In Action HerdFunder projects and returned to provide additional support.
More than 720 donors made their first gift to the university as part of #BullsUnited In Action, and 46 percent of these first-time donors made a gift to the USF United Support Fund. Donors spanned the continental U.S., from California to Maine.
"It is incredibly impressive, but also unsurprising, how generously USF alumni, faculty, staff and friends came together through the #BullsUnited In Action campaign to support our students and the wider Tampa Bay community during the COVID-19 pandemic. It can't be overstated how important it is that even during the most challenging times, the USF community works together to make a united impact on the university and the world," said Stroman.
Gifts made to #BullsUnited In Action helped students pay their bills and continue their education, ensured the university can continue to provide attractive scholarships, funded innovative COVID-19 research and stocked the food pantries on each campus for those in need.
The success of the #BullsUnited In Action campaign is a true testament to the power of the USF community when everyone comes together to support a cause. In this case, helping the Bulls in their time of need.
You can still be a part of #BullsUnited in Action by making a gift to the USF United Support Fund Herdfunder.