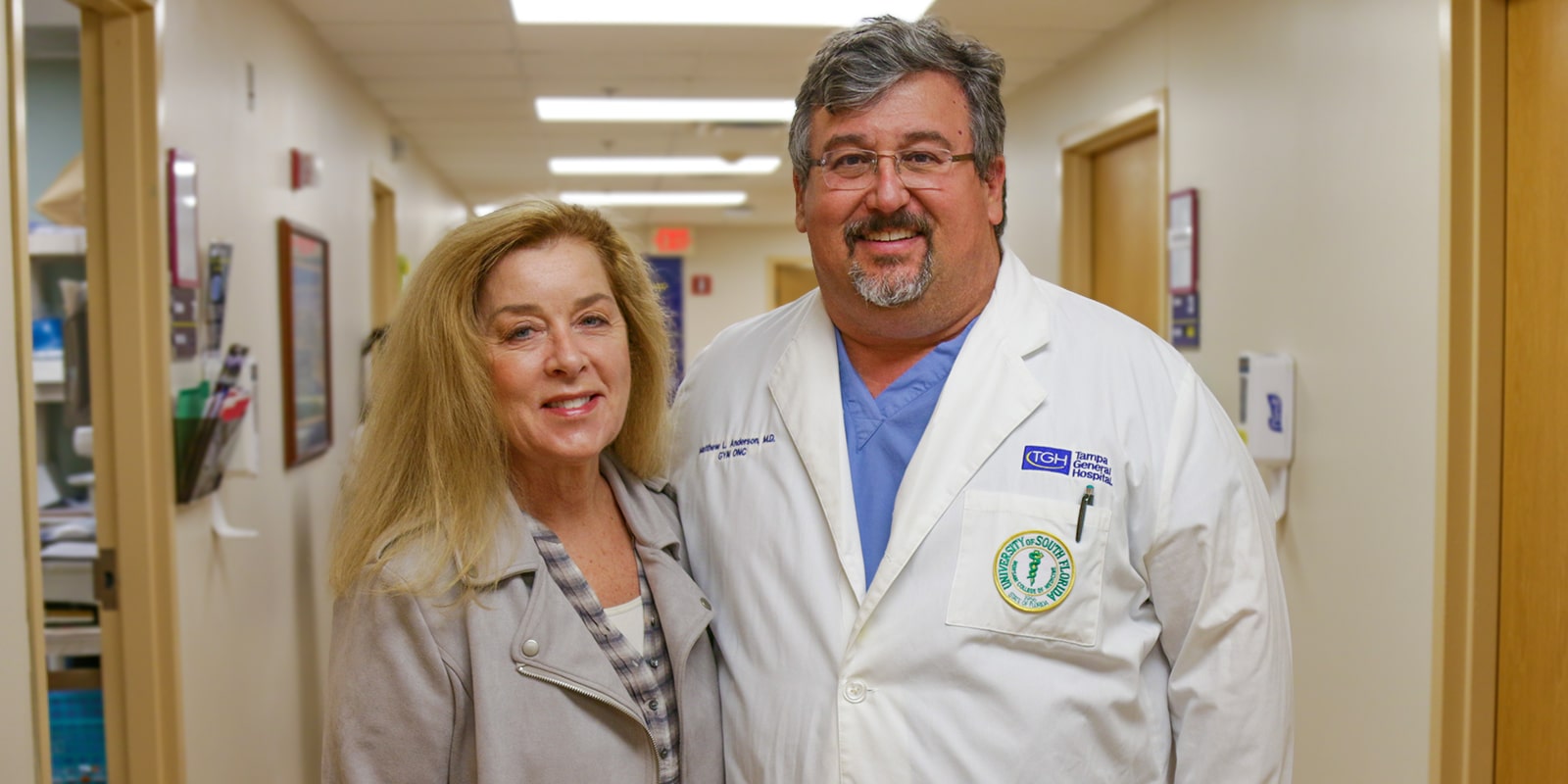 Linda Oleksyk (left) and Matthew Anderson, MD, PhD
USF immunotherapy treatment 'a miracle' for Linda Oleksyk she wants to ensure others can experience
Nov. 9, 2022
A highly improbable or extraordinary event, development, or accomplishment that brings very welcome consequences.
That's one definition of a miracle. Linda Oleksyk, a uterine cancer survivor being treated at the University of South Florida, has another.
"Immunotherapy really turned things around for me. It gave me a second chance, an extra life," Oleksyk said. "It has been a miracle. I used to be very weak. I now have more energy, I can do things daily."
Being able to do things on a daily basis might not sound like a miracle, but when considering that during her initial treatment Oleksyk could barely get out of bed, it is easy to understand how that second chance became an extra life.
Helping Oleksyk every step of the way has been Matthew Anderson, MD, PhD, a gynecologic oncologist at USF Health, first through surgery, and then chemotherapy and radiation. But even with his expert care, progress took time.
Despite the aggressive attempts to get her cancer under control, the traditional treatments did not work for her. "It was really tough. I was so tired all the time," Oleksyk said.
Dr. Anderson joined USF Health nearly four years ago and is a professor in the USF Health Morsani College of Medicine Department Obstetrics and Gynecology. He serves as associate director for shared resources for the newly formed Tampa General Hospital Cancer Institute and is one of the clinical leads for the National Cancer Institute (NCI) Clinical Proteomics Tumor Analysis Consortium, where he focuses on uterine cancer.
Daily, Dr. Anderson works to determine how novel therapies can be used for the treatment of uterine cancer, and strongly believes in the impact immunotherapy has for many cancer patients.
"Immunotherapy is a strategy that allows your body's own immune system to attack the cancer. It is a different approach to previous types of treatments that are available, like chemotherapy or radiation chemotherapy. Traditional chemotherapy attempts to kill the cancer by disrupting the machinery by which those cells divide. With immunotherapy, patients unleash their own immune system to attack the cancer," Dr. Anderson said.
Put another way, Linda Oleksyk's body was fighting back … and winning.
Dr. Anderson and his team decided to change the course of treatment for Oleksyk and started applying new technologies with next generation sequencing to look at all the patterns and mutations in her tumor.
"She had a misexpression of this biomarker, and she had some other features in her tumor that suggested she would be a good candidate for immunotherapy," he added.
Oleksyk had a positive response after starting the treatment. She was able to get out of bed and start enjoying life again. Part of her second life has included giving back to Dr. Anderson and his team through a $50,000 gift to establish a uterine cancer research fund.
"Uterine cancer is very common in women, and it is very underfunded. I believe it is a critical time for immunotherapy as things are being constantly discovered that can change people's lives," Oleksyk said. "I am so grateful to Dr. Anderson and his team at USF Health, and just as excited to know they will be able to help others for many years to come."
The Uterine Cancer Research Fund will contribute to Dr. Anderson's work on deciphering and addressing questions on when and how immunotherapy can be used most effectively for women with uterine cancer and how those patients can be better identified.
"Gifts like Linda's are super important. They provide a source of support that allows us to take on some edgy projects that may not be ready for funding from other big foundations. These types of gifts have an enormous impact. I think people sometimes do not realize how much of a difference they really make," Dr. Anderson said.
Funding for this area of study in gynecologic oncology is fundamental. Recently, there has been an explosion of targeted therapies that have dramatically altered outcomes for women diagnosed with uterine ovarian cancer, like Oleksyk.
Some women respond almost completely to immunotherapy, and their cancer goes away. Some data suggests that the good response may persist even if immunotherapy stops for them.
"So why is this? Why can that response be different from one patient to the other? That is what we are working to figure out," Dr. Anderson said.
With Oleksyk's generous support, Dr. Anderson is one step closer to finding the answer.
As for Oleksyk, every day is a second chance to truly enjoy life and she is making the most of it.
"I have been the beneficiary of excellent teamwork under the direction of Dr. Matthew Anderson. My quality of life and the level of energy immunotherapy has afforded me is amazing," Oleksyk said. "As a long-term cancer survivor, I realize my second chance is a direct result of the marvelous synergy that distinguishes USF Health and the Tampa General Hospital Cancer Institute."