BOLD — Bulls of the Last Decade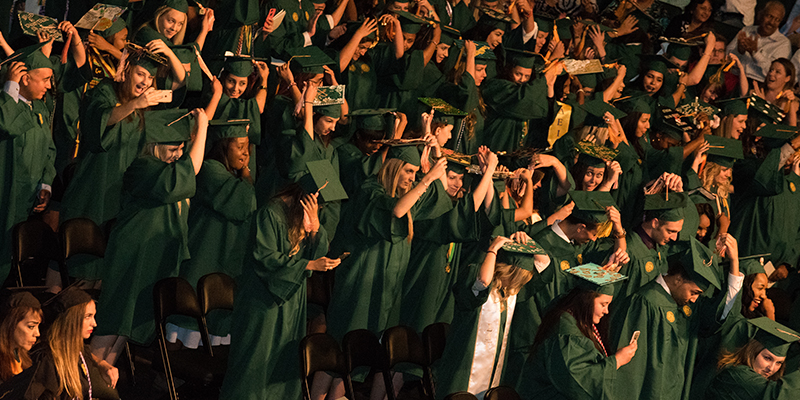 What is BOLD?
All USF Alumni 10 years out from graduation are BOLD.
The mission of USF's Young Alumni Engagement and Philanthropy program is to present USF young alumni with a menu of engagement options to strengthen their connection to the institution. BOLD facilitates connections with events, programs and opportunities already existing at USF, strategically partnering with USF entities to mold events to be BOLD-specific. By connecting and engaging young alumni, we are fostering personal growth for graduates to pursue passions and encourage them to make an impact after graduation.
Get involved!
Follow @usfbold on Instagram.
Serve on a career panel for students.
Attend an event.
Tune in to our podcast. Coming soon!
Become a liaison. Coming soon!
Connect with our staff:
Nevena Pehar
813-974-4125
---
What is BOLD+?
The USF BOLD+ initiative provides USF young alumni who give to any cause at USF or who are life members of the USF Alumni Association access to unique engagement opportunities. The goal is to create a sense of community surrounding young alumni donors.
Each year, the percentage of undergraduate alumni who give to USF is calculated and serves as the "alumni participation" score that directly impacts USF's ranking in U.S. News and World Report. Annual alumni giving of any amount has a direct effect on the value of a USF degree.
---
What is the BOLD Council?
The BOLD Council is a group of young alumni leaders representing all areas of USF who promote philanthropic support of USF by providing their time, energy and resources. Their appointment lasts a minimum of one year.
Each year, the BOLD Council highlights causes they deem in critical need of attention and support.
Get involved by:
Applying to be on the BOLD Council. Coming soon!
Becoming a BOLD liaison. Coming soon!
---
What is BOLDER?
BOLDER is USF's new young alumni philanthropy recognition level. USF BOLD alumni, 35 years of age and under, who cumulatively give $500 or more within a fiscal year, across USF, are considered BOLDER.
Those giving $1,500 or more are also recognized as part of the President's Circle.
In appreciation of their annual giving, BOLDER members enjoy access to attend VIP receptions, special invitations to USF speakers, sporting and social events.
Find out more about BOLDER. Coming soon!
Rhea F. Law, USF President
The growth and success of Tampa Bay is intrinsically linked with the growth and success of USF. There is so much potential, and the future is very bright.
Your Impact